Savannah Byrd is Back With Multiple Shoots
Written by James Anderson Friday, 24 April 2020 11:56
It's been almost a year since we last featured Savannah Byrd.  But this isn't Savannah's fault...  We have dropped the ball and somehow let THREE of Savannah's photo sets fall through the cracks!  It's no secret that Ms. Byrd loves American Muscle cars, and if you remember from her first feature she grew up around Mustangs, Camaros, and Challengers. It's no surprise that for all three of these new shoots, she chose to shoot with Stangs.
For many of these new photos, Savannah brought back her favorite "You Can't Park With Us" Crop Top.  But for her shoot with @Jamerican5.0's S550 Mustang, Savannah debuted her ShockerRacing Girls Heart Logo Tank Top.
For each of these new shoots Ms. Byrd worked in urban settings.  These city backdrops always make for amazing photos.  Many of these pics you see featured we taken in Charlotte, with a few coming from Richmond, VA.
Follow the crew:
Follow ShockerRacing on our Social Media: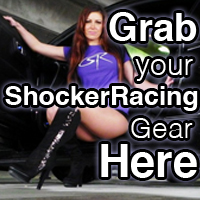 Instagram: @ShockerRacing
Twitter: @ShockerRacing1
Facebook: Facebook.com/ShockerRacing
YouTube: YouTube.com/ShockerRacing
Snapchat: @ShockerRacing
VIEW SAVANNAH'S FULL PHOTO GALLERY HERE
VIEW SAVANNAH'S FULL PHOTO GALLERY HERE
VIEW SAVANNAH'S FULL PHOTO GALLERY HERE
VIEW SAVANNAH'S FULL PHOTO GALLERY HERE
VIEW SAVANNAH'S FULL PHOTO GALLERY HERE
VIEW SAVANNAH'S FULL PHOTO GALLERY HERE
VIEW SAVANNAH'S FULL PHOTO GALLERY HERE
DON'T MISS - ABS EMERY JOINS THE SHOCKERRACING GIRLS - CLICK BELOW: