Marissa Ferrari's Official Introduction as a ShockerRacing Girl
Written by Bex Russ Thursday, 14 May 2020 13:50
Okay, so hear us out... We know that Marissa Ferrari has been featured with ShockerRacing recently, but she never got her official individual introduction. Her first article was with SR Calendar Model Lainey Freeman in a recent posting on the website, BUT that was event coverage. We are excited to get to know Marissa properly... So, how about we do that real quick with this article? Cool?... COOL!
Hit the link for the full shoot: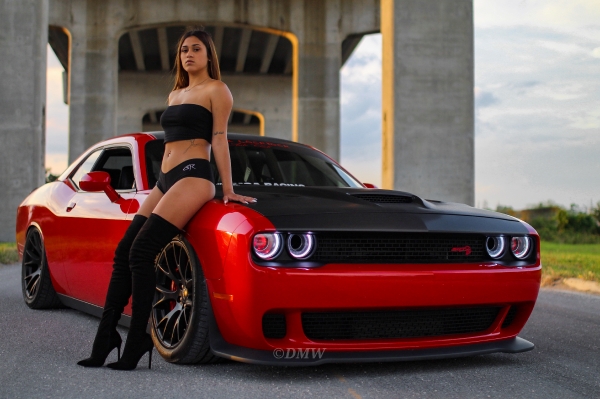 ShockerRacing fans, we give you, the one-and only Ms. Marissa! She is truly a gem. *wink wink* From the warm and sunny Jacksonville, FL Marissa sent us this feature to share for fans. Marissa is originally from Rhode Island but she moved to Florida, where her dad lived, for a new way of life.
Marissa, like many, was mesmerized by the look and quality ShockerRacing provides with our team. She was inspired by many of the young models who grow to become SR fan favorites. Marissa loved the teamwork and support system that SR provides to all its models and couldn't wait to join. Her biggest credits go to Lainey Freeman, not only did the calendar model introduce Marissa to the team, but she helped her model in their first feature together. Check it out here: Marissa Joins the ShockerRacing Girls with Lainey Freeman
Marissa has only been in the industry for a few months. However, she does have some promo modeling under her sleeve. She is well trained for events and future gigs. She enjoys attending shows like Girl Power! & events at The Firm.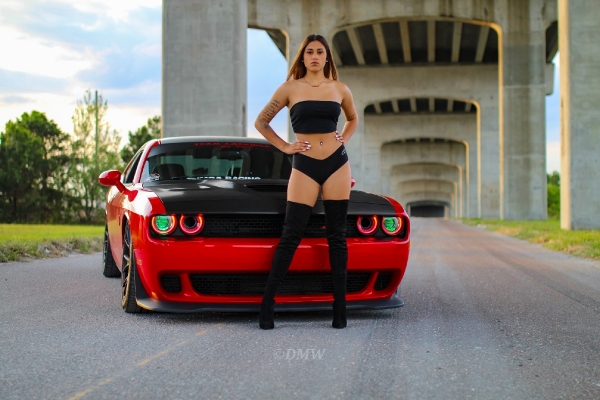 Marissa also showed off her gun handling skills with her boyfriend, Nathan Washington's car. Dames Point Bridge is a local hot spot for photography and was used as the perfect backdrop for this shoot. It spans the St. Johns River in Jacksonville, Florida. The bridge's cables are arranged on multiple vertical planes in a slight modification to the harp (parallel) stay arrangement. Main span cables are paired to anchor into the tower in a vertical plane while side span cables pair up to anchor in a horizontal plane such that four cables anchor in each tower at approximately the same elevation.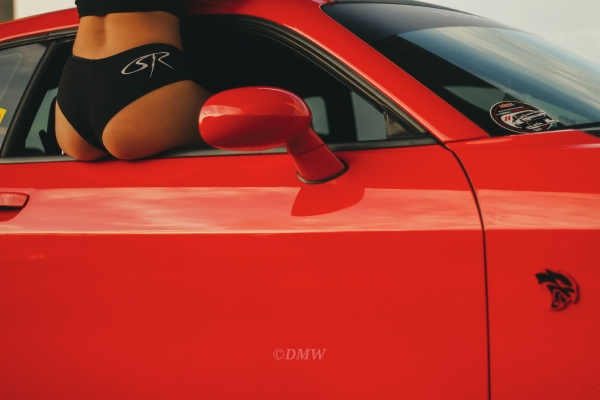 Don't miss the rest of Marissa's Interview below:
SR: Do you have any nicknames?
Marissa: Most people call me Rissa.
SR: If Shocker Racing was going to pay for any mod to your car no matter what the cost, what mod would you choose?
Marissa: I'll make it easy on you, an Air Lift for my future car would be great!
SR: What is your dream car?
Marissa: I would love a Redeye Hellcat!
SR: If you could travel and have your dream car anywhere in the world, where would you go?
Marissa: I would love to go to Hawaii.
SR: What's your favorite food?
Marissa: No doubt, Chick-Fil-A!
SR: What's your favorite Pizza topping?
Marissa: BBQ chicken and onions! YUMMMM!
SR: Do you have any tattoos?
Marissa: I have 9 tattoos. I have a sleeve, a rib cage tattoo, and a small tattoo on my other arm.
SR: What would an ex say is your best asset?
Marissa: I always listen and give the best advice I can.
SR: What is your biggest pet peeve?
Marissa: I can't stand liars!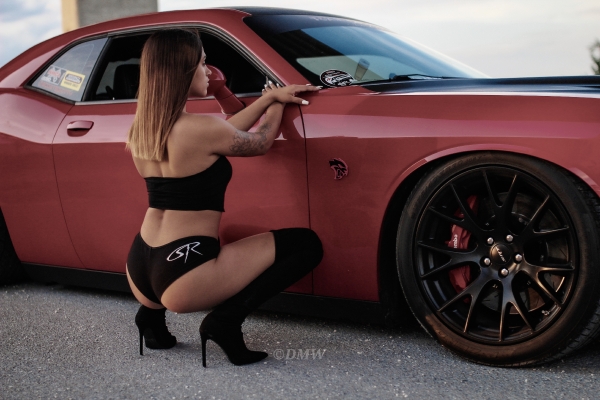 We hope you enjoyed getting to know Mariss! If you are interested in becoming a ShockerRacing model, please, email This e-mail address is being protected from spambots. You need JavaScript enabled to view it for a list of guidelines and responsibilities on how to join the team.
Follow the Crew here:
Marissa Ferrari: IG - @truelymarissa
Photographer: IG - @dubmediaworks
Car Owner: IG - @Boostedkitty