Katie Elizabeth Joins the ShockerRacing Girls
Written by James Tuesday, 11 August 2020 18:21
"My favorite part of every shoot I do is the car. It's all about the car," Katie Elizabeth exclaimed, "Every photographer I have worked with knows I need a few minutes to check out the car before we get started!" Twenty-two-year-old Katie Elizabeth has lived in Clemson, South Carolina her entire life.  She grew up as a daddy's girl, spending her time in the garage with her father while he worked on the cars, four wheelers and dirt bikes.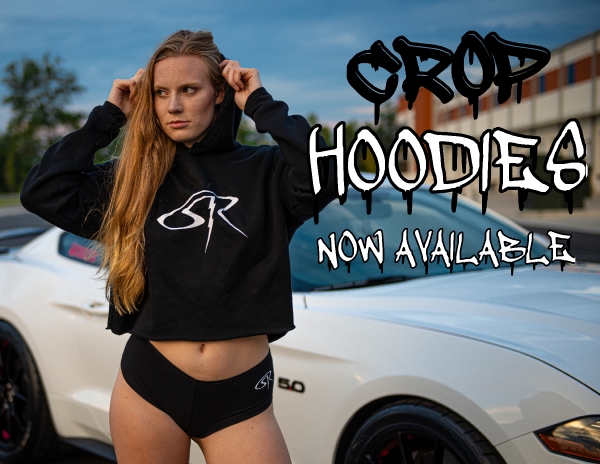 For Katie's introduction to ShockerRacing, she dropped two hot shoots on us; a Mustang shoot and a Camaro shoot... head over to our Instagram page and tell us which shoot wins - @ShockerRacing! The Camaro shoot was located in Villa Rica, Georgia with @Ghost_WS6 and his 1969 Camaro SS. You may recognize the Ghost name as he has shot with a couple of the ShockerRacing Girls including recently with Bekah, and Miss November in our 2020 Calendar! The Mustang is a Procharged 2015 with the 3.7L motor, owned by @ronin_s550.  She met up with the photographer, @jerrell.rolack, in Greenville, South Carolina for the epic shoot.
Katie currently drives a Kona Blue 2012 Ford Mustang 3.7L with a 6 speed manual transmission. We asked her about the mods she has done to it and she responded, "Does fixing it count as a mod? I rolled her about two years ago and have had problems ever since. Insurance refused to total it even with frame damage, and air bags deployed." Here is her listen of actual mods to it:
5.0 Suspension
Spec Stage 1 Clutch and Flywheel
Drilled and Slotted Rotors
Calipers painted Deep Impact Blue
Blacked out spoiler, headlights, taillights, side markers, deck lid panel, and roof
Billet grilles
Eibach Sport Line Lowering Springs
Adjustable Pan Hard bar
Interior Dash Kit
Black Gloss AMR Wheels
Nitto NT555 G2 Tires
Street Aero Diffuser
Front Splitter
Katie tells us she can't pick just one dream car, so she gave us her top three.  First is a 2013-2014 Shelby GT500 in Kona Blue. "That would be my dream car to build and have fun with," she explained. Number two is a 67-69 Mustang Fastback, as her classic car.  This would be the garage kept dream car. Lastly, she would pick an Aston Marton DB11.
We asked Katie what sparked her interest in ShockerRacing, "May I be real and say the booty shorts," she laughed, "I do however love seeing the variety of cars!" Of course this is why she chose to shoot in our classic outfit featuring the booty shorts and classic black tank top. Katie has been doing freelance automotive modeling for about a year and a half now, and really enjoys it.  If you are in her area and would like to shoot, be sure to reach out to her on Instagram.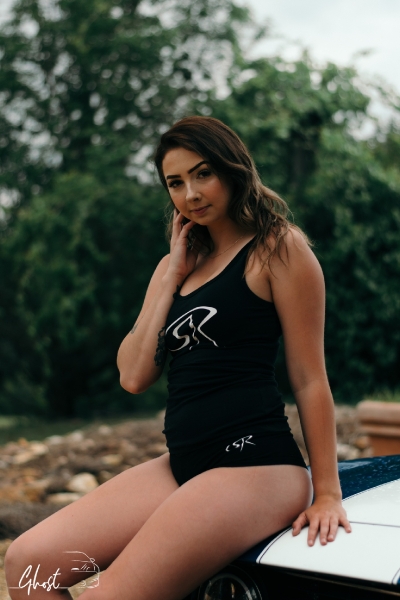 Don't miss the rest of our interview with Katie Elizabeth:
SR: What do you do for a living?
Katie: I am in auto sales.
SR: What was your first car?
Katie: It was a silver 2000 Ford F150 on 35" Nitto Mud Grapplers.
SR: If you could do any one mod to your current Mustang, what would you choose?
Katie: A 5.0 drivetrain swap! Getting a V8 wasn't in the cards when I bought mine three years ago.
SR: If you could travel anywhere in the world with one of your dream cars, where would you go?
Katie: If I had the money, I would go to Dubai. It's a combination of a tropical paradise and the luxury car scene.
SR: What is your favorite automotive event of the year?
Katie: Mustang Week no question about it!
SR: What would an ex say is your best asset?
Katie: Dat asssss!
SR: What is your biggest pet peeve?
Katie: A man doubting a woman's knowledge or strength or driving skills!
SR: What is your favorite food?
Katie: Steak, and it has to be rare... no other way!
SR: What is your favorite Pizza topping?
Katie: Pineapple!
SR: Tell us two fun facts about you that people don't already know.
Katie: Resident Evil is my favorite movie series, and I am a crazy cat lady!
FOLLOW THE CREW ON SOCIAL MEDIA:
Follow ShockerRacing on our Social Media: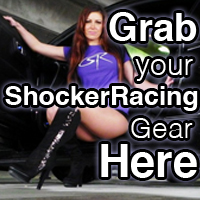 Instagram: @ShockerRacing
Twitter: @ShockerRacing1
Facebook: Facebook.com/ShockerRacing
YouTube: YouTube.com/ShockerRacing
Snapchat: @ShockerRacing
DON'T MISS - STEPHANIE HAGAN - CLICK BELOW: