Chelsie Huffmeister
Written by Bex Russ Wednesday, 04 November 2020 20:14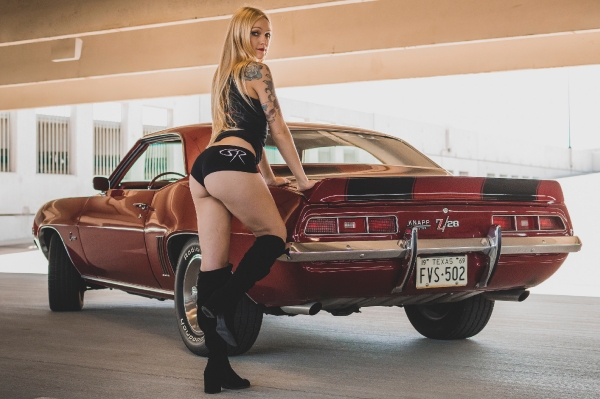 Chelsie Huffmeister may be new to ShockerRacing but not new to the car industry. Let's all welcome the Katy, Texas resident to the ShockerRacing family. This 27-year-old is a paralegal by day and content creator by night. In hopes to expand her social media career she reached out to ShockerRacing to be apart of the team. "I came across the Shocker Racing page and fell in love with the site and the vibes. The bootyshorts are a plus," she told us. Keep reading to get to know this car girl and her thrilling vibes.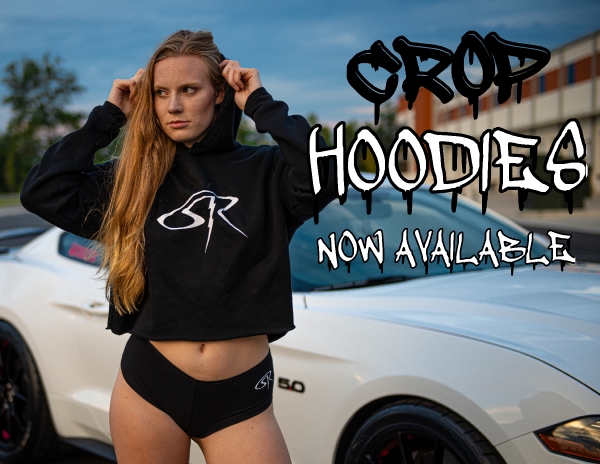 Born and raised in Houston, TX. Chelsie tells us she got started in the car industry from her step-father, Todd. "I grew up around cars. I grew up in the drag pits to be more specific. My stepdad, Todd, professionally drag raced 1400 plus horsepower Toyota Supras. My mother and I would travel around with him. Todd was really good and really fast. He was even featured on TV a few times. So naturally, I love loud and fast cars," Chelsie explained.
Chelsie also has some experience in the modeling industry. Besides traveling for car events with her mother, she tells us of their bonding moments, "I used to do baby pageants. I also shot with glamour shots photographers for their portfolios and eventually brought my two passions together and started car modeling for meets or shows." This brings us to her first shoot for SR. For this shoot, Chelsie chose to wear a pair of our famous boyshorts and paired them with a Heart Logo Tank Top.
Chelsie worked with a popular Instagram photographer, Trey Deher. They met at a car show a few years ago and have been working together ever since. Chelsie said the two picked the perfectly lit spot for the SR shoot at a parking garage. She explained, "It was a beautiful Sunday morning. These shots were taken with not a cloud in the sky. The breeze was excellent and we had a great time!" Chelsie shot with Timothy Chetwynd's stunning 1969 Camaro.
Ultimately the most fascinating thing we discovered about Chelsie is that she is a true CAR GIRL! Chelsie drives a 2015 Scion TC that won 1st place Scion at Import Face Off in 2019. The mod list includes; Injen Intake, DC Racing Exhaust, D2 Racing Air Struts, Airlift Performance 3p management, Airlift performance 3 Gallon Tank, VIAIR Compressor, XT-005r White Cosmis Racing Wheels, Toyo Extensa HP II Tires, Winjet fog lights, N.I.A. Auto Design eye lids, Ikon Motorsports Front lip, Paint by Katy custom finishes, All-fit bumper release clips, Custom Mesh Grille, Weathertech window rain guards, Toyota OEM Splash guards, Savageworks Aero rear diffuser, Spec-D Tuning rear towhook, Raptor 4inch antenna, Carbon Fiber NRG 69 Wing, Aerowolf End Plates for the wing, Toyo Tires banner, Anodized Aluminum valve caps. Chelsie went on to tell us, "I also purchased a wide body kit for the car and I'm currently test fitting wheels and soon will be cutting fenders and then there is no going back. I want to make it a badass show car!" This is definitely a unique build, and Chelsie has gone above and beyond!

Don't miss the rest of Chelsie's interview below:
SR: What was your first car?
Chelsie: It was a 2010 Toyota Corolla XRS in white with black racing stripes, and it was a manual!


SR: What is your dream car?
Chelsie: Definitely a Lamborghini Gallardo or a 1990's 2jz Toyota Supra.

SR: If you could travel and have your dream car anywhere in the world, where would you go?
Chelsie: Hawaii! North Shore Oahu to be more specific. I love the island, the beach, the sun, the waves and all of the vibes are wonderful! I wish I could afford to visit more often or even live there one day.
SR: If ShockerRacing was going to pay for any mod your car no matter what the cost, what mod would she choose?
Chelsie: Red Racing Seats are definitely a big goal of mine. I don't have many interior mods and would love to add red bucket racing seats with seat belt harnesses.

SR: Who is your favorite previous Shocker Racing Girl, and why?
Chelsie: Sarah aka Sen Cityy! She is beautiful, nice and sweet, a Car girl with a cute butt! Win Win!

SR: What would an ex say is your best asset?
Chelsie: My hair. I have naturally long, bright, beautiful blonde hair.

SR: What is your biggest pet peeve?
Chelsie: When people misspell my name or when people don't have manners.

SR: What nicknames do you have?
Chelsie: Most call me Chels or Huff.

SR: What's your favorite food?
Chelsie: Spicy Cajun Crawfish or Chinese food for sure!

SR: What's your favorite Pizza topping?
Chelsie: Pepperoni and Cheese.

SR: Do you have any tattoos?
Chelsie: I have a little addiction to ink. I would be more tatted if it wasn't so expensive. However, I still have a lot of tattoos. All my tattoos are original, they are my drawings with specific coloring and shading or my handwriting. My favorite tattoo is in the inside my lip. It says "PLEASE". If I don't get my way, I can pull my lip down and things usually go my way after that.

SR: What two fun facts about you that people don't already know?
Chelsie: I was born 7lbs. and 11 oz. My first name has 7 letters and my last name has 11 letters.
I've never had the Chicken Pox. My immune system is very strong and I rarely get sick.
SR: Do you have a favorite quote?
Chelsie: "Fuck off" or "do you"!

We hope you enjoyed getting to know Chelsie. Find her at her favorite car event Import Face Off or follow her social media to keep up with her latest builds, modeling and next event. If you are interesting in becoming a Shocker Racing Model. Please, email This e-mail address is being protected from spambots. You need JavaScript enabled to view it .

Follow the Crew:
Model: IG - @ooofthattc FB - Chelsie Huffmeister YT - OOOFthatgirl  Linktree: linktr.ee/Chelsbetch
Photographer: IG - @s.s.photography18
Car Owner: IG - @nottaevo
Follow ShockerRacing on our Social Media: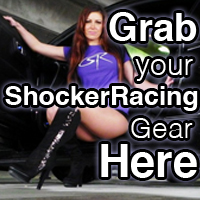 Instagram: @ShockerRacing
Twitter: @ShockerRacing1
Facebook: Facebook.com/ShockerRacing
YouTube: YouTube.com/ShockerRacing
Snapchat: @ShockerRacing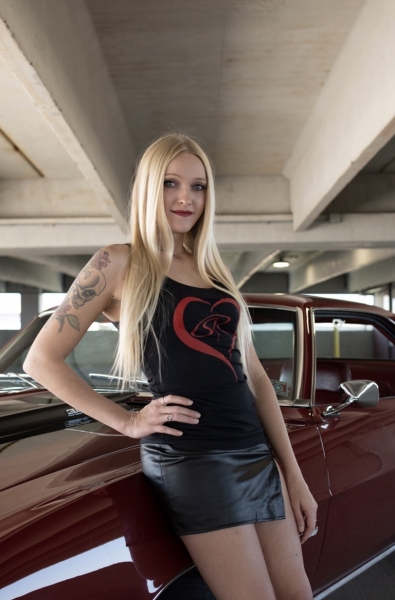 DON'T MISS - ZELANNA SESSIONS LATEST PHOTO SHOOT: