Miranda Washington
Written by James Anderson Wednesday, 02 December 2020 17:21
As we are coming to the end of 2020 and what has been a hectic year for everyone, we are still feeling lucky to have had such an overwhelming fall season with photo submissions from across America.  We have had so many of our ShockerRacing Girls submit new features, and have also welcomed so many new ladies to the family. Today we are welcoming another new lady to the crew. Miranda joins us from Norfolk, Virginia where she serves in the U.S. Navy. Hit the link to read her story and see more from her first shoot: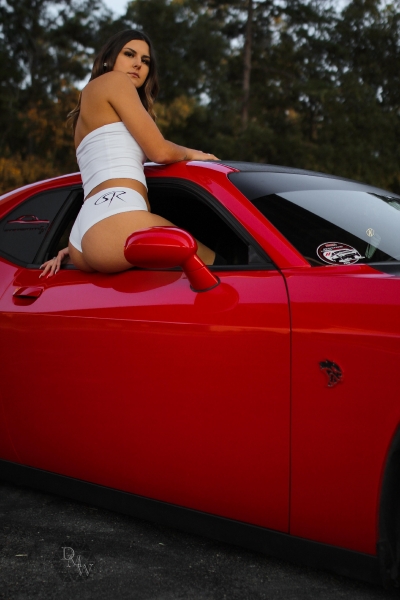 Miranda got involved with in the car scene through her husband who owns a 2016 Dodge Challenger Hellcat. We asked her about how she got involved with modeling and Miranda explained, "I actually did my first few shoots with the Hellcat, and then did a couple of portrait shoots as well. From there it just started feeling more natural and now I love it," Mrs. Washington also explained that she has since modeled for other car groups including Form and Function. For this shoot Miranda repped a pair of our White Boyshorts and the pair headed out to Veteran's Bridge in Chesapeake, Virginia. This location offered a unique backdrop for their photo shoot. "You can't tell in the pics, but it was super cold and windy while we were shooting," Miranda explained.
This Hellcat that Miranda loves to shoot with has been nicely modded with the following parts:
Airlift 3H Suspension with Custom Trunk Setup
Airlift Controller Glow Mount by Classy Productions
2.85" Pulley
Custom Window Louvers by The Louver Labs
Legmaker Carbon Fiber CAI
Lighting Trends DRL Halos
Custom Wrap
10.5" Wheels with 315's
Rear Diffuser by KNG Wraps
Engine Dress Up Kit by Billet Technology
2019 Radio Swap
Don't miss Miranda's full interview below:
SR: What do you currently drive?
Miranda: I have a 2019 Jeep Grand Cherokee.
SR: What was your first car?
Miranda: I had a Chevy Malibu.
SR: What is your dream car?
Miranda: I would love a Pink 2021 Range Rover!
SR: If you could travel anywhere in the world with your dream Range Rover, where would you go?
Miranda: I'd love to go to Italy one day.
SR: What is your favorite food?
Miranda: Enchiliadas! Yummmm!
SR: What is your favorite Pizza Topping?
Miranda: Chicken and Bacon!
SR: Do you have any tattoos?
Miranda: I have 6 tattoos. My wrist is the word "Faith". One on my back shoulder of Ohio and a heart by where I am originally from. My Grandma's handwriting on my forearm from the last card she ever wrote me. I have my parents birthdays in Roman Numerals and crowns on my forearms. The last is something that's somewhere private!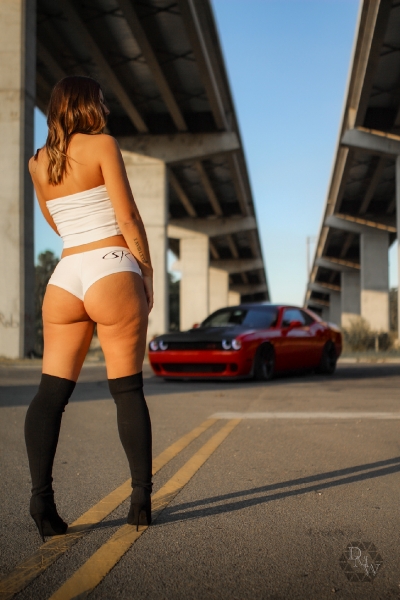 Follow the crew on social media:
Miranda Washington - IG: @_xoxo.miranda_
Hellcat Car Page - IG: @boostedkitty
Photographer Page - IG: @dubmediaworks
Follow ShockerRacing on our Social Media: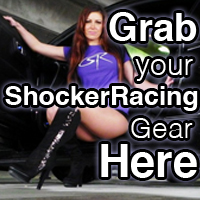 Instagram: @ShockerRacing
Twitter: @ShockerRacing1
Facebook: Facebook.com/ShockerRacing
YouTube: YouTube.com/ShockerRacing
Snapchat: @ShockerRacing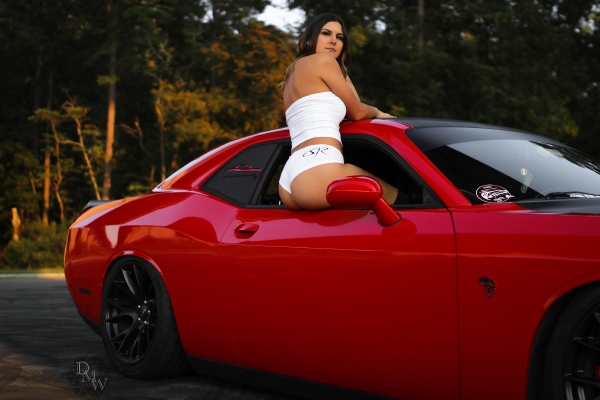 DON'T MISS - TANIA JOINS THE SHOCKERRACING GIRLS: