Angie Moltzan - ft. Sam Markham for Christmas 2020
Written by James Anderson Wednesday, 23 December 2020 21:44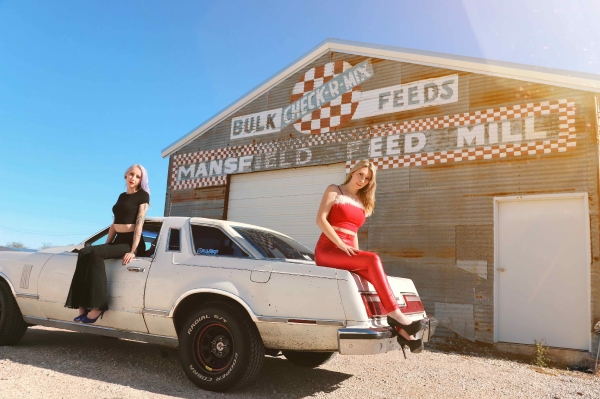 Typically, this time of year we announce our ShockerRacing Bad Santa Contest where we encourage car models to get their jingle bells, candy canes, and tinsel out for a shoot during the off season. Unfortunately, 2020 got the best of the Shocker Racing Staff. The team chose to spend the rest of the year celebrating the Holidays with family and taking some much-needed time off. Fortunately, for SR fans, elite model Angie Moltzan had some holiday spirit and was able to shoot for our fans! Keep reading to learn more about the holly jolly fun!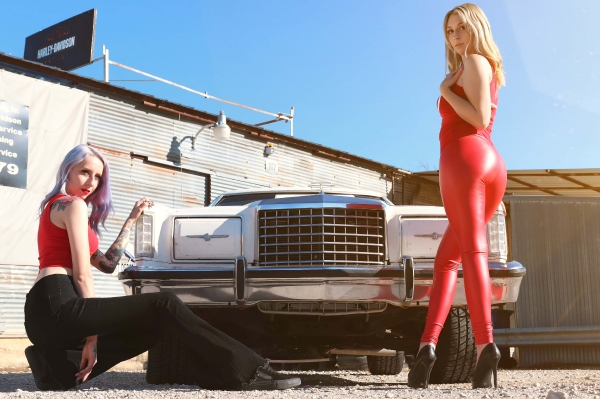 Angie met with Santa's Naughty List favorites. Photographer Casanova Rodriguez and car owner Sam Markham in Mansfield, Tx. The crew wanted to shoot with Sam's 1978 Ford Thunderbird. The perfect sleigh for these sexy Santa shots. Angie told us "We originally had plans to shoot in McKinney, TX. However, the Grinch ruined our plans… Just Kidding! Sam's car started leaking coolant and so we had to find a place in her town. Which worked out! It was a great town to see, I personally have never been. The Christmas Spirit was so alive in the quiet little town". SR loves to see the effort Angie put in to making this happen.
Sam's 1978 Ford Thunderbird has a little more than some milk and cookies for Santa. With some great modifications like a custom-built cowl hood, Hurst Quarter Stick Shifter and aftermarket lightweight racing seats. As well as, some rear axle work with a Ford 9 inch 31 spline Nodular Iron Case Moser Trak-Lok 3rd member with 3.00 gears. 31 spline Extreme Series Axles. Mounted to the car with Spohn Performance Upper and Adjustable Lower rear control arms. Sam's engine work is no basic Christmas light show. This abdominal snowman has an '68 429 (435) engine with bored .030, flat top pistons, 11:1 compression, Comp Cam High Energy Cam 260/260 Duration. .484/.484 lift, roller tip rockers, Comp Cam 3/8 pushrods, Comp Cam pushrod girdles, Weiand Stealth intake, stock heads with light port work, Holley Sniper Fuel Injection and Hyperspark ignition, CVF Racing Billet front  belt drive, Canton Street Strip oil pan, Hooker long tube header, 2.5-inch exhaust, to Spintech 9000's with side exit. Topped with a K&N filter provided by K&N. Tuned by Mad-Science Motorsports. The transmission is C6 built by Texas Best Transmissions.
These working elves shot at Mansfield Feed Mills. The perfect rustic location to show off Sam's sleigh. Angie rocked around the Christmas tree in her red Shocker Racing Sweetheart Tank and some red leather pants. She also threw on a little red number Mrs. Clause would be jealous of! Angie introduced us to Sam during this shoot. Angie had nothing but compliments about Sam and the car. "Sam and I have been friends through Instagram and a few months ago finally met up at a car show. We have been great friends since. She is one of the few women in the industry that just 'gets it.' Sam also works at a hot rod shop and it's been really awesome learning new things about older cars through her. Sam has a lot of pride in her car, especially, the engine bay. All the wiring and details are perfect. She does a great job!"
Since the New Year is LITERALLY around the corner; Shocker Racing is so excited to get things rolling again. We know 2021 has promises of car shows and more car events/activities and can't wait to see what our models get into during the season. We also have many new models to announce and lined up for the new year. Be sure to follow all our social pages to be the first to meet and see the new teammates. Until then we hope everyone has a Happy and SAFE holiday season!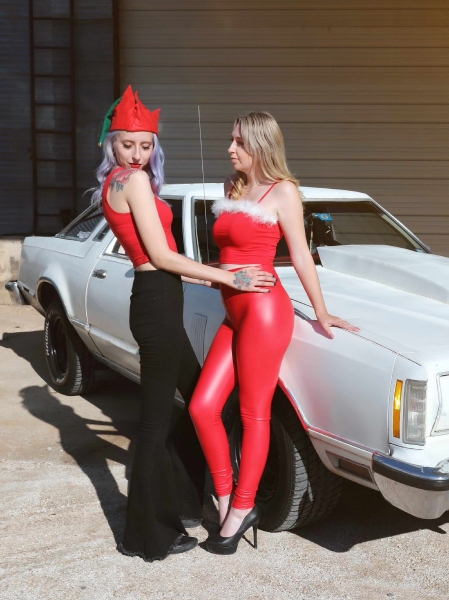 Follow the crew:
Model(s): Angie Moltzan @iammtheprincess & Sam Markham @svtbird
Photographer: Casanova Rodriguez @hell.gato
Car Owner: Sam Markham @svtbird