Kayla Lipker
Written by James Saturday, 16 January 2021 10:45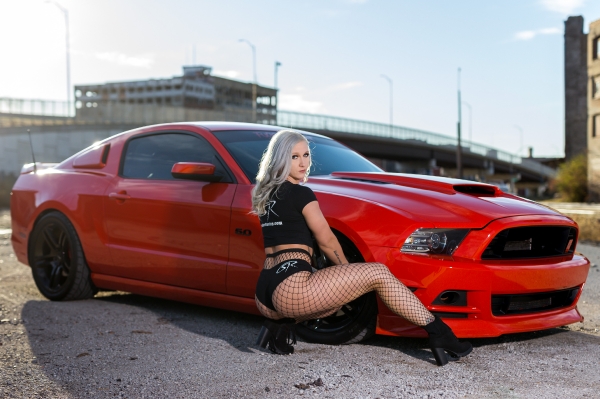 We told you that ShockerRacing was bringing some heat to kick off the new year, so let us introduce you to Kayla Lipker! Ms. Lipker is our first new ShockerRacing Girl for 2021, and we are excited to have her on the team. The twenty-eight-year-old grew up in a small town in Nebraska with a population of just 90 people. "I have been into cars since I was a little girl," Kayla explained, "I would buy Hot Wheels and Matchbox cars instead of Barbies!" Now as an adult, Kayla is still playing with cars. She explained, "I currently have a 2003 Ford Mustang GT that is mostly stock. She was my daily until I bought my 2016 Ford Focus ST this past May." Hit the link to see Kayla's first official photoshoot:
Back when Kayla first got her Mustang, she stumbled upon the ShockerRacing Instagram page and it immediately sparked her interest. "I have always wanted to get into car modeling, so I was instantly obsessed with the ShockerRacing Girls and their content," Kayla exclaimed. She tells us she has very little modeling experience as she just started shooting with cars this past summer. She first shot with her exes Cobra, and it just took off from there. She went on to say, "I still don't have a lot of experience, I have only done 4 shoots so far. This is my first legit publication!"
Kayla's Ford's are mostly stock for now. Her Mustang GT has Flowmaster 44 mufflers, Cobra wheels, and MGW Short Throw Shifter, and an intake. When she picked up her Focus ST, it already has a Cobb Intake on it. Once the warranty is up on it, she plans to add more mods like a bigger turbo, BOV, and turbo back exhaust.
For her introduction to ShockerRacing, Kayla chose one of our You Can't Park With Us Crop Tops and paired it with our classic black Boyshorts. She matched her SR outfit with a pair of fishnets and high heel boots to finish off her outfit. Besides playing with cars, Kayla spends much of her time in the gym. She has been on her fitness journey for the past six years, and it shows! "I have prepped for four NPC fitness shows, but never stepped on stage," Kayla explained, "I just enjoy lifting heavy and it's kind of my way of staying sane. Nothing like some iron therapy."
Kayla met the photographer, Steve Furst, through a mutual Mustang friend and decided him and his 2014 Stang would be perfect for this shoot! She made the drive to Kansas City, Missouri to work with Steve and his badass ride. "It was freezing cold that day, and I was shivering the whole time," Kayla exclaimed, "but we got some pretty good shots!" She went on to tell us she was so happy to finally get to do a feature for ShockerRacing, and create some new content with Steve and his Mustang.
Don't miss the rest of Kayla's interview below:
SR: What do you do for a living?
Kayla: I am a Behavior Analyst.
SR: What was your first car?
Kayla: I had a 1999 Pontiac Grand Am.
SR: What is your dream car??
Kayla: An Eleanor Mustang for sure!
SR: If we offered to pay for any one mod to one of your rides, what would you choose?
Kayla: Probably a new turbo for my Focus ST.
SR: If you could travel and take your dream Eleanor Mustang anywhere in the world, where would you go?
Kayla: I have always wanted to explore Europe.
SR: What is your favorite automotive event of the year?
Kayla: Locally there is this yearly show called Ice Cream Cruise. I have always wanted to go to Mustang Week, and I am hoping to finally make it this year!
SR: Who is your favorite ShockerRacing Girl, and why?
Kayla: Sarah, SenCityy, she is booty goals for sure!
SR: Are you single?
Kayla: Yes, I am currently single.
SR: What would an ex say is your best asset?
Kayla: My backside tends to get the most compliments for some reason!
SR: What's your biggest pet peeve?
Kayla: I have so many, but one of my biggest ones would be slow drivers. Particularly slow drivers in the fast lane, or when there are two cars side by side going the same speed and you can't get around them.
SR: What's your favorite food?
Kayla: I could never pick just one, food is life! Pizza, tacos, sushi, wings, bacon cheeseburger, ice cream... give me all the food!
SR: Tell us about your tattoos.
Kayla: As you can see, I have lots of them. If you count my sleeve as one, then I have 11. A couple of them are memorial tattoos, the cupcake on my ankle is for a friend. My sleeve is Japanese themed, so each piece has its own meaning. I have "Love Dad" on my wrist in my dads handwriting. My stomach tribal was my first one and I got it when I was 16, so it wasn't really thought through. The brass knuckles on my ribs my friend did in his apartment. My chest piece was from when I was going through my "basic bitch quote" phase. I have a music note behind my ear because I was a band nerd and love music. I have pink and black nautical stars between my shoulder blades with no real meaning, I just went through one of those phases too!
SR: Tell us two fun facts about you that most people don't know.
Kayla: My hair is actually naturally brassy red, and I was really good at playing saxophone.
SR: Leave us with your favorite quote:
Kayla: "Well behaved women rarely make history"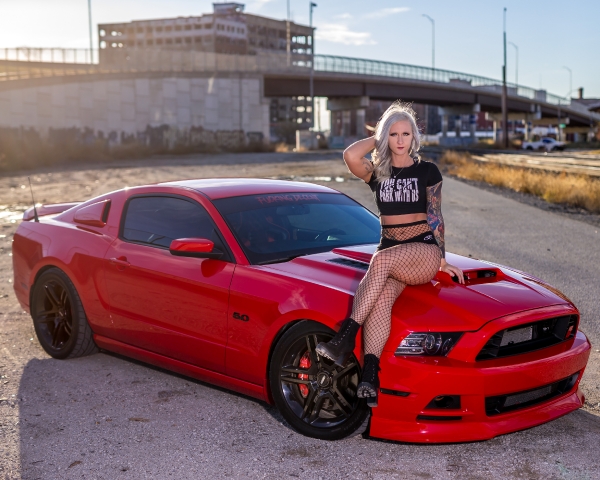 Social Media:
Kayla Lipker - IG: @inked_st2
Steve Furst Photography - IG: @furst_edition_photography
Steve Furst Mustang - IG: @stretch_5.0
Follow ShockerRacing on our Social Media: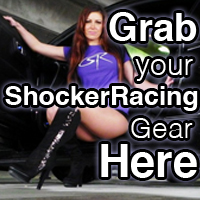 Instagram: @ShockerRacing
Twitter: @ShockerRacing1
Facebook: Facebook.com/ShockerRacing
YouTube: YouTube.com/ShockerRacing
Snapchat: @ShockerRacing