Savannah Byrd - Shoot 5
Written by James Thursday, 04 February 2021 11:34
Savannah's fifth shoot took place at Lake Hickory, respectfully named after the City of Hickory in North Carolina. The lake is known for its beautiful views and a recreation hub for boating, fishing, and other water-based activities. So, it didn't come to us as a surprise that Savannah had a few curious on lookers during her shoot.
Hit the link to see her full shoot with a 5.0 Mustang: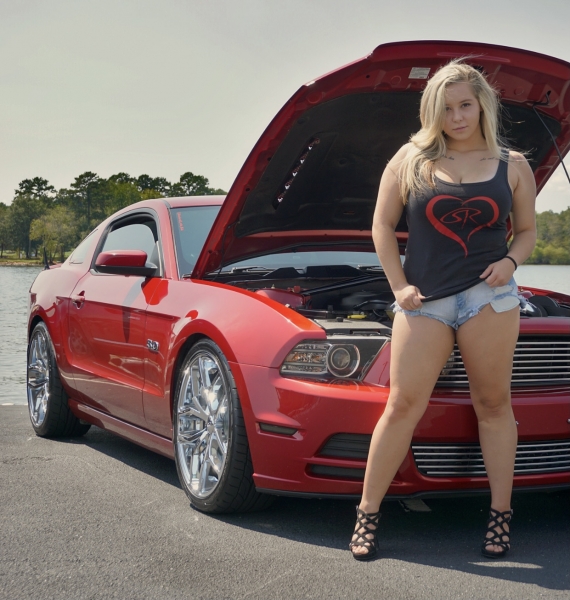 "It was a pretty windy day. However, being at the lake made it even better, especially for the scenery. The parking lot was crowded and people kept giving me odd looks," Savannah explained, "With the wind so strong, the Blood Wolf flag flown over the engine bay was really hard to display. Even with tape to keep it attached it fell constantly. We could only get one shot with it in place. Still, a really fun day!"
This was the perfect opportunity for Savannah to show off her Heart Logo Tank Top to match the red Stang. She paired it with a pair of jean shorts, and then switched up her outfit to a plain black crop and red jean shorts.


Savannah modeled with a 5.0 Mustang with the following mods:
Borla Attak Exhaust
K&N Cold Air Intake
Red Carbon Fiber interior trimming - Wolfza
Lund racing dyno tune
Longtube headers by Kooks
Catless
Powerstop evolution brakes
Yellow speed Racing coilovers
Be sure to follow Savannahs social media pages to learn more about when her next event or shoot will be. If you are interested in becoming a model for Shocker Racing please, email This e-mail address is being protected from spambots. You need JavaScript enabled to view it for more information.

Follow the Crew:
Model: @savannahbyrdd
Photographer: @dossphotography132
Car Owner: @bloodwolf_yote_5oh