Brina - Shoot 2
Written by James Thursday, 25 February 2021 11:45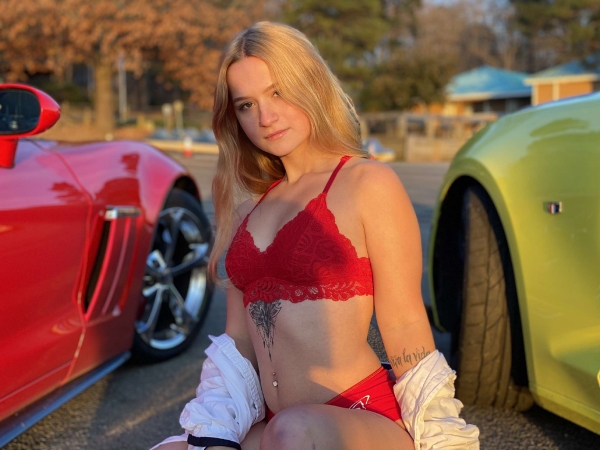 A popular shoot location trend, for 2021, seems to be lake settings. This is our second feature this year with an oasis backdrop shared on our website. This time with newer Shocker Racing model, Brina Call. Our girl rocked a red pair of our popular ShockerRacing Booty Shorts. Perfect for the heat Brina demonstrates in these photos.
Keep reading to learn more about Brina's second shoot for ShockerRacing.
Brina's shoot was at the stunning location of Lake Wheeler, NC. A lake perfect for locals. With plenty of park facilities and services provided. In her own words Brina explains, "My favorite part about this shoot was the location. The lake was so stunning, especially, when the sun was setting. It was so gorgeous!"
Brina modeled with her boyfriend's lime green Camaro and friend's stock red c6 corvette. The three met photographer; Leole, at the lake for some great shots for us to share with followers and fans of the ShockerRacing website. We are loving the great effort Brina put in to get these shots. She's doing great work for the SR Team.
Brina tells ShockerRacing Staff that she plans on shooting in Florida this year. "It's a dream shoot location for me," Brina mentions. We are excited for the enthusiasm Brina has for the upcoming car show season. Be sure to catch her at the Klean Exhibition this spring!

Be sure to follow Brina's social media to keep up with her modeling and events she plans to attend. If you are looking to be come a shocker racing model. Please, email ShockerRacing Staff at This e-mail address is being protected from spambots. You need JavaScript enabled to view it for more information.
Don't miss Brina's first ShockerRacing Girls shoot here: Brina Joins the ShockerRacing Girls

Model: Brina Call - IG: @_bbrinaa

Photographer: @leolephotography

Car Owners: @catfished_c6 @lime_1le
Don't miss these bonus photos from a shoot Brina did with Bliff Photography(@bliff_photography) with a C6 Corvette owned by @c6_ju: