Rotti McCracken Joins the ShockerRacing Girls
Written by Bex Russ Saturday, 03 April 2021 09:24
If you could travel and have your dream car anywhere in the world, where would you go? Newest Shocker Racing model, Rotti McCracken, surprised us with her answer, "I would choose Germany, because I was born in Germany. And NO speed limit on parts of the highway, heck yes!" Hold up…. You were born in Germany?? WE HAVE TO KNOW MORE!!!!! ShockerRacing fans, keep reading to learn more about Rotti!
Okay, okay to clarify. Rotti isn't a military brat. However, her father's career required her family to pick up and move often. Rotti was born in Germany but found her true home in good ol' Texas. "My family moved around A LOT. Germany, the United States and more. Arizona was the only state I remembered as a kid. My dad's job had us move more times than I can remember," Rotti explained, "He finally had the option of Japan or Texas in 2014, if I remember correctly and he chose Texas. Ever since I have lived there."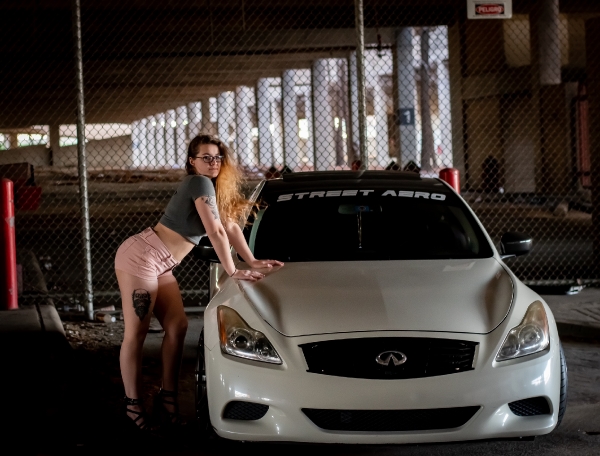 Rotti got into the car scene when she moved to Texas. "I always worked on Jeeps with my Dad growing up. So, I always showed interest in them. When we settled in Texas, my Dad made the decision to purchase a Dodge Demon." Rotti went on to tell us, "I loved going to car meets with him in his ride. He showed me the ropes of the car community. Since then, I've been in the car scene. It also helped me discover my love for photography and modeling." Passions on top of passions. We had to know more. Rotti told us "I have been modeling for almost 2 years, but I still don't have as much experience as I hope to have. Becoming a ShockerRacing Girl is going to help me a lot and assist me to have a lot more shoots and opportunities going forward."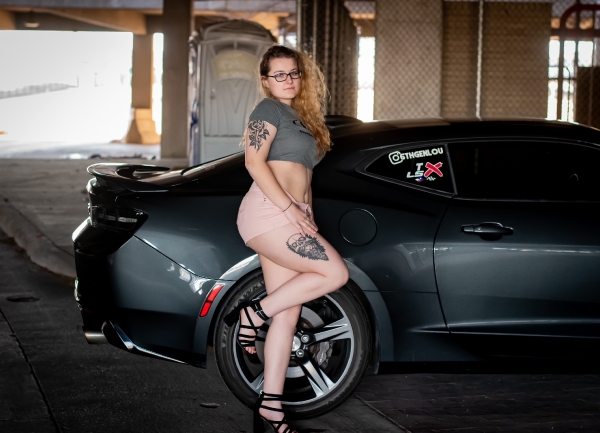 We love help young ladies grow their career in the industry. We asked Rotti which of of ShockerRacing Models inspired her the most and she answered, "Angie Moltzan! She was the main reason I got into modeling and is always telling me what I can do better. She always gives me great advice and helps me pick cute outfits before some of my shoots. Angie is my inspiration, she sent me a SR crop top for Christmas and encouraged me to expand with my modeling. She is my role model." We love to hear about our SR Girls encouraging and helping each other grow!
Rotti's first shoot for SR was in Aubrey, Texas. With a popular Instagram photographer. "We met over Instagram, I believe I contacted him first because I was looking for a photographer. He was actually the one to take pictures for me for my very first model shoot in 2018! He turned my dream into a reality and I can't thank him enough." Rotti tells us. She shot with a few cars that were friends of the photographer. Rotti also tripped the SR Staff by modeling the SR crop top backwards, but we always enjoy ingenuity and creativity with our apparel.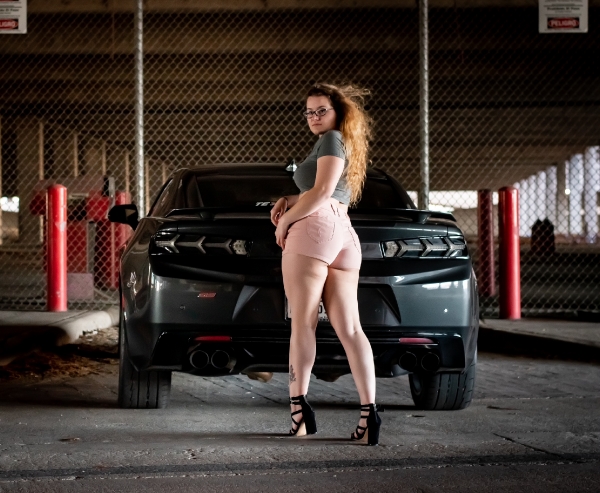 Get to know more about Rotti here:
SR: What do you drive?
Rotti: I currently drive a 2020 Nissan Sentra SR with no mods, but I have bought wheels for it and coilovers will be ordered soon!

SR: If ShockerRacing was going to pay for any mod to your car no matter what the cost, what mod would you choose?
Rotti: Not thinking of the price, I would want bags for my car.
SR: What was your first car?
Rotti: My very first car was a white 2007 Hyundai Veracruz. Wasn't much but I was very grateful and I called it my little egg.

SR: What is your dream car?
Rotti: My dream car would have to be a Camaro ZL1, I was raised around Chevy and I love the way they look and the things you can do to them."

SR: Are you single?
Rotti: Yes!

SR: What would an ex say is your best asset?
Rotti: I think they would say how much of a hard worker I am. I am always determined to work towards the goals I have set for myself.

SR: What is your biggest pet peeve?
Rotti: My BIGGEST pet peeve is when someone chews loud or chews with their mouth open. I can NOT stand it.

SR: What nicknames do you have?
Rotti: Courtney is my actual name, but I go by Rotti. It started as a joke but ever since that is what I am known for so I decided to keep it.

SR: What's your favorite food?
Rotti: Curry Wurst! A German dish of course. It is bratwurst with a special curry sauce poured over it. Typically served with a side of fries.

SR: What's your favorite Pizza topping?
Rotti: Black Olives and pepperoni, I'm weird I know.

SR: Do you have any tattoos? If so, how many? Tell us about them.
Rotti: I have 4 tattoos. 2 colorful and 2 black. My first colorful one is on my leg; it is in the shape of an infinity symbol with a mom and daughter and a flower. My mom has the matching one. We decided to get it on my 18th birthday because we know nothing will ever get between us. My next tattoo is my wrist. It just says 'it's ok' with a red heart. That is just to remind me that no matter what happens I just need to breathe and let it go. My other 2 are on my leg and arm as well. One is a wolf with a skull (Unfinished) and the last one is roses with a knife going through it."

SR: Tell us two fun facts about you that people don't already know.
Rotti: I was born with blue eyes, but now have green. I have traveled to 15 Countries!

SR: Do you have a favorite quote?
Rotti: "Screw it, let's do it" It reminds me that you need to live life the way it was meant to be lived!

We hope you loved getting to know Rotti as much as we did here at ShockerRacing. Be sure to follow her socials to know when her next shoot or show will be. Like TSP Slam. If you are interested in becoming a ShockerRacing model. Please email This e-mail address is being protected from spambots. You need JavaScript enabled to view it for more information.

Follow the Crew:
Model - IG: @Rotti_Court FB: Courtney Rotti
Photos/Camaro Owner - IG: @6thgenlou
Infiniti - IG: @jose_g37s_
Follow ShockerRacing on our Social Media: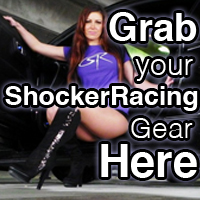 Instagram: @ShockerRacing
Twitter: @ShockerRacing1
Facebook: Facebook.com/ShockerRacing
YouTube: YouTube.com/ShockerRacing
Snapchat: @ShockerRacing
VIEW ROTTI'S PHOTO GALLERY HERE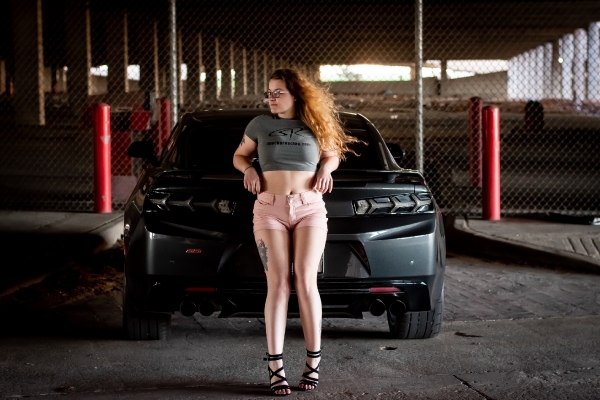 VIEW ROTTI'S PHOTO GALLERY HERE
DON'T MISS - NADIA KHASHMAN JOINS THE SHOCKERRACING GIRLS: