Ashley Hutt - Shoot 2
Written by James Anderson Tuesday, 20 April 2021 10:52
No, this isn't a repost! Ashley Hutt is back again for ShockerRacing and doing it even better! Although it's the same location as her first shoot for our website, you can see the growth and development in Ashley since her first SR Girls feature. It's absolutely impressive how she has broadened her skills in the two years since she first started with us. ShockerRacing staff is impressed and excited to share Ashley's photo shoot with our fans.
Hit the link for her full photo shoot:
 
Like we mentioned, Ashley headed to the same location as her first shoot to create some new magic. She and her boyfriend/photographer took advantage of golden hour down in new undeveloped neighborhood. "The area overlooks the lake and has a beautiful scenery. It was beyond windy when we took the photos so it was a bit hard to get the photos just right, but we made it work. I'm partial to this location because of it's sentimental meaning to me. Being my first shoot location for SR and all," Ashley tells us.
Because of the wind and chill in the air, supposedly, it was hard for Ashley to get the angles right in her posing. You couldn't even tell as she works the camera in front of her 2015 Scion FR-S. "I've had it for 3 years and I've done mainly cosmetic stuff to the car. It has a full exhaust and is wide-bodied," Ashley tells us. She also mentioned the wide body kit on her Scion was her favorite mod. "I just appreciate the curves and depth the widebody has. It gives my car character, and I love to look back at it." We can appreciate that as any car enthusiast would.
Ashley plans to show off her SR uniform in warmer weather one day soon, possibly Florida. Especially since her next car show is Slammedenuff, Destin. Be sure to follow her socials to keep up with her recent shows or shoots. If you are interested in becoming a ShockerRacing Model, hit the link here for more details: JOIN THE SR GIRLS
In case you missed Ashley's first feature, you can find it here: Ashley Hutt Joins the ShockerRacing Girls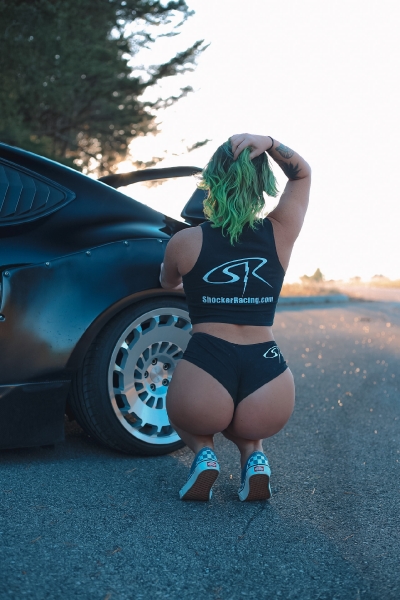 Follow the crew:
Model/Car Owner: Ashley Hutt @frs.assh
Photographer: Devin Hampton @slowcrw2v
Follow ShockerRacing on our Social Media: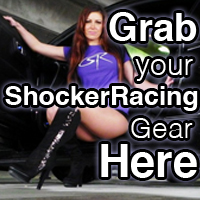 Instagram: @ShockerRacing
Twitter: @ShockerRacing1
Facebook: Facebook.com/ShockerRacing
YouTube: YouTube.com/ShockerRacing
Snapchat: @ShockerRacing