Lily Stalnaker - Shoot 2
Written by Bex Russ Thursday, 27 May 2021 08:50
Spring is in the air and you know what that means?? Flowers are in full bloom and the weather is just right. It's the perfect time of the year for car shows and blossoming models. Especially those named Lily! That's right folks! Lily Stalnaker is back with a new feature for ShockerRacing Fans! Keep reading to learn more about the shoot:
 
 
Lily holds this shoot dear too her heart because of the location. It's the site of the Riverside Spring Meet, First Horizon Pavilion. The event is a unique automotive event held every Spring in downtown Chattanooga, TN. The show is not a competition, but rather a place where enthusiasts are able to come together and enjoy the best vehicles from all over the Southeast, along with first class vendors and local food trucks. Lily tells us, "This shoot was the day after Riverside Chattanooga. I had to shoot at the Pavilion. It's the first show my car ever made it into! Personally, I love the fact that the venue is used for so many different events including car events!"
Lily's car has gone through some major updates since her first shoot with us. In her own words, "Since my first feature I have done a lot of upgrades to the car, I have done a full Airlift 3p system with a full marble trunk setup. I also had the air tank hydro dipped in a black lace, and a deep blue paint under! I also have done the full ECS aero kit on the car, Niche Misano wheels, Morimoto headlights, and tinted tail lights. I also have the Magnaflow 11385 exhaust on it, and the Integrated Engineering air intake!"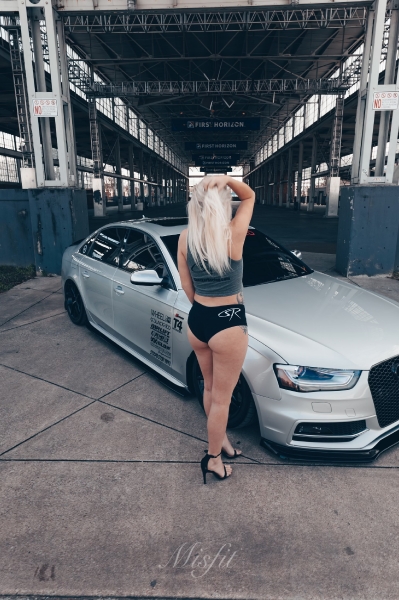 Lily worked with popular Instagram photographer, Jake Sarles. She rocked our original booty shorts and You Can't Park With Us grey crop tank. Even though it was shockingly chilly for a spring day, Lily killed this shoot for SR! Lily mentioned, "There is a dog park right behind the venue. The people at the dog park were super curious as to what was going on. Hope they enjoyed the shoot as much as SR fans do!"

 Like many of our models, Lily has major goals for shoots and events. She plans to shoot on a drag strip or a beach one day. She also would love to attend SEMA. For now, Lily and her ride are scheduled for Slammedenuff Nashville, and Destin.
Follow her social media to keep a close eye on her next move, and if you missed it check out her first feature that landed her as Miss March in the 2021 SR Girls Calendar here: Lily Stalnaker
If you are interested in becoming a Shocker Racing Model. Please, email This e-mail address is being protected from spambots. You need JavaScript enabled to view it for more information.

Follow the crew:
Model/Car Owner: @lilystalnakerr_
Photographer: IG @misfit_visuals