Gabi MacDonald Joins the ShockerRacing Girls
Written by James Anderson Tuesday, 06 July 2021 18:54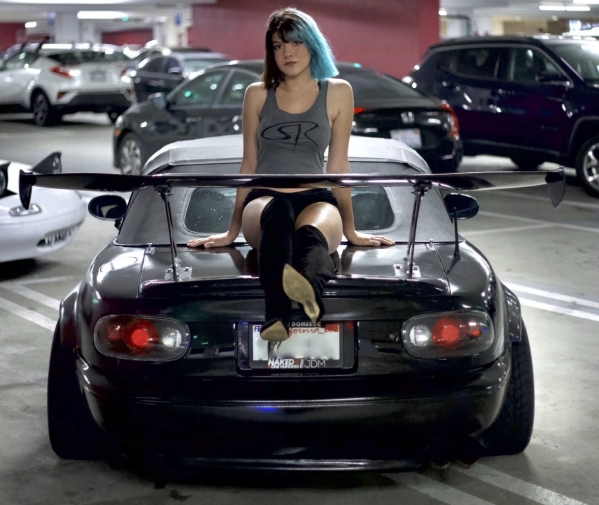 ShockerRacing loves adding new girls to the team... Especially those who are exceptional enthusiasts within the car scene. Girls that love cars are one thing, but ladies who not only drive rad cars but work on them too?? Now you're talking! ShockerRacing is also incredibly passionate about body positivity. Our fans know we have no limitations for our hard working models. We encourage confidence, individuality and try to create a family atmosphere for our girls. With that, let's get to know SR's newest model who embodies all of these fantastic traits, Gabi MacDonald.
 
Gabi, born and raised in San Diego California, has always been involved in the car scene. "I was raised and influenced by my father. He encouraged me to like cars. As soon as I was old enough to drive, I actively involved myself in the local car scene. I would attend huge meets down the street from my house every Thursday." Gabi tells us. She is also a professional Paint and Body Technician. This young lady spends most of her time in the shop focused on automotive cosmetics such as body work, paint correction, full paint jobs, and wraps.
While getting to know Gabi we learned about her many rides. She casually tells us, "My first car was a lowered 2006 RSX Type S with a custom exhaust. Now, I daily drive a 2017 Challenger R/T. It has nothing but cosmetic modifications such as louvers, decals, and a marble print wrap. On the weekends, I have a 1991 NA Miata with a RocketBunny kit, BC coilovers, and custom self upholstered seats. My Miata is currently to my liking, so if ShockerRacing were to pay for any mods to one of my cars, it would be to Liberty Walk my Challenger. That is my biggest goal when it comes to my cars." We know fans love to hear about our ladies dream cars too. Gabi's answer is double the fun, "I have two dream cars I will never be able to choose between. One of them is a 1971 Hemi Cuda because it was considered the best production year and it has my favorite grille style. My other dream car is a 1995 NSX because of the targa top and pop up lights. Pop up lights are my favorite and so unique." She went on to tell us, "If I could travel anywhere in the world it would be across the country and experience the different car cultures across the United States."
ShockerRacing is always intrigued how our girls find out about our brand. We asked Gabi what got her interested in working with us and this was her response: "ShockerRacing would always come up on my social feed. Whether it was Instagram, YouTube, or TikTok. I started to actively look into it and realized that it was an amazing brand filled with lots of beautiful women and even more beautiful vehicles. Needless to say I was instantly hooked and knew I had to be a part of it.  I got to know Hailey Nicole. We met on TikTok and she had been nothing but sweet and supportive. We share the same love for cars and of course she is gorgeous. she encouraged me to be apart of the team, so I emailed for more information." We are so glad Gabi reached out and excited to have her on the team.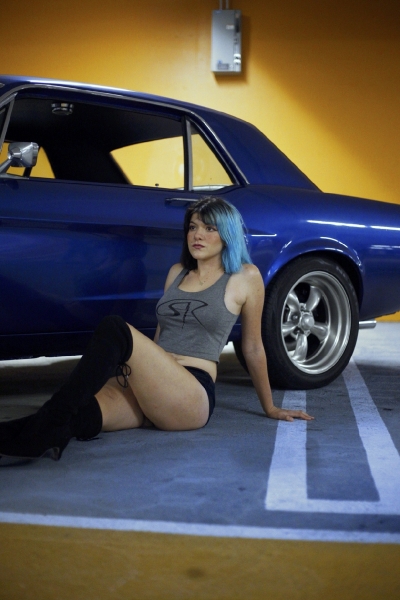 On the daily Gabi encourages body positivity. During her interview she told us "Body positivity is important to me. I don't have a belly button. So, I do what I can to encourage others in my position to be proud of themselves including their bodies." We love how strong Gabi is and focused on her goals. ShockerRacing is glad to have Gabi a part of their team and join forces in the social movement focused on empowering individuals no matter their physical weight or size, while also challenging the ways in which society presents and views the physical body. Gabi and ShockerRacing advocates the acceptance of all bodies regardless of physical ability, size, gender, race, or appearance.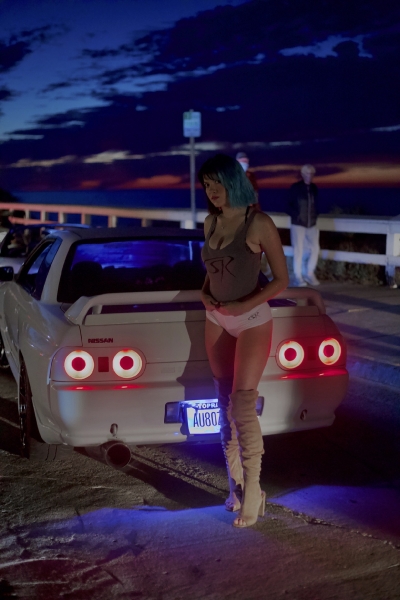 Don't miss Gabi's full interview:


SR: What modeling experience do you have?
Gabi: All of my modeling experience has been done with friends and cars as well as local car clubs and brands.

SR: What would an ex say is your best asset?
Gabi: Any ex would 100% say that my best asset is my creativity and ability to accomplish anything I put my mind to.

SR: What is your biggest pet peeve?
Gabi: My biggest pet peeve is "luxury vehicles" such as Mercedes, thinking that they own the road and everyone will drive to their own personal benefit and move out of the way for them as if they are untouchable.

SR: What nicknames do you have?
Gabi: My only nickname is Princess.

SR: What's your favorite food?
Gabi: My favorite food is shrimp and grits.

SR: Do you have any pets?
Gabi: I have five dogs. A Chihuahua (Hector), a Jindo (Mayhem), a Greyhound (bayou), and a Belgian Malinois (Magnolia).

SR: Do you have a favorite quote?
Gabi: My favorite quote is "It is better to have loved and lost, than to have never loved at all."

We hope you loved getting to know Gabi as much as we did. Catch Gabi at her favorite automotive event of the year, La Jolla Concours D'Elegance. Be sure to follow her on her socials for any other events she may attend or upcoming shoots.
Follow the Crew:
Model/Car Owner - IG: @uknowprincess, TikTok: Princesslehua
Photographe r- IG: @ejwvisuals
Editor - IG: @dirty.mcsurdy.