Rachel Watson - Shoot 2
Written by James Anderson Wednesday, 07 July 2021 09:47
ShockerRacing fans love when we post this Georgia peach, Rachel Watson. This young lady has recently bloomed in the automotive modeling world. Attending many events and maintaining a consistent shoot schedule is only part of what Rachel has accomplished since we last featured her in April. Thanks to the support and promotions of the ShockerRacing fam, Rachel has formed a profitable merchandising business with her stunning photos from her first SR shoot. She has been able to keep fans intrigued in her merch sales with additional shoots, as well as updates on her personal car. We are excited to share Rachel's latest shoot with our fellow car enthusiasts. Keep reading to learn more:
 
Rachel met with local Pooler, GA portrait photographer, Logan Plough. Rachel tells us, "Logan takes amazing portraits and has recently shown his strengths in automotive photography. I was excited to work with him!" The two met at a new construction site in the area. Rachel explained, "I loved the industrial atmosphere of the site. The weather and sunset was beautiful. It had great vibes." We completely agree! ShockerRacing knows sunrise and sunset provide more dramatic lighting for your images than any other time of day. The low angle of the sun in the sky refracts light in such a way that covers your subject in glorious rich color. Which is why you can't help but notice how flawless Rachel looks in these shots!
Rachel was more than excited to model with her own 2009 Nissan 370z for SR in this shoot. She recently had it wrapped to match her peachy personality. The color is Coral Peach by Teckwrap. Rachel's ride also has modifications like Cold Air Intakes, ISR Testpipes, Dual Catback exhaust, Godspeed Mono-Rs Coilovers, Varrstoen ES2 wheels,Nismo V2 front bumper, Nismo V1 rear bumper, some Carbon fiber accents,  Avenue Performance quick release steering wheel and V1 Nismo seats. We are extremely happy Rachel could finally show off her ride for the SR fans.
Rachel hopes to one day take her Z and shoot on a beach. With that wrap color, a photographer would be silly not to get some epic shots at sunset. Be sure to catch Rachel at SlammedEnuff Charleston or Klean Exhibition in her Hometown of Savannah Georgia! Follow Rachel's socials for more information on her next show or shoots.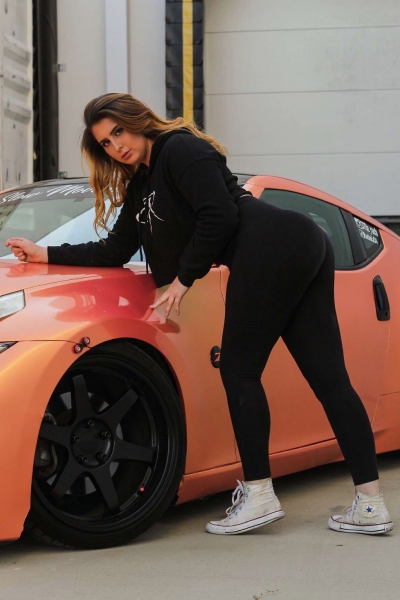 Follow the Crew:
Model/Car Owner: Rachel Watson - IG: @370_rach  TikTok: Rachel.z34
Photographer: Logan Plough - IG: @loganploughphoto