Rotti McCracken - Shoot 2
Written by James Anderson Tuesday, 20 July 2021 15:51
ShockerRacing fans love a little double trouble, especially with some crowd favorite cars. For Rotti McCracken's second feature, her and popular Instagram photographer, Cas, have brought fans two badass whips in this recent feature. Keep reading to learn more about their shoot and rides Rotti brought to share on our website and social accounts!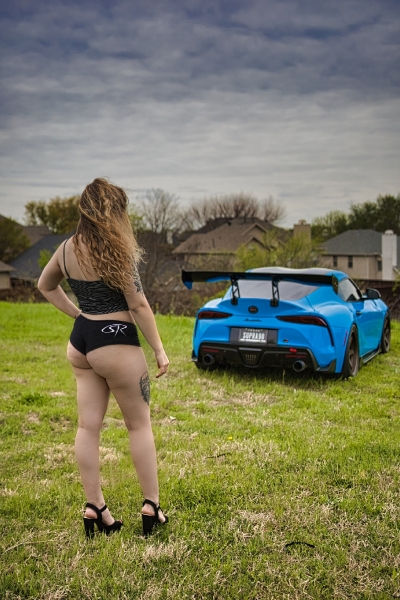 Rotti met her crew near Lake Lewisville, TX. The lake has been around since the 1920's. A large reservoir  that serves as a water source for Dallas, but residents also use it for recreational purposes. The lake features a beautiful view and backdrop for some killer photos. Rotti tells us, "The shoot was rather cloudy but I actually enjoyed it. This helped so it wasn't too hot. We were out there for a couple hours and if it was sunny I would have been aching. The bugs decided to attack me in the tall grass. So, I had to take breaks throughout, but anything for the shot!"
ShockerRacing staff love a good overcast shoot. It's the next best thing to a golden hour shoot. The clouds act as a softbox and help with shadows or reflections even in the middle of the day. The perfect lighting helps make our gorgeous models look even more flawless, as well as the cars they shoot with. Rotti shot with a 2020 GR Supra with a ton of cosmetic modifications that include Rotti's favorite feature, "A BIG WANG!" She also showed off the photographers 2018 Hellcat Charger. This Black Beast also has some cosmetic modifications that Rotti showed off in her shoot.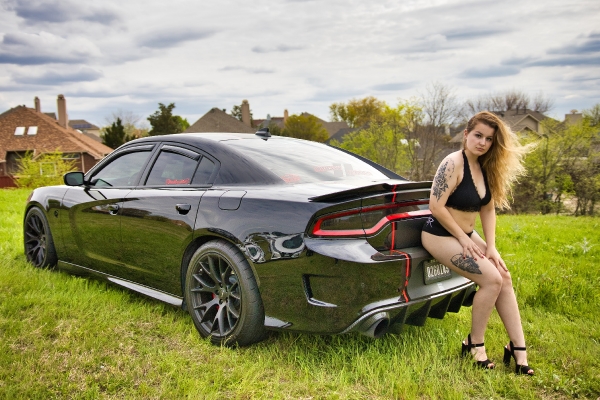 Rotti showed off our Classic Booty Shorts for this shoot. Even though she is just getting started in the industry you can see Rotti is getting more and more comfortable with the work. She told us, "the all black outfit was my fav part. However, once I got into my zone I decided to take some cute shots without my shirt and I loved the look." Shocker Racing staff is impressed too, this time she showed off her beautiful eyes. If you are as entranced as we are, be sure to follow her social media accounts to see when her next show or shoot will be.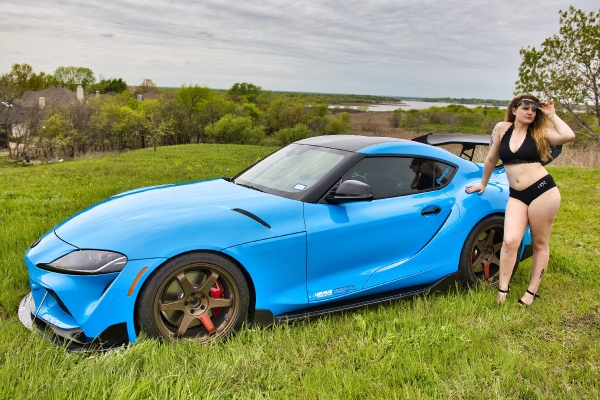 Follow the Crew:
Model: @Rotti_Court FB: Courtney Rotti
Photographer: @Hell.gato
Car Owner: @gazoo_supra
Car Owner: @Hell.gato