Quinyatta "Q" Manning Joins the ShockerRacing Girls
Written by James Anderson Monday, 09 August 2021 13:12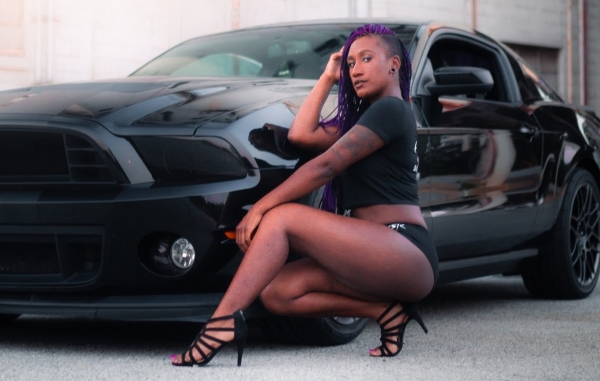 Twenty-one year old Quinyatta "Q" Manning began working around cars at a young age. Growing up in a racing family she learned that passion very young.  At the age of fifteen Q decided to take her passion to another level, she joined the automotive class in school and began working at a local tire and oil change shop. "I have been working as a mechanic, and parts specialist at a dealership now, and I absolutely love it," Quinyatta explained, "To be around cars on a daily and learn more every day is amazing to me."
 
Quinyatta has been living in Georgia, but has plans to move to New York to be closer to her racing family. "I'm honestly not ready to be dealing with winter months, but to be closer to my drag racing family and my other car build will make it worth it," Quinyatta shared. She lived near Maryland International Raceway and Capital Raceway growing up where she spent a lot of time learning about drag racing with her dad and his side of the family.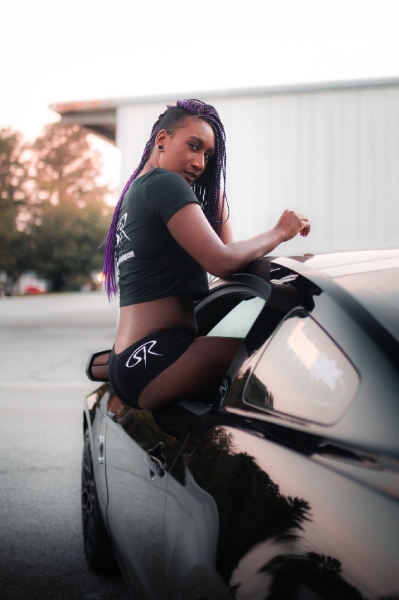 Ms. Manning tells us she currently has three cars that she loves more than anything... besides her family! The first is a 1969 Chevy Camaro that is her project car. She calls it All Black Everything aka ABE. "He honestly is my favorite car of the bunch. The Camaro was my grandfathers car and around the time I was born the car began to sit. When I was 14, I told him that I wanted to work on the car and follow in his and my fathers footsteps in racing," Quinyatta tells us, "The car is still in New York and every year it gets closer to being finished." Her next car is a 2005 Infiniti G35 that she calls Spyro after the dragon. She tells us this G35 has been a love hate relationship as it has been a source of frustration from the time she got it. We will just say that the car ended up sitting for a year, but is finally back on the road now. Lastly, her most recent addition is the car you see featured in this shoot. She chose to make her ShockerRacing Girls debut in a shoot with her 2013 Ford Mustang GT500. "I got him in February, and I have so many plans for this car. I have already taken this car down the track a few times, but I am still unsure if I want to make it a time attack car or a mile drag race car," Quinyatta explained.
Quinyatta has owned only two other cars, a 2000 Ford Mustang that was the first car she bought herself in high school and introduced her to the Ford lifestyle, and a 2013 Ford Mustang  GT that she bought when she turned 18. "I owned both Mustangs at the same time and modded them quite a bit," Quinyatta went on to explain, "I documented part of the journey for my Youtube channel to be able to look back at how much progress I made."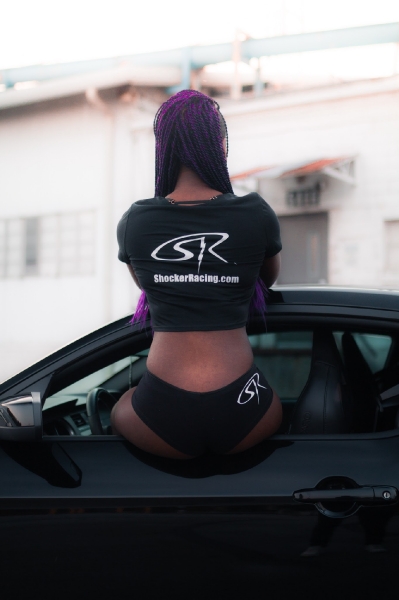 We asked Quinyatta about her dream car and this was her response:
As for dream cars, I don't really think of them as dream cars just a bunch of cars that I would like to own one day. Personally I would want a R35 Nissan GTR to go along with my G35, A Honda TypeR to pay homage to my high school roots & the fact that i lowkey love Hondas, and a Ford Excursion to be able to tow my cars around to the track or vacations. Also I would probably want a Nissan R33 or 240 SX S13. I just love all the body styles on all of these cars and hope to own them one day.

What got you interested in ShockerRacing?
I have been following ShockerRacing since around 2014. I made this account for my Camaro originally to document the progress of building the car, Camarochallenge was my original username. But as you can see the progress started dwelling down and I starting building cars closer to home. But one day I was on Instagram and I believe you guys liked one of my photos or followed And Ive been following & supporting ever since.
Who is your favorite ShockerRacing Girl?
I have always looked up to the ShockerRacing Girls so it's hard to just pick one as my favorite since I've been following for years. But here are some that I look up to: Bex, Sarah (Sen.cityy), BearDellinger when she did her shoot, and recently @370z_Rach.
What modeling experience do you have?
I don't have much professional modeling experience. I have been in front of the camera on my own since my Camaro days and I just recently started getting into professional photos once I got my Mustangs. Recently, I have been getting more serious about my modeling/racing career. I have been signing up for track days and attending track events to get better at driving to pursue a race car driving career. This year I have been working to take more photos with my cars to try to pursue my modeling career. Working with Shockerracing is honestly a lifelong goal of mine and I am super excited to be working with this brand. I am super happy to be among an amazing group of people who support each other and show so much love. I hope to work with a few car shows as well in the future being the official model for the events.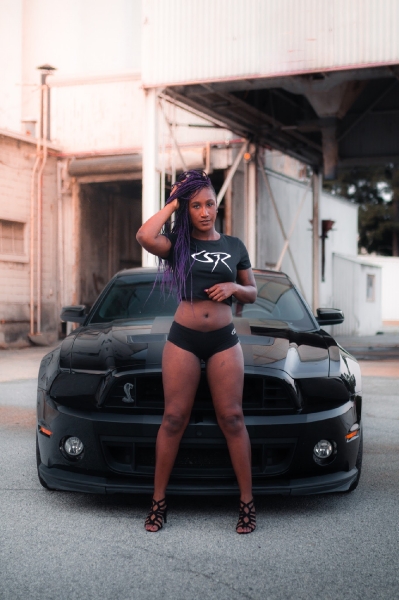 Follow Quinyatta on her social media: @drk__Queen
Photographer: @Unluckycarmedia