Written by James Wednesday, 16 March 2016 14:13
We finally got around to mounting the new 19"x12" Gloss Black wheels we picked up from C7Z06Owners.com today and they look perfect!  These are replica's of the factory 20" wheels that we ordered so that we could switch to a 345/30/19 Nitto NT05R Drag Radial.  We picked up a set of tire pressure sensors from Tire Rack, mounted everything up and switched over the factory center caps.  We took her out for a quick test drive right away...
It's a crisp, windy, partially sunny day here in Chicago and the temp is reading 55 degrees.  We had taken the Z out for a quick blast before swapping the wheels over as the weather hasn't allowed us to put many miles on her since the intake, pulley, and tune work we had done at Speed Inc.  With the newfound power, the stock 20" wheels and tires are completely useless.  Even at 60mph it is easy to light the tires up in smoke!
We pulled her back into the shop for a quick wheel swap.  The replica wheels look amazing, and at the price they are being sold at they are a no brainer!  With the new tires the stance is perfect.  If we don't point it out, most people probably won't even notice that they are not the factory 20" wheels and the little bit of extra sidewall actually looks right at home in the rear wheel well.
After admiring her new stance, we pulled out on to an open stretch of road and with a quick stab of the throttle we could already notice that the Nitto's grab better.  As we mentioned it is still fairly cool out so they didn't hook perfectly, but there was definitely a difference.  I also know that the Nitto's operate much better when heated up but we were not about to roast them just yet.  From a 60mph punch they hooked up much better, but still wanted to break loose a little.  We'll be waiting for a little warmer weather to get her out and try to test the tires a little further.  Of course our ultimate test will come at the end of April when we take her out to the Omega Motorsport No Fly Zone Midwest Half Mile event!  Stay tuned for further updates!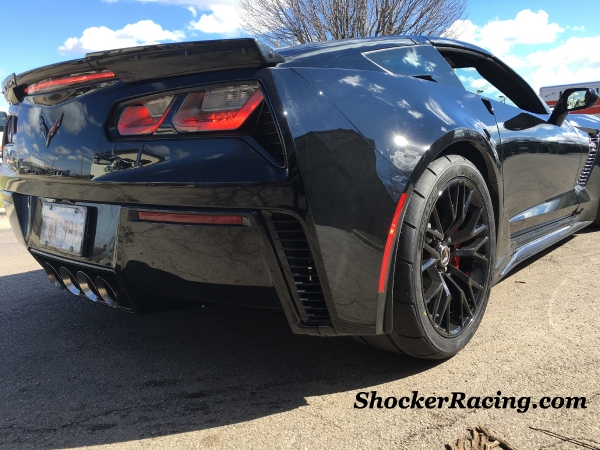 View the full C7Z06 Photo gallery here
Click the photo to check out our full feature detailing the latest mods installed on the C7Z at Speed Inc:
Here is our feature with Megan Lyda and the Atlanta Custom Wraps C7 Z06: