Written by James Anderson Thursday, 10 December 2020 10:20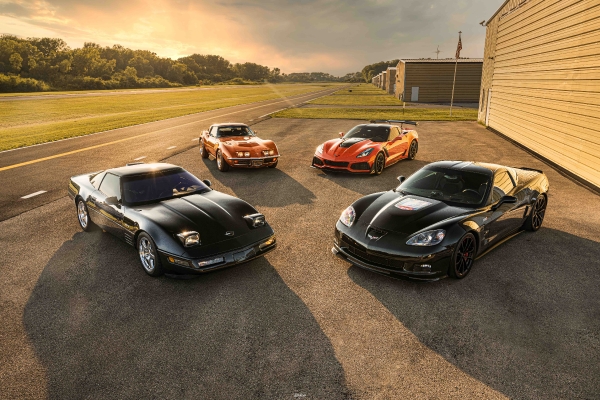 Fifty years ago Chevrolet released a performance order option on the C3 Corvettes equipped with the LT1 V8 engine known as the ZR1. This package ended up being an extremely rare option package due to Chevrolet never marketing the option coupled with the fact that the package was not recommended for daily street use. Over the course of three model years (1970-72), Chevrolet only produced a total of 53 Corvettes with the ZR1 Option package. After 1972, Chevrolet dropped the ZR1 option and it was gone until 1990 when they brought it back for the C4 generation as a ZR-1.  The C4 ZR-1 was produced from 1990 until 1995 and never made its way into the C5 generation. It was not until 2009 when the package was brought back for the C6 and was available as an option package until 2013. The final and most recent generation of the ZR1 was available on the C7 model and only for 2019. All four of these generations had limited availability and each version was considered the highest level of performance offered direct from Chevrolet.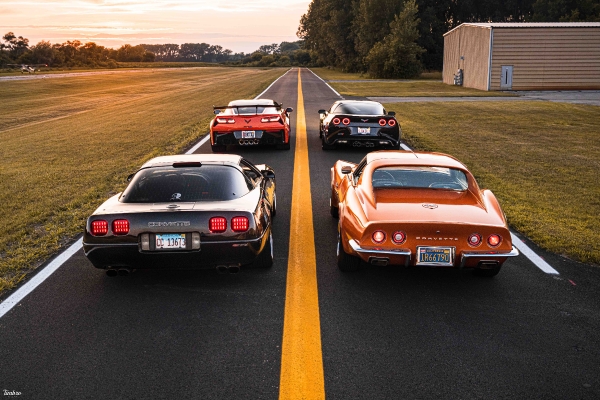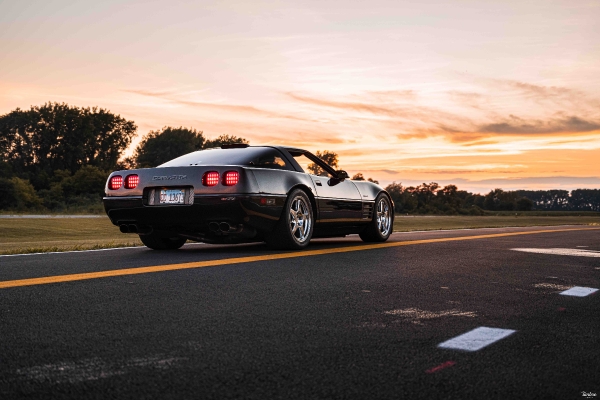 In June of 2020, David Swieboda posted in a Chicago Corvette group with the idea of bringing together all of the generations of ZR1 Corvettes for one epic photo shoot. It is unclear if this has ever been done before, but he planned to make this shoot historic! Mr. Swieboda had recently purchased a black 1991 ZR-1 and wanted to pair it with a fine example of each generation. David had a photographer lined up, Tim Broschinsky, and began the search. He figured it wouldn't be too hard to find a C6 ZR1 or the C7 ZR1 as there were plenty around Chicagoland, but wasn't so sure about finding a C3. He knew they existed but what are the chances that 1 of the 53 was going to present itself in the area. Well lucky for him, my dad happens to be a large collector of some of the nicest C3 Corvettes in the country. At the time of the posting, my dad happened to own two of the twenty-six C3 ZR1's that are still known to exist. His 1972 is the only known ZR1 to have been produced in the Ontario Orange color for the year. This worked in our favor as David ended up pulling together a black C6 and an Orange C7 for this photoshoot.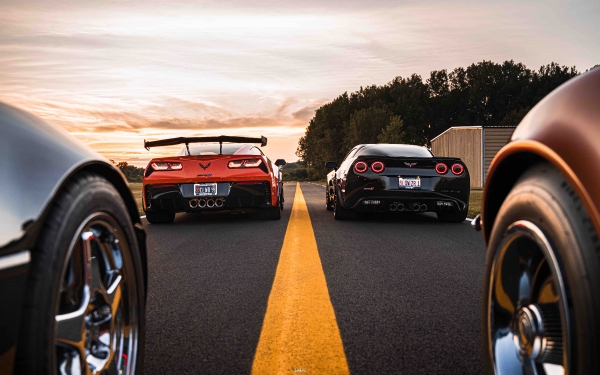 Tim Broschinsky was able to get access to a small private airport in Huntley, IL and scheduled the shoot just before sunset. We were lucky enough to bring the four Vettes together on a perfect evening with a gorgeous sunset over the freshly paved blacktop runway.
As mentioned above, there are only twenty-six of the C3 ZR1's still known to exist. There were twenty-five produced for the 1970 model year, only eight for 1971, and twenty produced in 1972. For this generation, the ZR1 factory racing option included the LT-1 engine, dual disc clutch with lightweight flywheel, heavy duty M22 4-speed transmission, heavy duty power brakes, aluminum radiator, special suspension and front stabilizer, and special rear wheel spindle struts. The C3 ZR1's did not come with a radio, a/c, power windows, power steering, rear defrost, or wheel covers.
For the C4 Generation, a total of 6,922 ZR-1's were produced over the six year period. It's well known for the 375 horsepower DOHC LT5 engine. This engine propelled the Vette from 0-60mph in under five seconds and completed the quarter mile in the low 13's. It also featured a wider body than the base C4's and wider wheels and tires to put the extra power to the ground. David's 1991 ZR-1 featured an aftermarket exhaust system including headers, x-pipe, and a B&B exhaust to take the LT5 growl to the next level. The previous owner had already ported and polished the plenum and injector housing to increase power. It also featured some upgraded LED lighting including the taillights.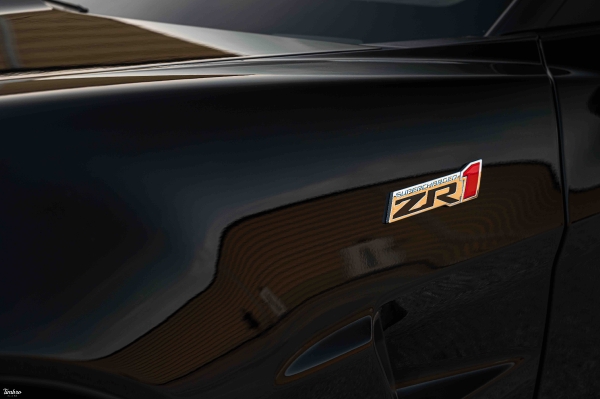 From 2009 to 2013 GM produced a total of 4,684 of the C6 ZR1 model Vettes. The new LS9 engine produced a whopping 638 horsepower from its supercharged 6.2L V8. The C6 ZR1 is the first ZR1 version to offer appearance upgrades that really stand apart from the base model. It features a transparent opening in the carbon fiber hood to allow fans to view the top of the engine, widened body that has aggressive venting in the front fenders, as well as a carbon fiber roof. There are plenty of additional upgrades to this model including a twin disc clutch system.
Ernie's C6 ZR1 Corvette is the most wildly customized of this group making over 900 rear wheel horspower. Ernie tells us his beast has a max effort build using the factory supercharger and stock bottom end. He converted it to flex fuel using a DSX Conversion kit and changed to a 2.2 upper pulley along with a 14% lower pulley from ATI to get 22lbs of boost. He threw a host of goodies at it from Kong Performance to increase air intake. A set of Kooks 2" headers with an x-pipe to allow the exhaust to flow. The lope from the Speed Inc. SI9 Camshaft through the upgraded exhaust is incredible.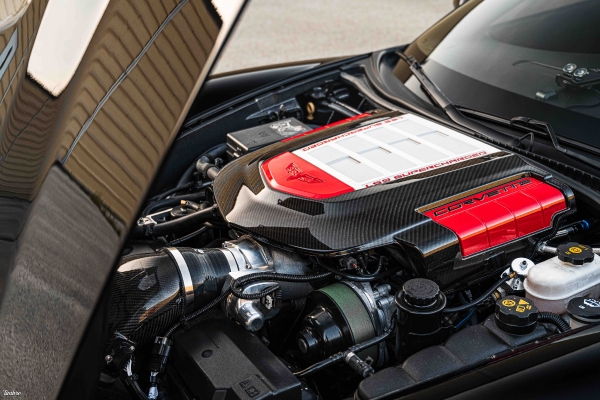 The 2019 C7 ZR1 Corvettes were offered in coupe and convertible form. They produced 2,441 coupes and 512 convertibles for a total of 2,953 C7 ZR1 Vettes. This generation is by far the most aggressive looking ZR1 to date. GM designed this model to be in your face with a wild hood, wing, and fender flares. They wanted to make sure that this version stood apart from the crowd. They took the supercharged 6.2L V8 to another level making 755 horsepower from the factory. Imran was gracious enough to bring along his Sebring Orange C7 ZR1 to bookend our shoot.
With the mid-engine C8 Corvette still in its inaugural year, we can only hope that at some point in this models generation we will see a wild new version of the ZR1. Rumors have already begun to hint at the possibility of an electric version of some sort of hybrid engine option.
Photos by Tim Broschinsky - IG: @timbrophoto
C3 1972 Corvette ZR1 - Owner: Jim Anderson
C4 1991 Corvette ZR-1 - Owner: David Swieboda
C6 2013 Corvette ZR1 - Owner: Ernie Lilliebridge IG: @ernielilliebridgejr
C7 2019 Corvette ZR1 - Owner: Imran Hasan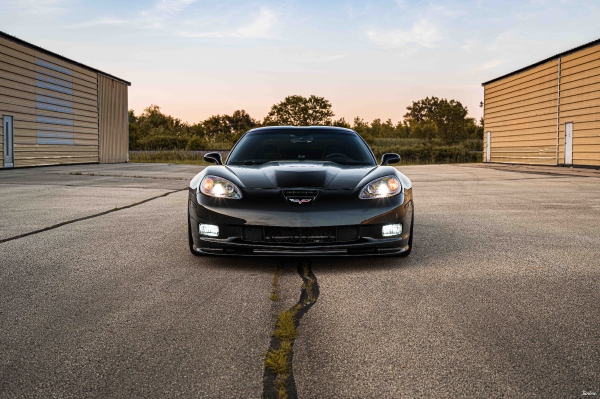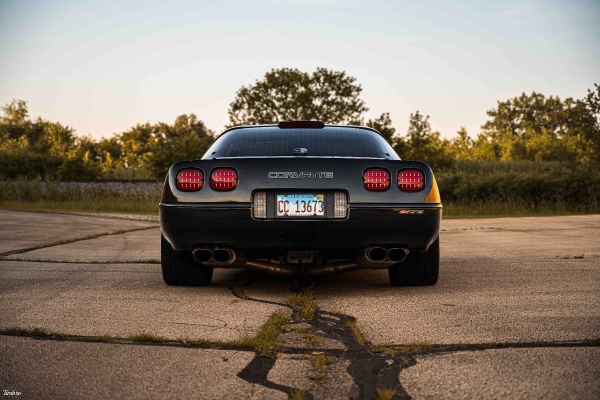 DON'T MISS - PLANES, BABES, AND AUTOMOBILES: