Written by James Anderson Monday, 07 April 2014 00:00
When ShockerRacing decided to do a feature on this wild Z06 Corvette we knew we had to find a model for the photoshoot that would match the attitude and sexiness of the car.  Enter Jamie Barwick a linemen for the Legends Football League's Chicago Bliss. We knew that since Jamie plays linemen for the LFL, that meant that not only was she strong but also beautiful... just like Tom's fully built 2002 C5 Corvette Z06.
To say that this build has been a long time in the making is an understatement.  Tom began this journey back in 2006 when he picked up this gorgeous Millenium Yellow C5 Z06 Corvette.  It had about 30,000 miles on it and was bone stock.  But Tom bought this Vette with no intentions of ever leaving her stock!  Within the first 6 months, she already had a Heads/Cam/Headers package, a FAST 90 intake, a Nick Williams 90mm TB and a Ram Twin Disk Clutch.  This setup made 440rwhp and 400rwtq.  A year later Tom still wanted more and his brother "Riski" convinced him to swap the cam to the England Green Whiplash camshaft.  After swapping the cam there wasn't enough valve to piston clearance and it wiped out the valve, piston, and the head! This is where the monster build and the quest for 1000 horsepower all began.
After all of the damage, Tom decided to order a 408 LQ9 motor, a D1SC Stage 2 Procharger Kit with the A&A Supercharger Bracket, MSD Coils, a DTE Rear End with Trans Brace, AFR 225 Heads, Comp lifters, 60lb Injectors, a Racetronix Fuel System with a Kenne Bell Boost-A-Pump along with adding the Remote Bleeder, and a new Slave Cylinder.  This setup increased the Z06 rear horsepower to 660 horsepower to the rear wheels, and 600 rwtq!  The rear end did not appreciate all of the new found power. So Tom pulled it out himself and rebuilt it with DTE parts, including 300m Shafts, and Carbon Clutches.
Still the tune wasn't quite right and Tom was experiencing some drivability issues. He then took it to another shop for tuning and ended up swapping the blower pulley to a smaller one along with adding a Snow Performance Meth Kit.  With the new tune and mods the car was now up to 735 rear wheel horsepower, and a whopping 720 foot pounds of torque!
This still wasn't enough power for Tom so here is the list of parts he added at this point:
Procharger F1C Blower
Blower Cam
ECS Front Mount Intercooler
Procharger Big Red Blow Off Valve
Dewitts Radiator
Dewitts Dual fan kit
Comp Springs
F.A.S.T. 102 Intake
Nick Williams 102 Throttle Body
Innovators West 10% overdrive crank pulley
FLT Trans
Kooks 2" to 3" long tubes
Kooks 3" off road x-pipe
3" Cat back quad tip exhaust
RSI Stage 3 Fuel System(Dual Billet hanger pump setup return style)
Carbon Fiber Drive Shaft
LG Coilovers

Yella Terra Rockers
1000CC Injectors
MAF Delete
IAT Sensor added
A&A 8 Rib setup
Flip Drive
Pfadt Solid Trans Mount
Pfadt Solid Motor Mounts
LG Solid Billet Driveshaft couplers
Kurt Urban Performance Water Vapor Kit
DSS 1000hp axles and hubs
LG Poly Bushing Kit
Line Lock
Lingenfelter 2 step
Corbeau A4 leather seats
Hurst Short Throw Shifter with C6 Shift knob
Double DIN with Pioneer Avic Z2
JL C5 Component Speakers
JL 10w3v3 subs in a custom made box
JL 450/4 and JL 500/1 amps
Lloyd's Embroidered Mats
EBrake and shifter boots leather with Yellow Stitching
Custom made license plate screen
Dual Nozzle Meth Kit
Custom side markers
Flag inserts in the emblems
HID Kit with projector headlights(black back, still flip up)
Carbon Fiber washer tank, coolant, fender covers, rear brake duct covers
18x9.5 front and 19x11 rear C6Z Black wheels with Nitto Invo tires
CCW Drag Pack(16 MT ET Street)
Carbon Fiber Extractor Hood(MCM Style) will be added shortly
After all this work was finally completed, Tom was informed that the 408 LQ9 motor had been hurt on the dyno and that the pistons and cylinders were oval shaped and the walls were gouged!  Tom went ahead and ordered an Aluminum ERL 427 Engine with 1/2" Head Studs and a few other options.  He added a C5R timing chain and was given the car back with a claim of 980rwhp @ 20psi of boost but was not given a dyno sheet as the shop said the printer was broken.  The car was running terrible and had an oil leak at the pan, along with going into limp mode under acceleration.  Tom then took the car to Speed Inc. for a retune and to replace the intercooler piping, the oil leak, and to address a problem with the car shredding belts.  They found that adding an LS7 water pump fixed the belt issue. After they retuned it, this beast has been running like a champ at 967 rwhp and 867rwtq at 20psi on pump gas!  On the day before the photoshoot Tom was cleaning the car up for the shoot and realized that the blower bracket had actually been rubbing and grinding the crank pulley pretty badly!  He stayed up the entire night pulling her apart so he could grind down the bracket and clearance it enough to clear the pulley.  Removing this extra drag could easily be the key to cracking the 1000hp mark.  We will have to wait to see until the next time he gets her back on the dyno.  He got it done and had just enough time to give her a bath before meeting with the photographer, Dan Joy, for the shoot.
The Vette should be seeing some track time soon and ShockerRacing.com will be sure to update this article with times and videos! Here's to hoping that after all the blood, sweat and tears Tom will get a chance to finally enjoy her this season!
Click the photos to view the full gallery
Big thanks to Dan Joy Photography and Jamie Barwick for doing the photoshoot for ShockerRacing.com as well as Kimberly Anderson for the photoshoot assistance.
New Photos added 4/21/14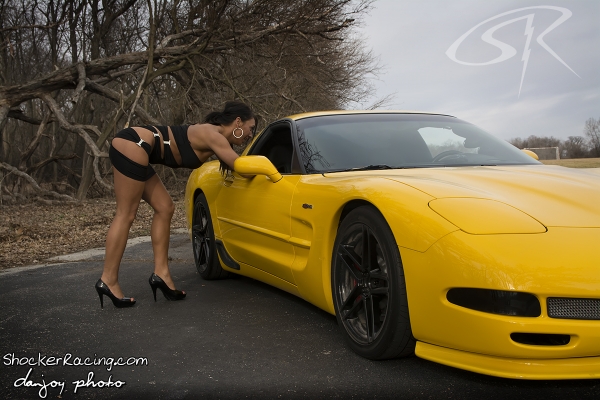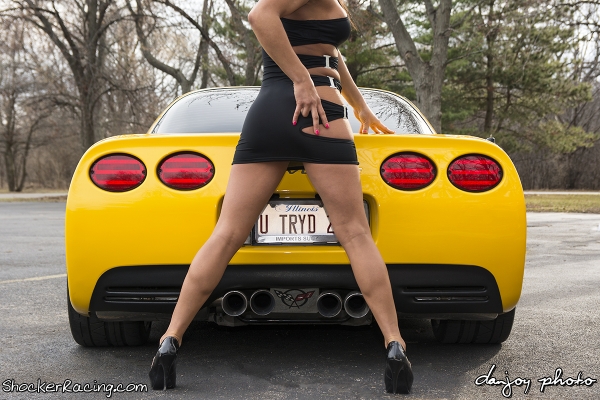 Dedicated to the memory of Joe "Riski"