Featured Rides
Written by James
Friday, 21 December 2012 11:48
Herman's 1999 FRC Corvette
The car makes over 1100rwhp and 1200ft/lbs of torque on 14psi of boost with e85 and meth
The paint is a flat white blue pearl.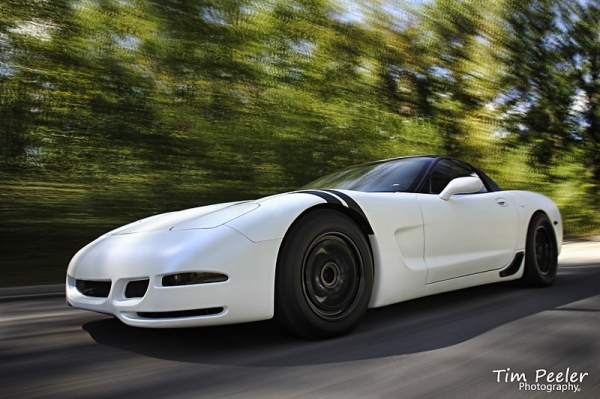 418ci Ls3 – 4.080 bore
Diamond gas ported nitrous pistons
Eagle 6.125 H-beam
Eagle 4" crank
Blower "BIG" Cam 239/254 .657/.630 115+4
Morel Link Bar lifters
Have to choose heads
PRC LS7 6 bolt heads 400cfm (Titanium Intake valves, SS exhaust)
PRC .700 Max lift springs
Ls7 manifold
90mm ported TB
Pfadt engine mountsCOMP Cams Hi-Tech pushrods 3/8 in. diameter Tapered to 5/16
in.Ls7 stock rockers with comp trunion upgrademeziere EWP DrivetrainRSD
line-locRossler TH400 terminator 4 trans w/ tbrake, etc…
PTC 9.5 billet Bolt Together Torque Converter
Fully built rear W/ 500m short & long shafts w/ upgraded clutches etc...
B&M shifter
Quicktime flywheel Flex plate
RPM Extreme duty converter drive plate
DSS propshaft w/poly couplers & Modded TQ tube
DSS 1000HP Level 5 Rear Axle/Hub kit
DTE brace
New cradle and a-arms w/Poly bushings
Ecs safety hoops
Custom scorch tranny cooler system with 900cfm fanPfadt C5 Transmission BraceCCW
Drag Pack w/ hossier 28" DR's  Exhaust
ARH 2" Headers coated
modded z06 Ti exhaust = super light w/ no drone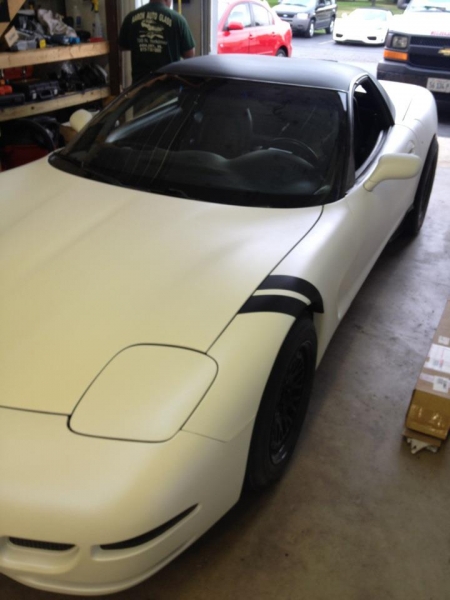 Pfadt complete drag race package
Pfadt FeatherLight Generation Drag Racing Coilovers-
Single Adjustable
Rear Sway Drag Bar – ( I will not be running a front sway bar as I will be running
slicks and skinnies)
Custom Scorch fuel system (good for 1500hp on E85)
Intank 400lph Walbro fuel pump
External Magnafuel 4303 fuel pump
Magnafuel MP-9950-B FPR
Magnafuel pre and post filter
Nasty Billet fuel rails
FIC 2200cc injectors
Check valve
Dual relay #10 line(x2)
-10an feed, -8an return
All the fittings and e85 compatible lines are black! POWA!!!!
ECS Novi 2500
ECS huge intercooler
Custom 10 rib direct drive
Upgraded HD ECS tensioner
Flip drive system
Procharger Big Red BPV
Dewitts big blower Radiator and spal fan setup
Scorch Custom Dual Evac system, -12an lines Electronics
Stock ecu
2.0 bar
SCORCH CUSTOM ALKY Meth systemCustom switch panelLed shift lightAFX wideband with
NGK sensor
Prosport Halo Gauges (trans temp, fuel, boost)
CBI custom adjustable boost
Threaded IAT sensor post meth nozzles
Click Here to see the full photo gallery!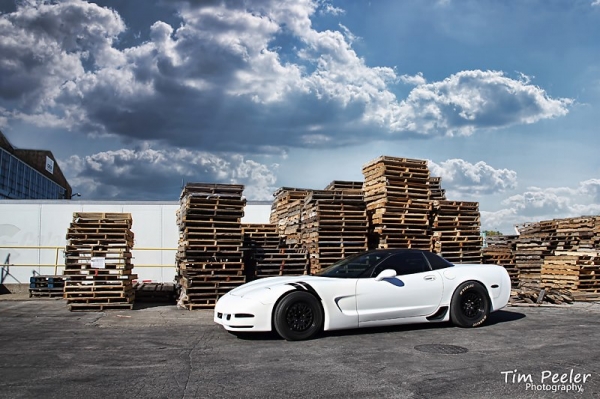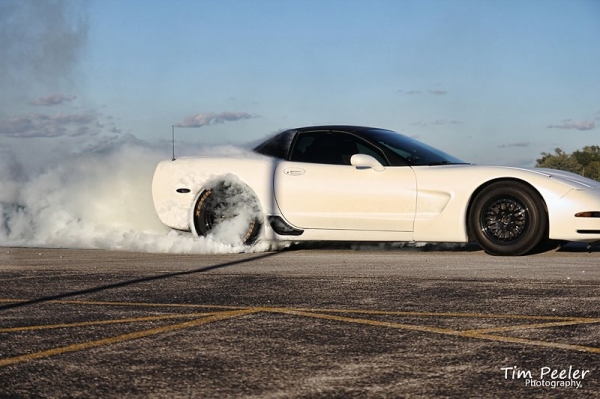 To see more photos by Tim Peeler Photography click HERE
Check out Tom's 1000 HP C5 Z06 featuring Jamie Barwick of the Chicago Bliss by clicking the picture:
Page 9 of 9