Natasha Tyrrell with her 2006 Jeep SRT8 Grand Cherokee
Written by James Anderson Monday, 14 December 2015 15:18
"I'm not a model... just a girl with a dope ass truck!" was Natasha Tyrrell's response to ShockerRacing when we asked her about her modeling experience.  The 2006 Jeep SRT8 Grand Cherokee you see her posing with is the truck she is referring to.  Miss Natasha loaded her board into her Jeep and met up with photographer, Alyssa McGrath, at an old psychiatric hospital in Long Island for our latest ShockerRacingGirls feature.
Natasha wanted a little ricer car like a CRX or an Integra for her first car.  Her mom had promised to buy her first car for her and when it turned out to be a Jeep, Natasha was not very excited.  She grew up in very small town in the mountains and a Jeep was a much more practical choice.  "I was so pissed at the time, but 5 Jeeps later, I would not have it any other way" Natasha tells us.  Her current Jeep SRT8 has a plethora of performance and appearance mods to set it off and she tells us she has a pile of parts collecting in her kitchen.  The parts she's collecting are for her winter project and include a Procharger blower, and a Crower Cam.
Natasha's Current Mods list:
Borla Exhaust with Res delete
Kooks Long Tube Headers and High flow cats
180 Thermostat
Custom Tune
Custom Pink Cold Air Intake
Eibach Lowering Springs
Custom DC Headlights with Color Shift Halos and demons
Spider LED Tails
Purple LED Interior Lights
Retractable electric front license plate
Mopar OEM Wing
Custom Sport Hood
Color matched trim
Shaved emblems
Powder Coated Wheels
Painted Calipers
Custom Pink Billets Under the hood
Part's for her winter project:
Procharger Supercharger
Crower Cam
Spare Intake Manifold for Porting and Polishing by HHP
90mm Arlington Throttle Body
Upgraded fuel system for 800hp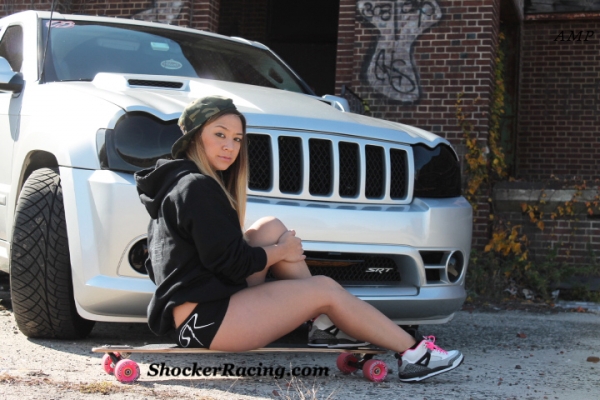 Here is the rest of our interview with Natasha:
SR: What is your dream car?
Natasha: I drive it.  Since the SRT came out I have always wanted one.  It is the best of both worlds... Jeep and Muscle!
SR: If you could take your Jeep anywhere in the world on vacation, where would you go?
Natasha: The Autobahn of course!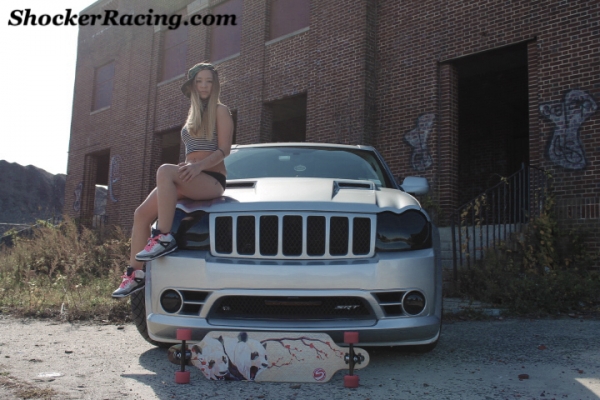 SR: If ShockerRacing was going to pay for any mod to your Jeep regardless of cost, what would you choose?
Natasha: A completely built 426 motor.
SR: How did you get involved in the car scene?
Natasha: I grew up at car shows, my dad used to show his 1969 Camaro Z28.  He used to let me help wash it before the shows.  I can still hear him telling me not to get Armor All on the rims! It will smear!
SR: Are you single?
Natasha: No, my boyfriend is my biggest supporter when it comes to my build.  He builds custom race cars and is an amazing fabricator.  He builds twin turbo kits and ships them all over the world.  He's beyond talented.  He's currently teaching me how to weld, and I hope to be half as good as him someday.
SR: What is your biggest pet peeve?
Natasha: Hypocrites and rolling roadblocks, when everyone is driving the same speed in all of the lanes.
SR: Do you have any nicknames?
Natasha: Miss Natasha and Panda.
SR: What is your favorite food?
Natasha: Carbohydrates and anything fried!
SR: Which of the Fast and Furious movies is your favorite?
Natasha: The original, but I love them all!
SR: Are you a Paul Walker or a Vin Diesel kind of girl?
Natasha: Vin Diesel... I am not about the rice life, even if I am Asian.
SR: Tells us two fun facts about yourself.
Natasha: I am half Korean and half Irish, I like to call it being racially ambiguous.  I also grew up in a really small town. People always ask how small or how many stop lights were there.  There was not even one stop light in my town.  Now I live in one of the biggest cities in the world.
SR: Leave us with your favorite quote.
Natasha: "Things may come to those who wait but only the things left by those who hustle."
Be sure to give Natasha a follow on Instagram: @MisssNatasha
For more of Alyssa McGrath's photography work: alyssaamcgrath.wix.com/amphotography @AlyyssaMcGrath
Click here for the full photo gallery
Click here for the full photo gallery
Click here for the full photo gallery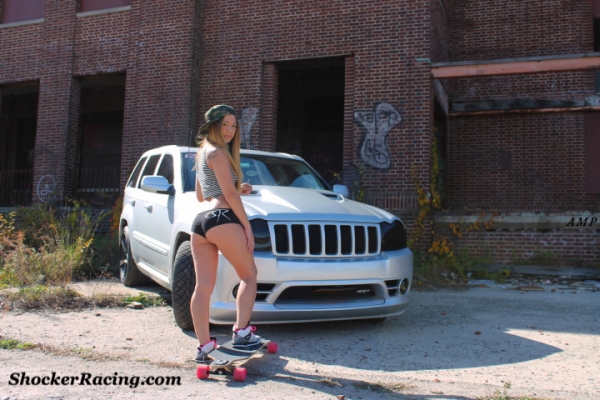 Click here for the full photo gallery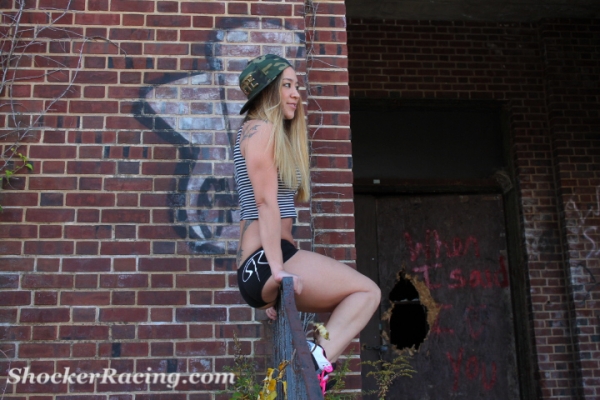 Click here for the full photo gallery
Check out our previous ShockerRacingGirls feature with Krysten Brents and her G8 GT: