Flower Child from Texas - Savannah
Written by James Thursday, 20 September 2018 16:54
Savannah Stanforth is a self proclaimed flower child and yet another new ShockerRacing Girl based in Texas!  We continue to be overwhelmed by the amazing support we receive from the Texas car scene.  Mike Parker has been a big supporter of ShockerRacing, and you may remember him and his Civic from the recent feature with Miracle: Do You Believe in Miracles?
Mike brought his Civic out again and met up with his good friend Savannah in Mineral Wells, Texas for her first photo shoot.

22 year old Savannah began the shoot repping her ShockerRacing Heart Logo Tank Top.  She followed that up by shooting in her Heart Logo Boyshorts and a Crop T-Shirt.  Ms. Stanforth tells us her family has always been a car family, constantly wrenching on them.  "My favorite car shows of the year are Good Guys, and Formula Drift," Savannah explained.
Savannah's favorite part about shooting with Mike, was that he allowed her to be herself.  "He really knows how to capture the true me, and allow me to be my fun and silly self." Savannah informed us.  After their shoot, the pair happened across a random mural featuring Texas.  Of course they had to stop and take advantage of the mural as a backdrop for more photos.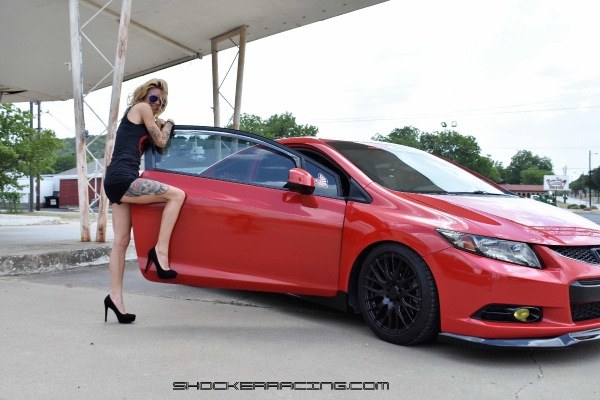 Don't miss the rest of Savannah's interview here:
SR: What do you do for a living?
Savannah: I am a Machinist.
SR: Have you always lived in Texas?
Savannah: Yep, born and raised!
SR: What got you interested in ShockerRacing?
Savannah: Mike, the photographer, opened me up to ShockerRacing and told me all about the ShockerRacing Girls!
SR: What was your first car?
Savannah: It was a Chrysler Sebring.
SR: What is your dream car?
Savannah: A 1967 Chevy Impala!
SR: If you could travel and take your dream Impala anywhere in the world, where would you go?
Savannah: The Bahamas.
SR: What is your biggest pet peeve?
Savannah: They call me Van.
SR: What is your favorite food?
Savannah: Anything Mexican and I love Sushi.
SR: Do you have any tattoos?
Savannah: I have 14 tattoos, most of them are flowers and all are of things that I like.
Make sure to go follow Savannah on her Instagram page and tell her how much you enjoyed this feature!
Follow Mike Parker on Instagram for more pics with his Civic!