Angel Joins the ShockerRacing Girls
Written by Bex Russ Monday, 13 April 2020 14:28
Welcome our newest Shocker Racing Model, Angel. This five-foot-four inch tall , 22 year old, from Las Vegas Nevada is coming in hot with this shoot she did for us with her Yuzu Yellow 2015 Scion FR-S.  This Scion is number 1084 out of only 1500 produced as the Release Series 1.  These RS1 Scions featured a whole host of TRD upgrades including an interior numbered badge, as well as an aero package, and TRD Quad Tip Exhaust to name a few.  Surprisingly, this is the second time we have featured a Yellow RS1 Scion!  You may remember back to our feature with Samatha Lewis and her Scion #1017: Samantha Lewis Loves Chicken Nuggets
Keep reading to learn more about Angel and her fun shoot in the mountains of Nevada:
As an Assistant Manager of a Retail Company, Angel, has the eye for a great look! She fell in love with the ShockerRacing uniforms and the energy of the page. She knew she wanted in, so she ordered our apparel and scheduled a shoot to become an official ShockerRacing Girl. She didn't have to look to far for a photographer because her fiancé, Travis Trudell, stepped up with some killer shots.
She's added some mods like a straight piped exhaust, TRD intake, throttle booster, and full TRD body kit. We asked her if ShockerRacing was going to pay for any mod to her car no matter what the cost, what mod would you choose? Angel said "Unequal length headers."
Angel has little experience in the modeling industry, however, she is full throttle in the car world. She grew up around her fathers garage. Eventually, she was attending meets in her area. Now she belongs to a Car Crew in her area. Angel tells us her first car was a 1999 Chevy Monte Carlo. Which is very different from most of our ladies on the team.  She also mentioned her dream car is a C8 Corvette.
The photo shoot was in Mount Charleston just outside good ol' VIVA Las Vegas but actually had snow on the ground! For those who don't know the area, Mount Charleston is an unincorporated town and census-designated place in Clark County, Nevada, United States. The population was 357 at the 2010 census. The town of Mount Charleston is named for nearby Mount Charleston whose Charleston Peak at 11,916 feet is the highest point in Clark County. So when Angel mentioned the mountains being her favorite part of the shoot we couldn't disagree. Such a beautiful place. She also told us its the first place she drove her car after purchasing. Talk about driving off into the sunset…
Get to know more about Angel here: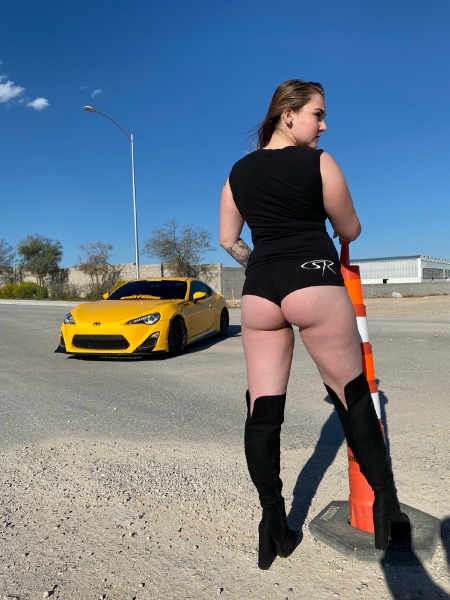 SR: If you could travel and have your dream car anywhere in the world, where would you go?
Angel: I would go to Ireland!
SR: Who is your favorite car girl we have featured on our Instagram?
Angel: Kherish Miller, I absolutely love her FRS build. Can't go wrong with pink!
SR: What would an ex say is your best asset?
Angel: My ass!
SR: What's your favorite food?
Angel: Alfredo
SR: What's your favorite Pizza topping?
Angel: Bacon.
SR: Do you have any tattoos?
Angel: I have a lot of tattoos. I have almost fa ull sleeve with flowers and a poly design aspect. And I also have a mandala down my spine.
SR: Any fun facts we don't already know?
Angel: I enjoy drifting my car and I can play the violin and viola.
SR: Leave us with your favorite quote.
Angel: "Flowers grow with rain not thunder."
Catch Angel at her next event, Long Beach Grand Prix. We know many events and meets are canceled or rescheduled because of COVID-19. Be sure to follow Angel, Shocker Racing, or any of your other favorite models to catch them at their next available event. If you are interested in becoming a Shocker Racing Model, please email This e-mail address is being protected from spambots. You need JavaScript enabled to view it for rules and guidelines about becoming an official SR model
Follow the Team here:
Model: IG - @somekindof_angel_trd
Photographer: IG - @tj_trd
CHECK OUT ANGEL'S FULL PHOTO GALLERY HERE
CHECK OUT ANGEL'S FULL PHOTO GALLERY HERE
DON'T MISS - SHOCKERRACING GIRLS PROMOTE SOCIAL DISTANCING: