Abs Emery Joins the ShockerRacing Girls
Written by James Anderson Sunday, 19 April 2020 16:31
23-year-old Abs Emery has been a fan of ShockerRacing for a while now.  "My best friend Katie is an SR Girl, and I love the family vibe of ShockerRacing," Abs explained, "I am excited to be part of something fun while sharing my passion for cars with other girls who understand and love what they do." Abs is from Central Illinois and they ended up choosing to do this photo shoot in Springfield on top of a parking garage.
Hit the link to see Abs full photo shoot with her Mustang:
Abs tells us she drives a murdered out 2015 Ford Mustang GT. She has added black wheels, lowering springs, and a front splitter to get the stance just right.  Her S550 Stang features tinted windows, a carbon fiber rear spoiler, and an RTR Grille.  Abs had to go with a Roush exhaust system since she is obsessed with Roush Racing.  She dreams of one day meeting Jack Roush.  We asked her what mod she would choose if we offered to pay, "I would want a Roush cold air intake and a Bama Tune," Abs explained.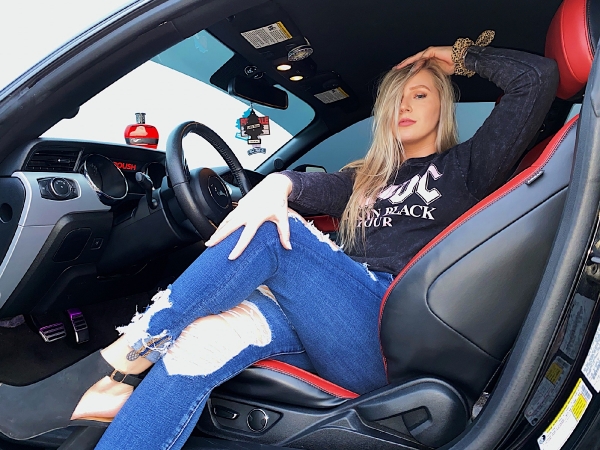 For her introduction to SR, Abs knew she needed to shoot with her own car. Who wouldn't want their first ShockerRacing Girls feature to be with their own sick Mustang 5.0?  "The location we shot at was a pretty public location," Abs shared, "these boys kept coming to the garage to watch me shoot."
Ms. Emery has always had an affliction for automobiles, but as she got older she really got involved in the scene.  She tells us, "I met my best friend Katie and we started going to events, races, and meets together. I loved it, and when I got my 5.0 and started to mod it the passion grew even more."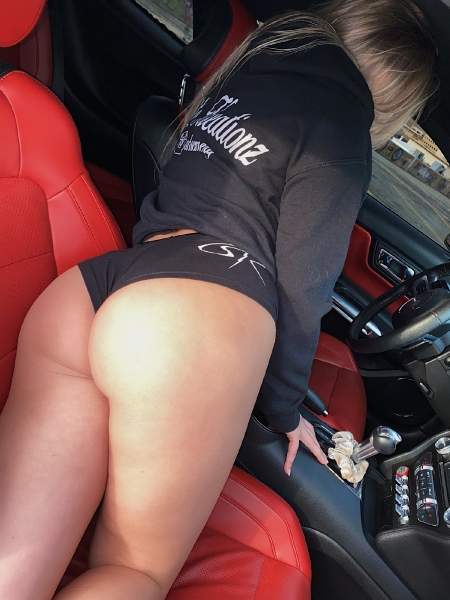 Abs has modeled for cars and bikes over the last few years.  She worked for a company that did public events and would go promote for them at car events while shooting with cars.  Abs also has a good friend that is a photographer that she works with regularly.  Along with these opportunities, she has had plenty of experience shooting with her own Mustang.
Don't miss the rest of our interview with Abs:
SR: What is your dream car?
Abs: My dream is to have a Nissan GTR R35
SR: If you could travel and take your dream GTR anywhere in the world, where would you go?
Abs: I would go somewhere with a nice beach or back to Germany.
SR: What is your favorite automotive event of the year?
Abs: Definitely SEMA show in Las Vegas.
SR: Who is your favorite SR Girl?
Abs: Sarah Senecal because I love her vibe she puts off.  She is so active with her followers, and not to mention she is gorgeous.
SR: What would an ex say is your best asset?
Abs: My ex woudl say my big heart.  I care so much for everyone, even if I don't know them personally.
SR: What is your biggest pet peeve?
Abs: I hate having to repeat myself.
SR: What is your favorite food?
Abs: My favorite food is Chinese food.
SR: Do you have any tattoos?
Abs: I have 7 of them.  One on my forearm that says "Life Is Beautiful" in french, a heart on my wrist for suicide awareness and remembrance for someone I lost to it, roses on my shoulder, "Faith Over Fear" on my thigh, a pineapple on my ankle, a heart and infinity sign on the other side of my ankle, and one down my spine that says "May my heart be brave, mind fierce, and spirit free".
Follow Abs Emery and her Mustang on Instagram: @absemery & @sinister_5ohh
Photography by In Your Head Media - Instagram: @InYourHeadMedia
Follow ShockerRacing on our Social Media: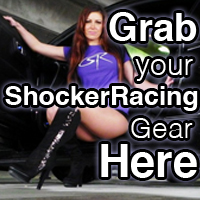 Instagram: @ShockerRacing
Twitter: @ShockerRacing1
Facebook: Facebook.com/ShockerRacing
YouTube: YouTube.com/ShockerRacing
Snapchat: @ShockerRacing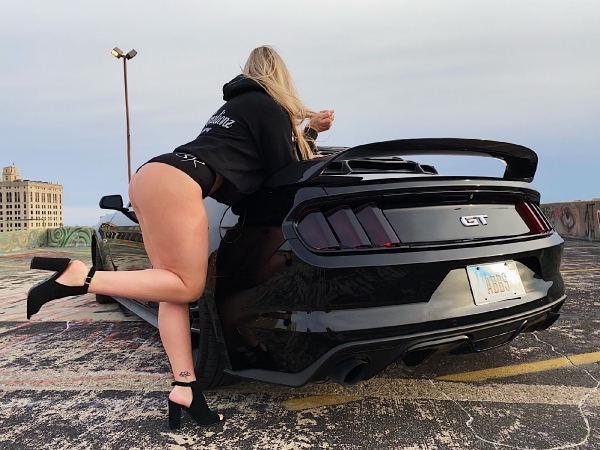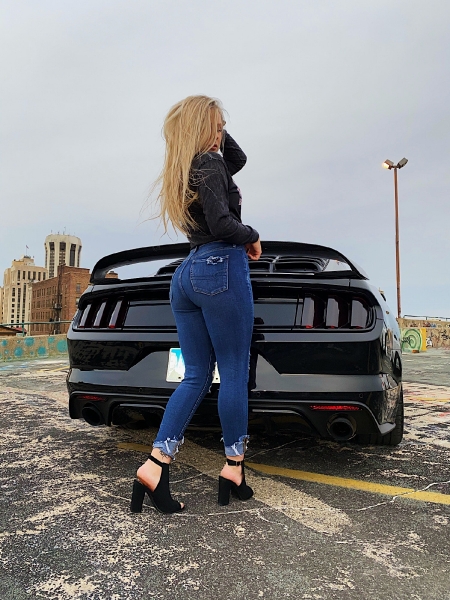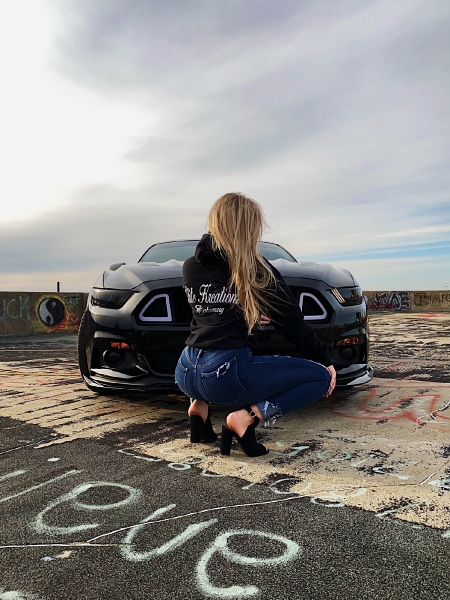 DON'T MISS - ANGEL JOINS THE SHOCKERRACING GIRLS - CLICK BELOW: