Sally Travis Joins the ShockerRacing Girls
Written by James Thursday, 11 February 2021 11:13
Twenty-four year old, Sally Travis was born in Orange County California before moving with her family to Las Vegas. Growing up, she spent time with her dad and grandfather going to car shows. "The car scene has always been a part of my life," Sally explained. Still having family in California has allowed her the opportunity go back and visit, as well as still enjoy the Cali car scene. She went on to tell us, "I go there pretty often, and would love to live there again some day." For Sally's introduction to the ShockerRacing crew, she chose to shoot with her boyfriend's Mustang. This is fitting because her boyfriend, Andrew, has helped her learn more about cars, and helped encourage her to try automotive modeling.
Hit the link to see her full photoshoot: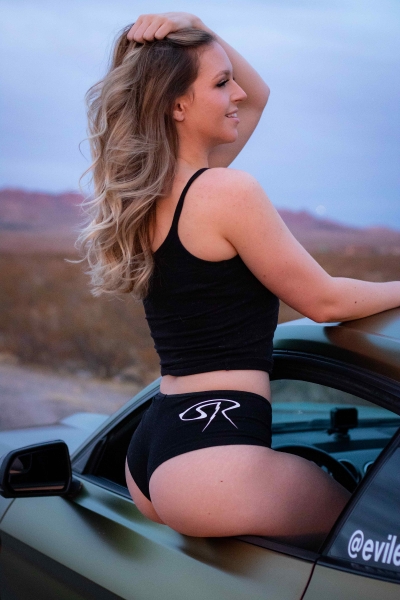 Sally and her crew headed out to the desert in Henderson, NV near Boulder City to create their magic. The desolate backroad paired with a mountain backdrop in the desert made for the perfect scene for Sally to show off her modeling skills as well as the beautiful wrap on the S550 Mustang. The 2017 Mustang features a custom color shifting wrap, an Ecoboost motor, 3.55 gears, and a tune.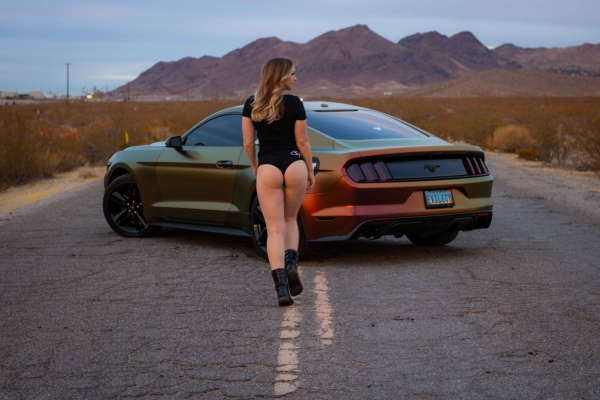 Sally's interest in ShockerRacing was sparked because she was following some of the ShockerRacing Girls on Instagram. "I loved that ShockerRacing supports girls in the car community, but also publishes them and lets you get to know more about them," Sally explained. We are glad to hear she was a fan of some of our previous SR Girls, as one of our favorite things to see is women in the car scene supporting each other. "I would have to say Sarah(Sen.cityy) is my favorite previous SR Girl. She seems like a real kind of person who truly loves cars and the community," Sally explained.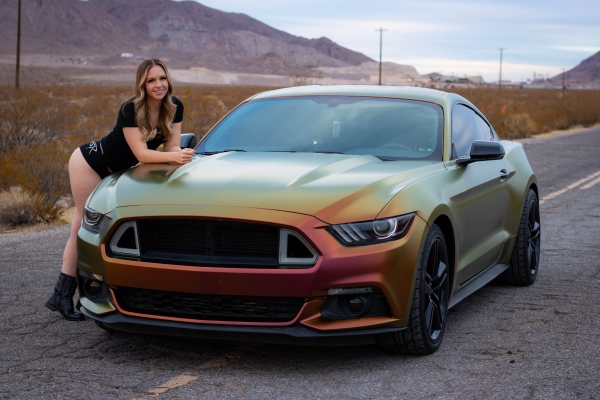 Don't miss the rest of Sally's interview below:
SR: How old are you?
Sally: I am 24.
SR: How tall are you?
Sally: I am 5'4" tall.
SR: What do you do for a living?
Sally: I work as an office manager for a construction company and do modeling on the side right now.
SR: What do you currently drive?
Sally: I currently drive a 2018 Honda Civic Hatchback sport. I am working to pay it off this year so that I can purchase a Mustang and keep my Civic as a daily.
SR: What was your first car?
Sally: I had a 2007 Chevy Silverado 2500 Crew Cab long bed.
SR: What is your dream car?
Sally: One of my dream cars is a Mustang Fastback.
SR: If you could travel anywhere in the world and bring your dream Mustang, where would you go?
Sally: I think I would just not stop traveling, and hopefully I could just have a different car in each place I travel to.
SR: How did you get started with modeling?
Sally: I just started modeling with cars this year. I had a few people ask if I would model with their cars, so I did it just to try and see if I like it. I actually had a lot of fun and now I do it more often. I enjoy meeting new car people and learning about their cars.
SR: What would an ex say is your best asset?
Sally: I had no clue, so I asked an ex and they said my personality would be my best asset. I consider that a great compliment.
SR: What is your biggest pet peeve?
Sally: Negative people! I feel like there is enough negativity out there, we don't need to contribute anymore. We have so many things to be grateful for, I appreciate people who focus on their blessings instead of dwell all the time on things that happen in their lives.
SR: What is your favorite food?
Sally: Tacos or any Mexican food!
SR: What's your favorite pizza topping?
Sally: Okay don't hate me, PINEAPPLE! It's just the perfect combo of sweet and salty.
SR: Give us two fun factos about you.
Sally: I am a Vegan, and I love to travel.
SR: Leave us with your favorite quote.
Sally: Don't forget the past, don't wait for the future, live in the now!
Follow the crew on social media:
Sally Travis - IG: @sallyteee Twitter: @sally_teee
Mustang - IG: @evilecoboost
Photographer - IG: @withitmedia
Follow ShockerRacing on our Social Media: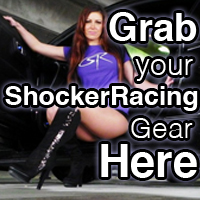 Instagram: @ShockerRacing
Twitter: @ShockerRacing1
Facebook: Facebook.com/ShockerRacing
YouTube: YouTube.com/ShockerRacing
Snapchat: @ShockerRacing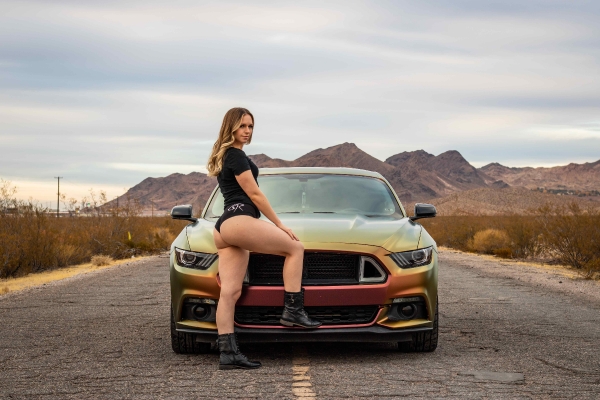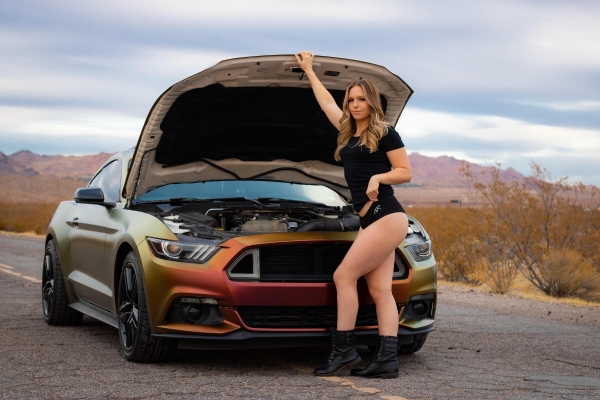 DON'T MISS - KAYLA LIPKER JOINS THE SHOCKERRACING GIRLS: