Emiley Bishop Joins the ShockerRacing Girls
Written by James Monday, 08 March 2021 19:24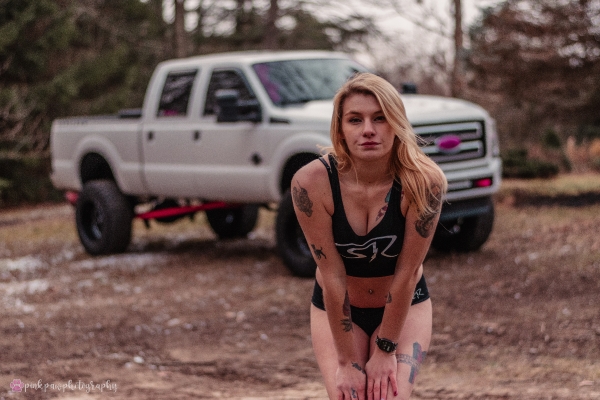 It's not often we have models shoot with lifted trucks for our social pages. However, when they do, these ladies go all out! Our latest model took the opportunity to be different and do her shoot offroadPlease welcome newest model Emiley Bishop to the ShockerRacing family. She shot with her 2015 F-250 for her first shoot with the team. Keep reading to learn more about Emiley and her shoot for ShockerRacing.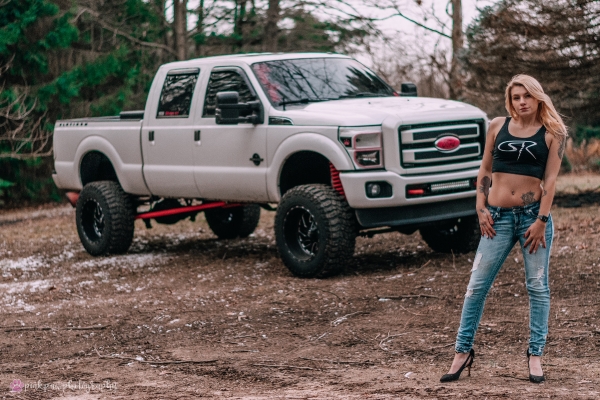 Born and raised in Indiana, Emiley has been in the car scene since she was born. "My father is who got me interested. Basically, since I was born I would always help him work on his 1969 Chevelle," Emiley tells us. She has been to many automotive events over the years. Her favorite to attend is always Michiana Auto Mania. We look forward to seeing Emiley rock our gear at future events she attends!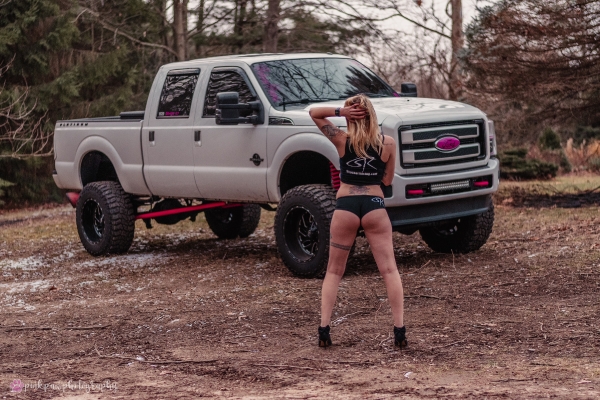 Emiley has been modeling for about 3 years. However, she has been taking photos for longer. Ms. Bishop owns her own photography business, Pink Paw Photography. For her ShockerRacing shoot, Emiley had her boyfriend, Samuel Beck, borrow her equipment and specifically shoot for her. Samuel got great shots of Emiley and her 2015 Ford F-250.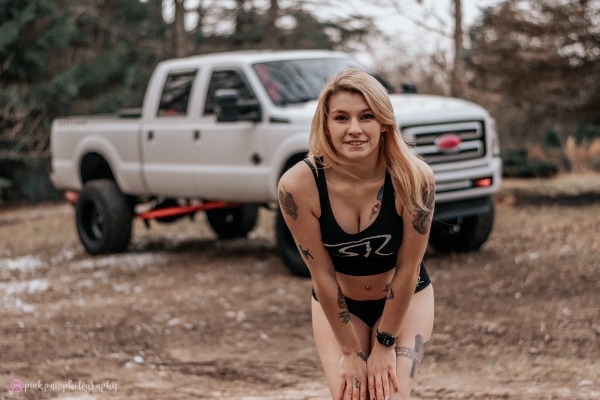 Emiley's Ford F-250 Platinum has some nice modifications on it like a 6" BDS lift, 24x14 American Force wheels, and GDP tuning. We asked Emiley "if ShockerRacing was going to pay for any mod to your car no matter what the cost, what mod would you choose?" She told us, "I'll take a built transmission! PLEASE!". She also mentioned she would love to own a Audi TT-RS and travel to good ol' Tennessee to show it off!

Learn more about Emiley here: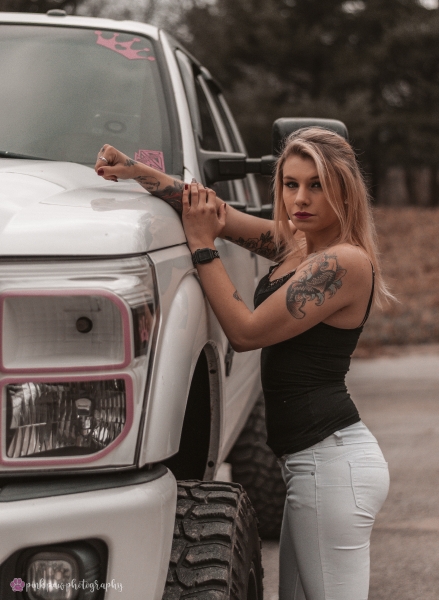 SR: What is your current occupation? 

Emiley: Depends on the day! Underground Utility Locator, Photographer, Custom Apparel and Auto Detailer.
SR: 

What got you interested in ShockerRacing?
Emiley: I absolutely loved the content!
SR: 

Who is your favorite previous Shocker Racing Girl, and why?

Emiley: Angie, she's so beautiful and funny and such an inspiration and kind person!
SR: 

What was your first car?

Emiley: 2005 Nissan Altima 3.5.
SR: What would an ex say is your best asset?

Emiley: I don't care about my ex but my boyfriend says the way I treat him and my smile.
SR: 

What is your biggest pet peeve?

Emiley: I hate a messy house!
SR: What nicknames do you have?

Emiley: Millie Rock, Blondie, Emmy.
SR: What's your favorite food?

Emiley: Pizza
SR: What's your favorite Pizza topping?

Emiley: Just plain ole cheese.
SR: Do you have any tattoos? If so, how many? Tell us about them.

Emiley: 18 tattoos, too many to describe. Some are for pets, and some are family member related, and the rest don't have meaning.
SR: 

What are two fun facts about you that people don't already know?

Emiley: I'm super crafty and have probably tried every craft possible. I also took karate lessons for 8 years.
SR: Do you have a favorite quote?
Emiley: "This too shall pass."
We had a great time getting to know Emiley. We hope you did too. B sure to follow her socials to see when her next event is. If you are interested in becoming a ShockerRacing model please email This e-mail address is being protected from spambots. You need JavaScript enabled to view it for more information!

Follow the crew:
Model/Car Owner:
 IG - @emiley_6.7 
FB: Emiley Bishop
Photography Page: IG - @pinkpawphotography
Follow ShockerRacing on our Social Media: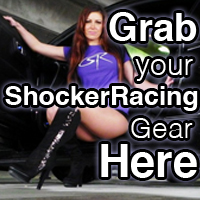 Instagram: @ShockerRacing
Twitter: @ShockerRacing1
Facebook: Facebook.com/ShockerRacing
YouTube: YouTube.com/ShockerRacing
Snapchat: @ShockerRacing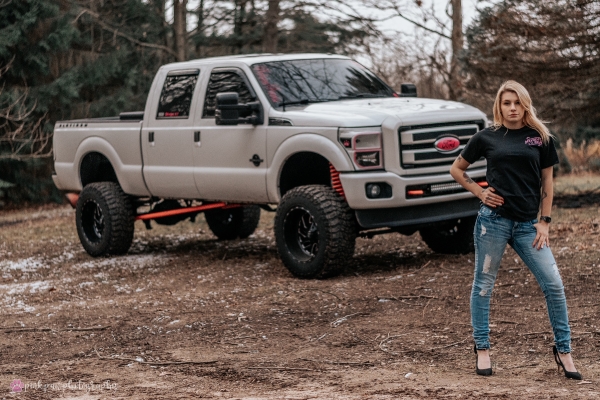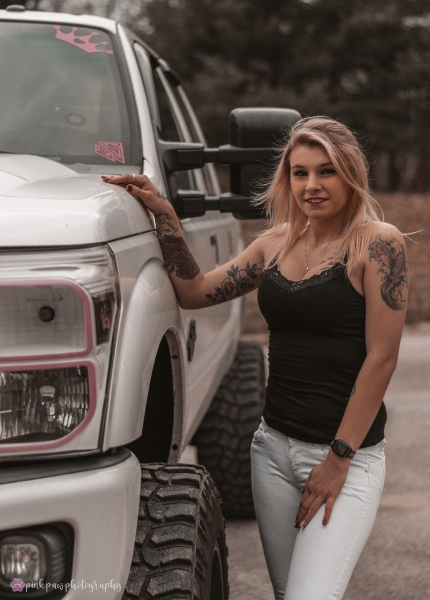 DON'T MISS - SALLY TRAVIS JOINS THE SHOCKERRACING GIRLS: