Rachel Watson Joins ShockerRacing Girls
Written by Bex Russ Monday, 05 April 2021 10:25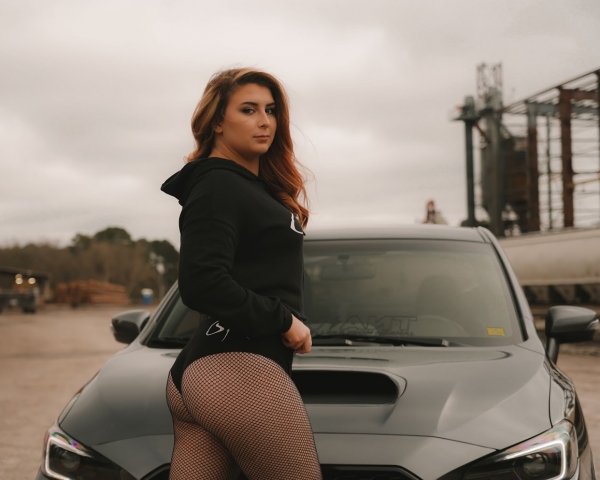 ShockerRacing has had many models work with our page over the years who call themselves car enthusiasts. Few label themselves as a "True Car Girl" but our newest ShockerRacing Model, Rachel Watson, is one of the few and the proud. Rachel has been around the car scene for years, and spent nights in the garage helping her older brother work on his car even before she had a drivers license.
Everyone please welcome Miss Rachel Watson. Keep reading to learn more about Rachel and her first shoot for ShockerRacing.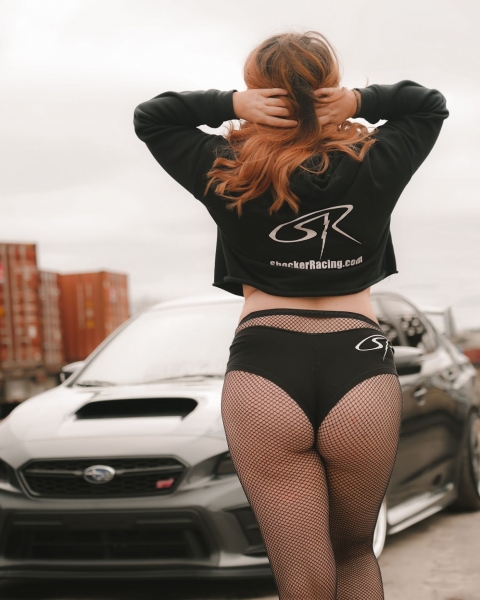 Rachel discovered our page like most of our fans, scrolling through Instagram. "I saw a shoot that Sarah (@Sen.Cityy) did in the ShockerRacing apparel. I instantly fell in love with the vibe and confidence that the ShockerRacing girls have. I knew I had to join the team," Rachel tells us. She also humble bragged about how she got into the car scene, "I started getting involved in the car scene at a pretty young age, because of my older brother. Before I was even able to drive, I spent late nights in the garage helping my brother with his Honda Civic Si. I always begged him to take me with him to local car meets. When we would go, afterwards, we hit local spots to do some fun runs with friends. As soon as I was able to get my license, I knew exactly what car I wanted. I worked my ass off to get my Z at 16 years old."
Since Rachel knows the car community so well, we were interested to know what shows she loved attending or planned to attend this upcoming season. Rachel explained, "I love attending the Slammedenuff events! My Z has showcased at both the Gatlinburg and Myrtle Beach events last year. My goal is to attend as many events as I can this year, including; Slammedenuff, KleanExhibition, and the StreetLab events."
SR was interested in what previous modeling Rachel has done, "I do not have nearly as much modeling experience as I would like to, but I plan to get my name out there and hopefully get some shoots in at the shows I will be attending." For not having much modeling experience, ShockerRacing Staff was highly impressed with her first shoot. She shot at a local train station in Savanna, GA and worked with friend and Photographer Maddie Murphy. They also used Maddie's boyfriend, Fenn's, car for the shoot. Rachel tells us, "At first, I was nervous to do this shoot and worried that I would not be happy with how I looked in the photos, But I loved being able to create these photos with people who made the process super easy and fun!"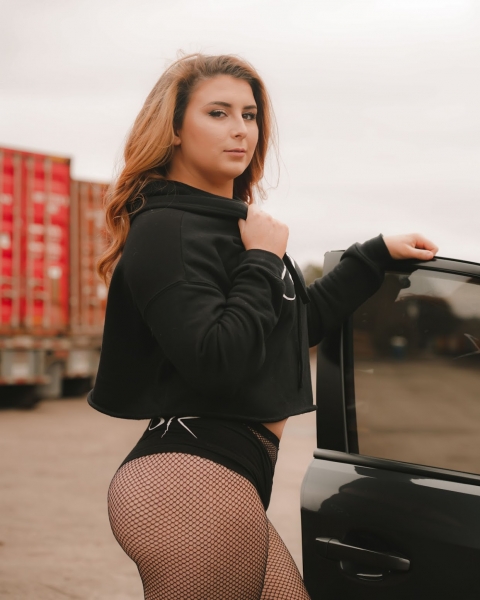 Rachel explained to us, "Maddie is a local SCAD student in Savannah. She and Fenn are also involved in the car scene in the area. Fenn not only has a super clean STI, but he is also the go to photographer/videographer in the 912 area for everything automotive related. The two make such a cool and talented duo," she continued, "Maddie's goal is to make her clients feel comfortable and confident, which she definitely achieved in our shoot. I felt incredibly calm and sexy! This shoot was shot on one of the coldest days of the year we've had in Savannah, but I felt hot AF!"
Get to know more about Rachel, check out her Q&A:
SR: What do you drive?
Rachel: I drive a 2009 Nissan 370z. I have done a few mods including: Jim Wolf cold air intakes, ISR test pipes, dual catback exhaust, Godspeed Mono-rs coilovers, and a few cosmetic mods including Varrstoen es2 wheels (19x9.5 in the front and 19x10.5 in the rear), V2 Nismo front bumper conversion, Seibon carbon fiber accents and an Avenue Performance quick release steering wheel.
SR: If ShockerRacing was going to pay for any mod to your car no matter what the cost, what mod would you choose?
Rachel: If ShockerRacing was to generously send me any part that I wanted, I would request either an airlift kit for my Z or a set of WatercooledIND MD1 wheels.
SR: What is your dream car?
Rachel: I dream of having an FD RX-7 or a 240z that has been built to match modern stance trends.
SR: If you could travel and have your dream car anywhere in the world, where would you go?
Rachel: I can't pinpoint a specific location, but I dream of being able to travel across the US with my dream car and getting to showcase at my favorite events.
SR: Who is your favorite previous ShockerRacing Girl, and why?
Rachel: I support Sarah aka SenCity 100%. I have looked up to her for years now and love getting to see her at the Slammedenuff events. I love her humble yet confident personality and I am always looking at her page for inspiration.
SR: Are you single?
Rachel: I have been in a relationship with my boyfriend, Cody, for 2 years now. (IG: CodyZimbro / TikTok: Bimmyboi) We met through the local car scene in Savannah. He currently has a boosted e30 325is and a 435i.
SR: What would an ex say is your best asset?
Rachel: Any of my ex's would tell you that even though we had our arguments and things ended, I have always been caring and I will always put my friends and significant other before anything.
SR: What is your biggest pet peeve?
Rachel: My biggest pet peeve is when people do not follow through with commitments that they've made.
SR: What nicknames do you have?
Rachel: Most people just call me Rachel, but I'll respond to Rach or Randy Watson.
SR: What is your occupation?
Rachel: Dispatcher for a local HVAC company.
SR: Do you have any tattoos?
Rachel: Not yet! I have a few tattoos that I've been wanting to get but I have not yet built the courage to get them. Needles are not my thing.
SR: What's your favorite food?
Rachel: I have a huge sushi and bubble tea addiction. And I am not ashamed of it at all.
SR: What's your favorite Pizza topping?
Rachel: My pizza must be stuffed crust and I am a full believer that pineapple belongs on pizza. Bacon, ham, spinach, pineapple and fresh mozzarella... In case anyone wants to send me a pizza!
SR: What are two fun facts about you that people don't already know?
Rachel: I was a competitive Irish dancer for 13 years. I was a multi-time World Qualifier and National medal holder. I also love to cook, which probably came from working overnight at a bakery for a while.
SR: Do you have a favorite quote?
Rachel: "Could be worse. Not sure how, but it could be..." - Winnie the Pooh
We had a great time getting to know Rachel and really looking forward to her future shoots with ShockerRacing. Be sure to follow her socials to see when her next show is. If you are interested in becoming a Shocker Racing Model. Please email us at This e-mail address is being protected from spambots. You need JavaScript enabled to view it for more information.
Follow the crew:
Model: Rachel Watson IG - @370z_rach, Tiktok- rachel.z34
Photographer: Maddie Murphy - IG: @maddiemurphyphotographyy
Car Owner: Fenn David - IG: @fj_films
Follow ShockerRacing on our Social Media: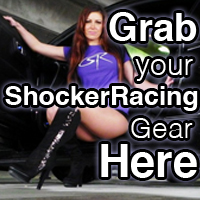 Instagram: @ShockerRacing
Twitter: @ShockerRacing1
Facebook: Facebook.com/ShockerRacing
YouTube: YouTube.com/ShockerRacing
Snapchat: @ShockerRacing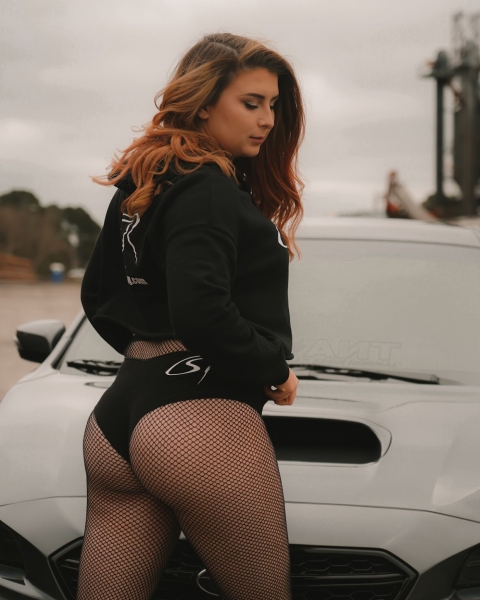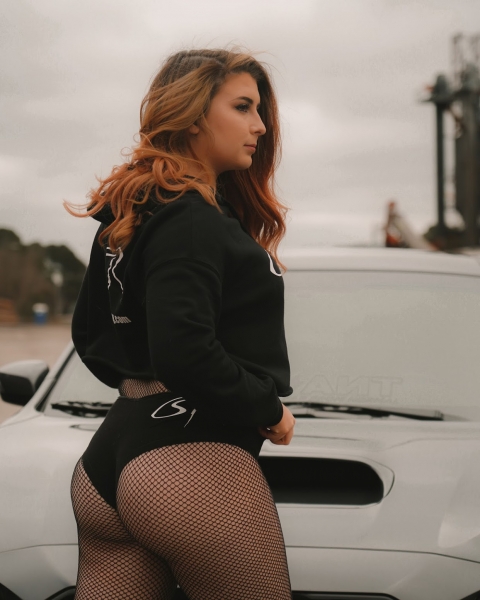 NEW PHOTOS ADDED 4/20/2021:
DON'T MISS - ROTTI JOINS THE SHOCKERRACING GIRLS: