Chey Joins the ShockerRacing Girls
Written by James Anderson Thursday, 15 April 2021 10:03
THE STARS AT NIGHT ARE BIG AND BRIGHT!!!! *Clap Clap Clap Clap* DEEP IN THE HEART OF TEXAS!!! ShockerRacing Staff sing this loud and proud whenever we have a new ShockerRacing Girl to announce from good old Texas! Our newest model is from the popular city of Houston where she was born and raised! Everyone please give a warm SR welcome to Chey.
Keep reading to learn more about Chey and her first shoot for ShockerRacing:
 
Chey grew up in the car industry, constantly learning and 'annoying' her father and grandfather with their builds. "Growing up, between my real dad and my grandpa, I had no choice. I was still in diapers at the track with big ol' earmuffs on! I remember always being outside with my dad, just wanting to help him! Even though I was probably asking way too many questions!" Chey tells us. She also mentioned "I drive a 2018 Camaro ZL1, I have only had it for a little over 2 months, so all I have done to it is a muffler delete with a Kooks axle back and a tune! Prior to the Camaro, I had a 2014 Chevy SS! I supercharged it and blew a rod through the block unfortunately." She continued to explain, "My first vehicle was a 2014 Dodge 1500 Hemi, it was a single cab!"
Chey's photoshoot was at an underpass by Grand Parkway, locals call it Mexico! Chey mentioned her favorite part about the shoot was, "Just the experience, getting to work with my friends! Pretty sure we had a cop come by to tell us we cannot be there because it's an underpass, but then he complimented the cars and stayed for a while! So, there was never a dull moment." We love the concrete backdrop for these pics. The cool grey tones offer models a perfect softbox for gorgeous pictures.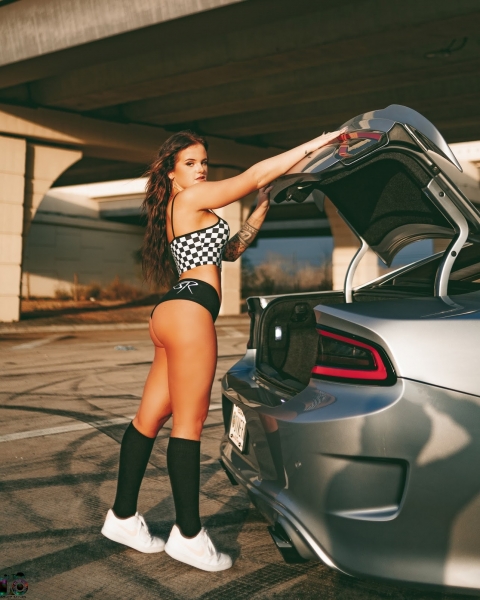 You would never know modeling is a side gig for Chey, she is such a natural and we are excited to have her aboard the team. She shot with the owner of DV Werx for this shoot. DV Werx is Houston's premium automotive customization facility and an authorized retailer for Avant Garde Wheels, Universal Air Suspension Co., Diode Dynamics. The company is Veteran owned and operated. You can find more about their work here: dvwerx.com Chey also worked with popular Instagram photographer Harold Brown of Mischief Mayhem Studios.

Read the rest of Chey's interview here:


SR: What got you interested in ShockerRacing?
Chey: I loved the idea of it. I like that it is just us women who love cars and want to support each other.

SR: Who is your favorite previous Shocker Racing Girl?
Chey: I absolutely LOVE Saray, aka SenCity! She is just so damn cute, and she lifts like me!

SR: If Shocker Racing was going to pay for any mod to your car no matter what the cost, what mod would you choose?
Chey: I would probably go heads and cam!

SR: What is your dream car?
Chey: After my recent track day, its easily a GT3RS!
SR: If you could travel and have your dream car anywhere in the world, where would you go?
Chey: I would probably take me and my Porsche to Greece! It is SO BEAUTIFUL!

SR: What would an ex say is your best asset?
Chey: Probably my personality, I am just like one of the guys!

SR: What is your biggest pet peeve?
Chey: People who smack when they eat!

SR: What's your favorite food?
Chey: I love, love, love lettuce wraps!

SR: What's your favorite Pizza topping?
Chey: PINEAPPLES!!!

SR: Do you have any tattoos?
Chey: Oh man, I honestly have never counted them! I got my sleeve piece by piece but now it's almost complete! I have my left arm with a sleeve, I have my ribs and my left thigh done! The only tattoo that truthfully means anything to me is the one I have on my right forearm... my dad drew it for me!

SR: Include two fun facts about you that people don't already know.
Chey: I don't seem like it but I am EXTREMELY soft hearted! I am terrified of thinking that I wasted a day when I could've done so much with it!

SR: Include your favorite quote.
Chey: No rain. No flowers"

We hope you enjoyed getting to know our newest model for Shocker Racing. Be sure to follow Chey on her social media. Or catch her at her favorite car event, TX2K. If you are interested in becoming a ShockerRacing Model. Please, email: This e-mail address is being protected from spambots. You need JavaScript enabled to view it for more information.
Follow the crew…
Model: IG: @itscheyz

Photographer: IG - @mischif.mayhem.studio

Car Owner: IG - @ny_rican_75

DV Werx- IG @dv_werx
Follow ShockerRacing on our Social Media: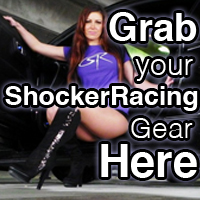 Instagram: @ShockerRacing
Twitter: @ShockerRacing1
Facebook: Facebook.com/ShockerRacing
YouTube: YouTube.com/ShockerRacing
Snapchat: @ShockerRacing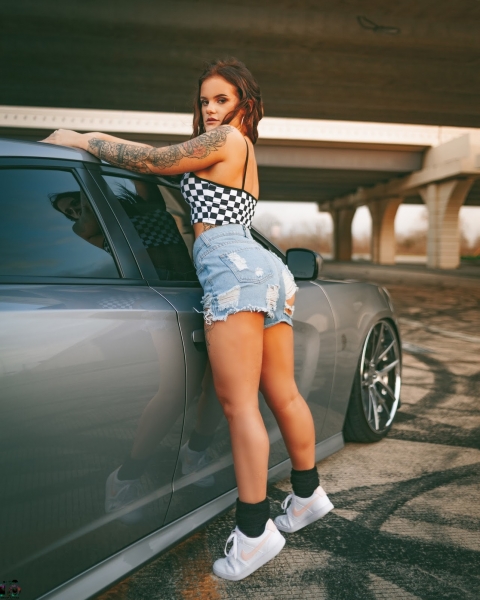 DON'T MISS - RACHEL WATSON JOINS THE SHOCKERRACING GIRLS: