Sally Travis - Shoot 2
Written by James Anderson Wednesday, 28 April 2021 09:35
It's not every day we get a unique shoot like this one from Sally. We are so pumped to share this shoot with the ShockerRacing fans. Sally took fans to the dry lake beds south of Las Vegas, NV closer to Boulder City, NV. Sally tells us, "It happened to be so windy this day but we still managed to have a wonderful shoot. The crew and I chose this location because it's a great backdrop but it also is somewhat more blank so that the car wrap would really POP in photos." We could not agree more about that. These images are FIRE!!! Hit the link below for the full photo shoot: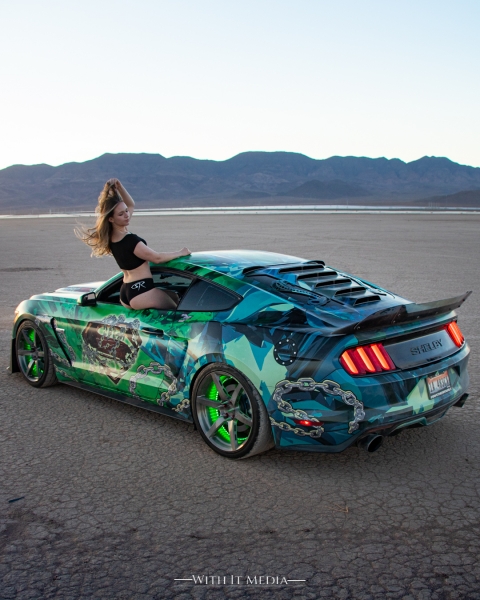 This time around, Sally shot with a 2016 Mustang GT and her name is Sickhorse. It has a full printed Superman 3M wrap done by Warrior Wraps in Las Vegas. The front end features a GT350R splitter off of a tuner Shelby. The Lambo doors were done by Vertical Doors in California, the custom lighting including interior and wheel rings was all installed by DK Customs in Las Vegas and is from Lighting Trendz. The entire interior was covered in blue diamond stitch alcantara and leather. It also has a black alcantara custom rear seat delete with a  light up background of the car's name 'Sickhorse'. The wheels are from RSR Forged rims and are 20"x11" in the rear and 20"x10" in the front wrapped with nitto NT555G2's with 20mm spike lug nuts from True Spikes. The rear window cover is from Glasskinz in Florida custom made with Shelby snakes. The exhaust setup is Corsa long tube headers back to a Corsa x-pipe, Corsa Extreme catback and custom put in the spin tech 9k mufflers from Riverside, California. As far as the engine goes, it has the Comp Stage 2 cams in it with a nasty tune for the wonderful Coyote chop and a little bit of valve train work as well as billet oil pump gears, new injectors running 91 or E-85 with a flex tune. The car was tuned by Docs Performance in Las Vegas. It has a msd 2-step installed for launches and to shoot flames. Its running on Eibach sport lines for suspension. It also has a short throw shifter with a Raceseng weighted shift knob for butter shifting experience in the MT-82 and also running a Mantic twin disk clutch, aluminum drive shaft and 3:31 gears in the rear as well as GT350 half shafts.
We asked Sally if she had a favorite detail of the car. She told us "I love the wrap on his car. I'm honestly not a huge comic fan but his car has so much detail and looks so amazing in person!" Sally rocked our ShockerRacing Black booty shorts with white SR logo and she also modeled in a black skirt and black turtle neck with heels. Sally told us, "This shoot was a ton of fun! Baxxton's car is so sick, we were in the lake beds and he swung his car doing donuts and drifting his mustang in the dirt then he two stepped his car and shot flames on the way back to town!" It sounds like it was an amazing time!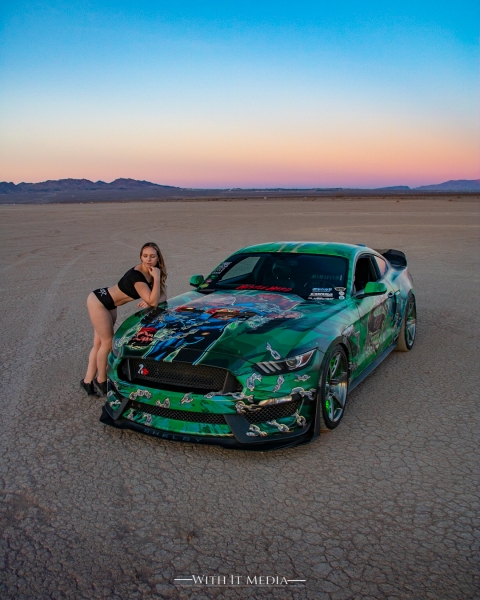 Be sure to follow Sally's socials to see when and where her next shoot will be. Hopefully NYC time square, like Sally dreams. If you are interested in becoming a shocker racing model, please check out the details here: https://www.shockerracing.com/index.php/about-us/about-sr
Follow the Crew:
Model: IG @ sallyteee Twitter @ sally_teee
Photographer: Andrew Huerta IG @withitmedia & IG @evilecoboost
Car Owner: Braxxton Chavez IGÂ @sickhorse_16 Youtube: itschavobro
Follow ShockerRacing on our Social Media: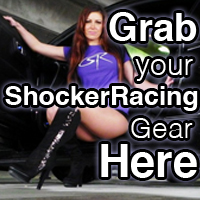 Instagram: @ShockerRacing
Twitter: @ShockerRacing1
Facebook: Facebook.com/ShockerRacing
YouTube: YouTube.com/ShockerRacing
Snapchat: @ShockerRacing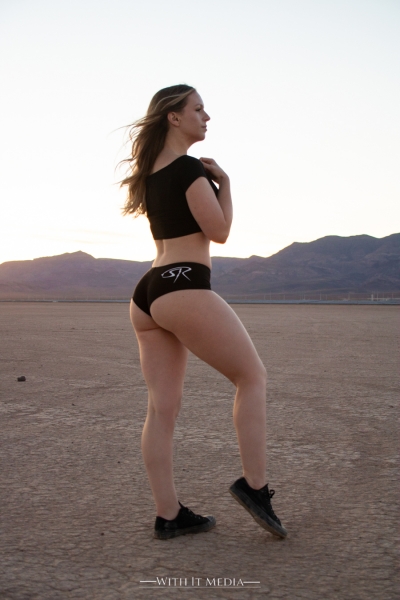 DON'T MISS - ASHLEY HUTT'S 2ND PHOTO SHOOT: