Tiffani Seeman Joins the ShockerRacing Girls
Written by Bex Russ Tuesday, 18 May 2021 16:56
It's been a while since we've introduced a new model to the ShockerRacing family from Illinois, even though it's our home base for the company and where a majority of the magic happens. We rarely see young ladies interested in the car community from the Chicagoland area. We are excited to announce our newest model, Miss Tiffani Seeman. We hope to do more collaborations and projects with Tiffani. Keep reading to learn more about Tiff and her first shoot for the ShockerRacing Team.
 
 
Tiffani met with popular Instagram photographer, Derek Diaz, at the Juice Wrld mural in Chicago. This proved to be an amazing back drop for Tiffani's first ShockerRacing photoshoot. The pair had worked together previously, so Tiff was comfortable working with him. "Working with Derek was probably the most fun I've had in a while. So, when ShockerRacing came up in the air, I didn't hesitate to work with him," Tiff tells us. The owner of the 2020 Camaro SS, Marko Pavicevic, is also a long-time friend of Tiff's. She mentioned, "I had gone to the same school as Marko. At the time we met through mutual friends. Sadly, when I had moved, we lost contact. Marko had also gone into the army for some time. Thankfully, he just recently returned back home. I'm grateful for his service and that it was so easy to pick things back up again. I enjoy our friendship."
Tiff and her squad choose the location because of the tunnels located next to the Juice Wrld Mural. The spot provides not only shade but perfect lighting for the backdrop of Tiff's shoot. If you get the chance to see it. The mural is a beautiful memorial. It's full of vibrant colors. Like many other beautiful murals in the Chicago area. We asked Tiffani if anything interesting happened during the shoot and she laughed explaining "This guy walked by with the cutest Frenchie. He asked if we could take pictures with the dog. I of course said 'YES!'. I mean, who wouldn't want to play with dogs during a photoshoot? HAHA" She continued with "I witnessed, front hand, all of the actual hard work it takes to get a "perfect picture". The amount of moving both of the boys did (while I stood there and did nothing) amazed me. During the entire shoot. I truly underestimated the hard actual work a photographer has to do!"
Tiffani became fascinated with SR and wanted to become a part of the journey. "I have zero experience modeling. I was randomly asked by a friend/photographer, Nick Manchen, if I would do a shoot with him. The outcome of the process made my confidence boost so much. It was thrilling. More than I had expected. Not only physically but mentally as well. I'm very introverted. It took a lot to get me to step in front of a camera. After shooting with Nick, I realized how much fun I truly had doing the shoot. Nick helped me feel comfortable on and off the camera. This new confidence made me look for more ways to get involved with the industry." Tiffani continued "Shocker Racing caught my attention. The way that the company uplifts every single woman is encouraging. Shocker Racing idolize every woman differently but equally. Not only just the account owners/managers the woman of Shocker Racing as well. The models hype each other up and encourage each other. Today, it's really rare to find a team of woman who will bring you up instead of finding you as a "competition" and trying to bring you down."
Tiffani pointed out, "I follow Sarah (@Sen.cityy) on her personal page. She is always herself and encouraging. I love the way she hypes her followers up, it is truly amazing to see. I get the feeling she wants everyone to succeed. Sarah is genuine and a real sweetheart to talk to! Plus, you can't forget that she's drop dead beautiful." We love to see the comraderie and sportsmanship between our SR models. It's even more encouraging when our newer ladies see it too.
Get to know Tiffani more and read the rest of her interview:
SR: Are you originally from where you live now?
Tiffani: I was born in Flint Michigan, my parents moved to Illinois when I was around the age of 10. Both my mom's family and my father's family all reside in the state of Illinois so my parents wanted to move closer to our relatives.

SR: How did you get involved in the car scene?
Tiffani:I've been around friends that have been in the car scene for years. This last year I have become more "involved' due to forming a relationship with a boy who was highly involved with the car scene.

SR: What was your first car?
Tiffani: My first car was a 2007 Saturn Aura.

SR: What do you drive?
Tiffani: I currently am driving a 2010 Honda Civic.

SR: What is your dream car?
Tiffani: My dream car is a Jeep Grand Cherokee Trackhawk SRT.

SR: If ShockerRacing was going to pay for any mod to your car no matter what the cost, what mod would you choose?
Tiffani: NITROUS!

SR: If you could travel and have your dream car anywhere in the world, where would you go?
Tiffani: 100% Switzerland.

SR: What is your favorite automotive event of the year?
Tiffani: I have yet to attend an automotive event besides hat races and last minute meets up, but those for sure will triumph over everything.

SR: Are you single?
Tiffani: I am!

SR: What would an ex say is your best asset?
Tiffani: How independent I am (it makes many people mad how independent I am and how stubborn I am when it comes to this specifically) , many people use the word "resilient". They say I'm very easy to speak to and very easy to be around.

SR: What is your biggest pet peeve?
Tiffani: People who chew with their mouths open, or people who underestimate me.

SR: What's your favorite food?
Tiffani: Cheeseburgers and sweet potato fries.

SR: What's your favorite Pizza topping?
Tiffani: Pepperoni and bacon.

SR: Do you have any tattoos?
Tiffani: I currently have 5. I have gotten one tattoo after each "life lesson" I have had or a situation that has helped me grow into the woman I am today.
I have a Chinese symbol for strength on the back of my neck.
I have a tattoo of a flower stem along my side.
I have my grandfather's year of birth and his year of passing with a heartbeat
I have "Without struggle there is no progress" on my shoulder blade
And I just started my first sleeve piece on my forearm, it is a set of hands trying to snip a rose with a knife."

SR: What two fun facts about you that people don't already know.
Tiffani: I am a homebody, I love being in the comfort of my own home. It takes A LOT of convincing to get me out of my apartment. I'm super creative, I'm always doing arts and crafts.

SR: Leave us your favorite quote.
Tiffani: "When you choose to forgive those who hurt you, you take away their power."
Be sure to follow Tiffani on her social media accounts for future shoots and possible car meet events.

Follow the crew:
Model: Tiffani Seeman - IG @tiffaniseeman_ FB: Tiffani Seeman Twitter: tiffanipaige12
Photographer: Derrick Diaz - IG @rated.photos /Â @rated.rs
Car owner: Marko Pavicevic
Follow ShockerRacing on our Social Media: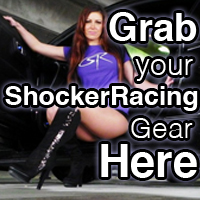 Instagram: @ShockerRacing
Twitter: @ShockerRacing1
Facebook: Facebook.com/ShockerRacing
YouTube: YouTube.com/ShockerRacing
Snapchat: @ShockerRacing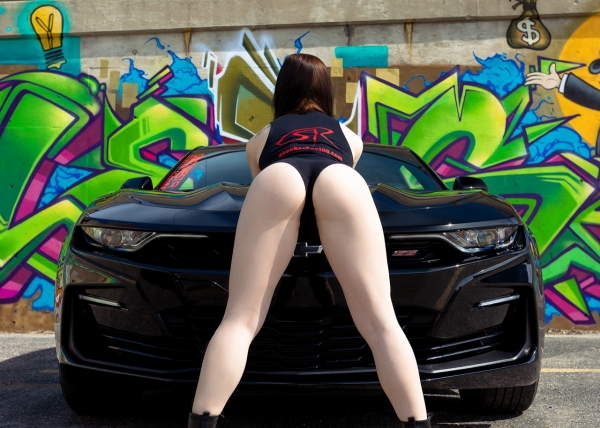 DON'T MISS - JOSIE JORDAN JOINS THE SHOCKERRACING GIRLS: