Lilly Joins the ShockerRacing Girls
Written by James Anderson Thursday, 10 June 2021 13:48
Unless you have been living under a rock the last couple of years, you know that ShockerRacing has a whole other side to our brand that revolves around Jeeps. About 3 years ago, we shifted our YouTube channel content to bring installs, how to vids, and general off-road content revolving around our Mojito Jeep JL and eventually the Neon Gladiator. With that, we have met a lot of amazing people and made many new friends in the Jeep world, including Lilly aka @lilijeepgirl. Born in Mexico, Lilly now calls North Carolina home where she is a full time student and business owner along with being a social media influencer revolving around her Jeep Gladiator and Jeep Wrangler JL.
Hit the link to get to know Lilly and her Jeeps: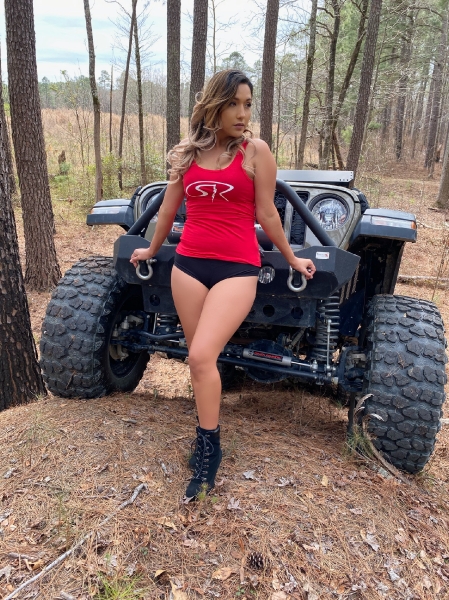 When Lilly isn't hitting the books for school, you will find her out playing or working with her 2020 Jeep Gladiator or 2020 Jeep Wrangler Willy's. Lilly has her favorite muddy spots around North Carolina where she likes to get away and create some amazing Jeep content to share across multiple Instagram profiles as well as her TikTok. One thing we have learned about Lilly is that she loves to have fun and not take things to seriously. She is always coming up with fun posts and photos for her social media followers to enjoy.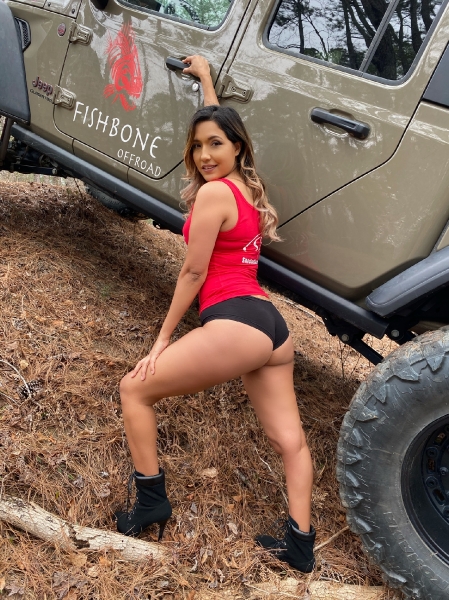 Her Jeep Gladiator features a 6" lift kit on a set of Fuel Covert wheels with 40" tires, making this Gobi Gladiator a badass lifted truck! When we asked Lilly what mod she would choose if we offered to pay, she tells us, "I would want a better suspension for the Gladiator." For now her Jeep Wrangler is still a baby, but that seems to be more of the family ride, which allowed Lilly to go wild with her Gladiator build.
Don't miss the rest of our interview with Lilly below:
SR: What was your first car?
Lilly: I had a Nissan Juke.
SR: What is your dream car?
Lilly: Owning a Jeep has always been my dream and now I have two of them!
SR: If you could travel with your Jeeps anywhere in the world, where would you go?
Lilly: Definitely Alaska!
SR: What is your favorite automotive event of the year?
Lilly: Great Smoky Mountain Jeep Invasion in Pigeon Forge, TN.
SR: Leave us with your favorite quote.
Lilly: "Logic will get you from A to B. Imagination will take you everywhere." Albert Einstein.
Follow Lilly on Instagram: @Lilijeepgirl
Follow ShockerRacing on our Social Media: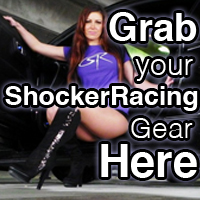 Instagram: @ShockerRacing
Twitter: @ShockerRacing1
Facebook: Facebook.com/ShockerRacing
YouTube: YouTube.com/ShockerRacing
Snapchat: @ShockerRacing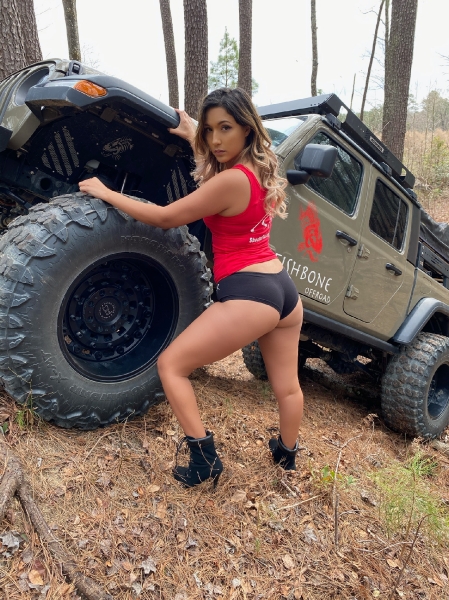 DON'T MISS - TIFFANI SEEMAN JOINS THE SHOCKERRACING GIRLS