Angie Moltzan - Happy 23rd Birthday
Written by Bex Russ Thursday, 24 June 2021 18:50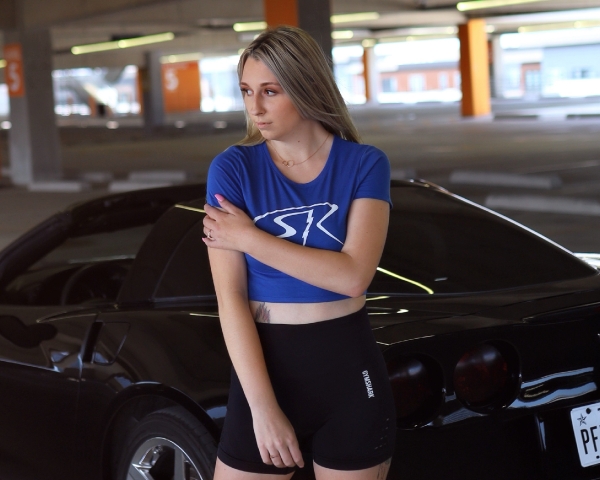 She be rockin' J's, she be rockin Taylors, she got lots of flavors, her kick game is major. Elite model Angie Moltzan is celebrating her 23rd birthday and Shocker Racing is here to share all the details for her epic birthday shoot! As most fans know, Angie is HEAVY in the auto community. Typically, you see Angie with her 2015 widebody Ford F150. Her truck has many award winning features that any man would envy. This time Angie is showing off her friend's 2008 C6 Corvette alongside her Ford truck. Keep reading to learn more about Angie's celebration and turning 23!!!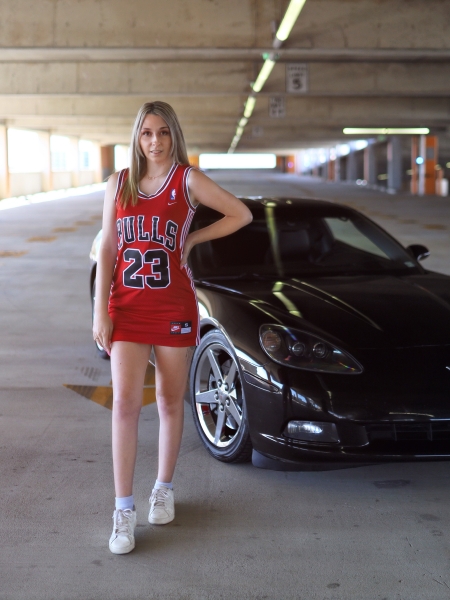 Angie met Photographer, Cas Rodriguez, and car owner, Leland Batiste at The Shops at Legacy West in Plano, TX. Angie told us, "I wanted to do a birthday shoot and bring out the Miley Cyrus vibes, queue the song 23 with Miley Cyrus. I bought a 23 Bulls Jersey dress and I felt like a million bucks. I have been wanting to do this shoot for a few years. I couldn't wait to turn 23 just so I could blast Miley Cyrus's song all year. We shot in the parking garage in Plano, TX where exotic cars and such go to show off the car and walk around the strip." She went on to explain, "It was supposed to rain, again. At this point it had been raining for six weeks in Texas. We all wanted a great shoot so we chose this nice garage. It had great lighting and I felt fabulous!"
We can definitely see Angie's confidence shining through in this shoot.  She also took the opportunity to shoot in her blue SR crop top with the Vette. The Corvette has modifications like a Texas Speed Performance Stage 3 Supercharger Camshaft, Dual valve springs and retainers, Hardened pushrods, Katech C5R Timing Chain, Melling high pressure oil pump and Tuned by Ethan at Trackstar Motorworks. Angie tells us "My favorite thing about Les' car is that it is his dream car. I've known Le since 2017 when he had a Miata and I really got to know him when I shot with his 350z for ShockerRacing. Le has been talking about getting a corvette for years and he finally accomplished it this year and that
is what makes this shoot so special!"
Angie plans to celebrate her birthday looking like a model who just got her check. Be sure to hit up her socials and tell her happy birthday! Catch Angie at her next event, Import Expo, on July 3rd. She will be showing her truck at Texas Motor Speedway, the local NASCAR speedway in Fort Worth, TX.
Follow the Crew:
Model: Angie Moltzon- @iammtheprincess
Photographer: Cas Rodriguez- @hell.gato
Car Owner: Leland Batiste- @3driftyz_
Location: The Shops at Legacy West- @legacywestplano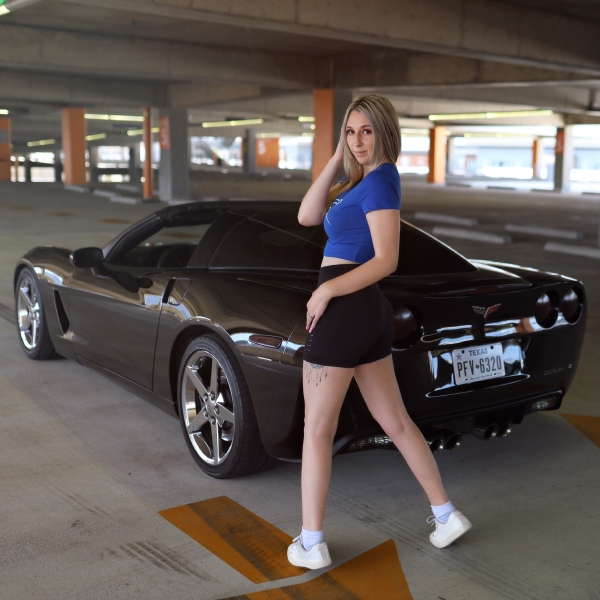 Follow ShockerRacing on our Social Media: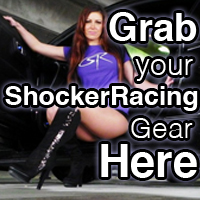 Instagram: @ShockerRacing
Twitter: @ShockerRacing1
Facebook: Facebook.com/ShockerRacing
YouTube: YouTube.com/ShockerRacing
Snapchat: @ShockerRacing