Chey - Shoot 2
Written by James Anderson Friday, 10 September 2021 10:04
 
It has only been five months since we released Chey's first ShockerRacing Girls shoot, but it seems like it has been far too long! Lucky for us, she is back with some new hotness in her ShockerRacing bootyshorts! Chey and her crew headed over to DV Werx in Spring, Texas to use as the backdrop for the shoot. "I love this location," Chey tells us, "I have shot here many times and will probably continue to do so. It is very simplistic with the modern colors since its a storage facility. I knew shooting here would make the red Hellcat color pop so much!"
 
It was a hot and humid summer day in Texas for this shoot, yet the temperature was no match for the heat Chey was producing! "I was dying while we were shooting this," Chey exclaimed, "I kept having to eat ice cubes!"
Chey met both the photographer, Chris, and the Hellcat owner, Donnie, through various friends over the years. "I love Chris' quality and editing style for his photography. He is one of my favorite photographers!" Chey tells us.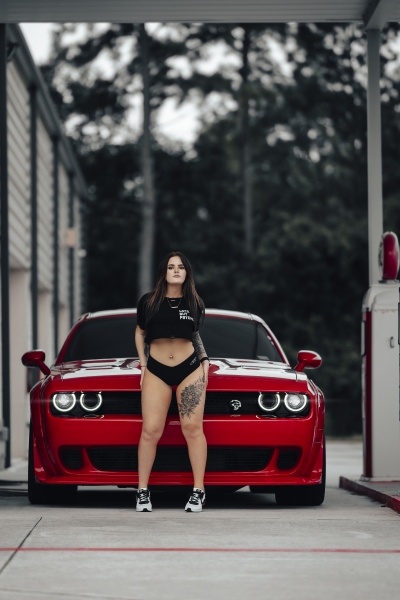 Donnie's Hellcat is a red 2018 Challenger Widebody. Chey tells us her favorite detail of the Challenger is the custom airbrushed Hellcat logos, but this is just the tip of the iceburg for the mods list:
Full Billet Technology Kit
Leg Maker Intake
AAD Harness Bar
AAD Rear Shock Brace
AAD Suspension
Corsa Exhaust
And tons of paint matched materials throughout the build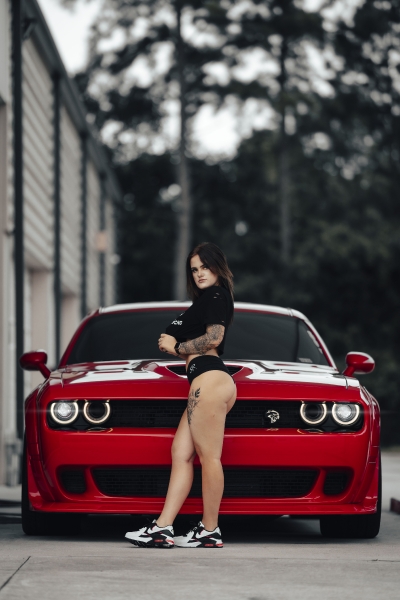 Chey's dream photo shoot is in the Las Vegas desert, but you can catch her out at Import Face Off in November!
Don't Miss: Chey Joins the ShockerRacing Girls
Follow the crew on Instagram:
Chey - @itscheyzl1
Photographer - Chris Torres - @svnpx
Car Owner - Mister Donnie - @misterdhdt