Savannah Byrd - Shoot 6
Written by James Anderson Thursday, 23 September 2021 08:29
Savannah Byrd is back for her sixth photoshoot as a ShockerRacing Girl. She finally decided it was time to model with her own Mustang, and it happened by accident! "I had just gotten done with another shoot and went to get some food. I turned down the wrong street and found this area and fell in love with the scenery," Savannah tells us, "I figured it was time for me to shoot with my own car and this place seemed perfect for it!" She went on to explain, "I definitely loved the way the trees looked, they made the shoot look sophisticated."
Â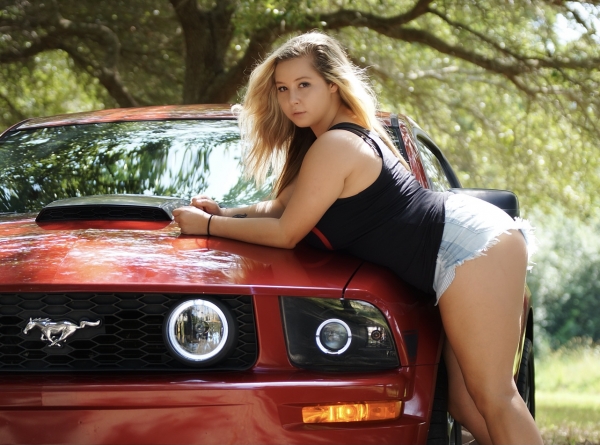 Ms. Byrd first joined the ShockerRacing Girls back in May of 2019, and has been dropping some fire on us ever since! If you have missed her previous shoots, you can see where it all started here: Savannah Byrd Joins the ShockerRacing Girls or you can search "Savannah"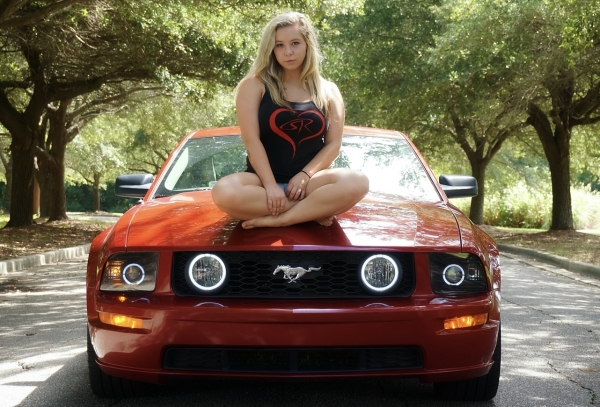 For the first time, Savannah posed with her on 2008 Mustang GT/CS. Her Stang is painted in the beautiful Dark Candy Apple Red, which was a new color option on the California Special for 2008. The CS, California Special, included a unique front fascia, grill, and chin spoiler up front. It featured a new rear fascia with rolled dual exhaust tips. These styling cues along with some additional striping gave the retro styled Mustang a unique appearance that set it apart from the rest of the Mustangs for 2008.
Savannah wanted to give her California Special a little more uniqueness by adding an AmericanMuscle Ductail Spoiler, a custom hood scoop, and new headlights. "I personally love the new headlights," Savannah explained, "it's one of my favorite details of my car."
We asked Savannah where her dream photoshoot would be and she tells us she would love to do a shoot somewhere in Georgia or Florida. You just missed her out at Mustang Week 2021, but you can follow her on her socials to see where she will be next!
Follow Savannah on IG: @savannahbyrdd
Follow her photographer on IG: @doss054 or @dossphotography132