Written by James Anderson Thursday, 04 May 2023 00:00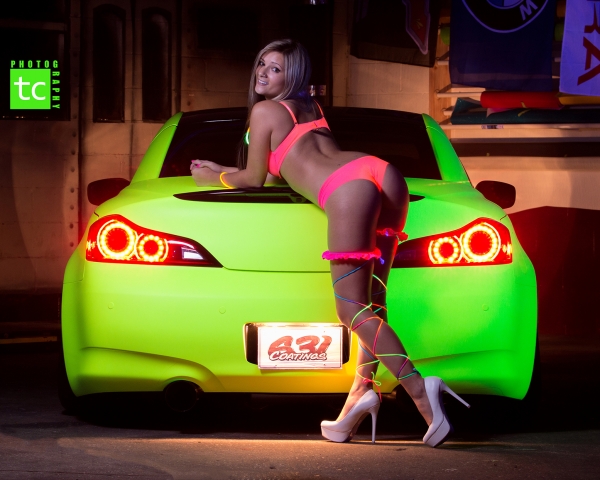 When I first came across this glowing photo, I'm not sure which booty grabbed my attention more... The models(Faith Marone) or Jessie's(@JessieGal) Hi Liter Yellow Infiniti G37.  Either way, I had to find out more about both! After seeing a few more of these photos by Tolga Cetin Photography (@tolga_cetin_photography) pop up I knew this shoot and Jessie's Infiniti deserved a full feature!
Hit the jump for more photos, details on the Infiniti, and of course an interview with the gorgeous Faith Marone!
Jessie is a native of Long Island and grew up with a father who restored cars.  She has been around cars her whole life as her dad would always take her to car shows.  In 2012, her father passed away and she is happy to be able to live his legacy in a modern way by continuing to show a passion for automobiles.  This G37 is her first car that she has modded and she has done an amazing job!  Jessie also owns a 1965 Pontiac Lemans Convertible which she plans to restore in memory of her dad.
Jessie tells us that this Infiniti started its life as a white 2013 G37s convertible.  From there she has added Accuair Bags over an Airerex Suspension, MXP Performance Exhaust, and an IPL Front Bumper along with Side Skirts. She added the Kranze Cerberus3 wheels made by Weds.  Jessie does vehicle wraps for 631 Coatings in New York and with her expertise she wanted to really set this car apart from anything else on the streets.  Jessie and 631 Coatings began by wrapping the entire car in a clear bra to protect the paint.  Before she tried out the Hi-Liter Yellow wrap, Jessie's Infiniti was wrapped in Focus Green by Arlon.  Then this year they wrapped the entire car with Arlon's prototype Hi-Liter Yellow wrap which is protected by Armor Fusion Coating to help keep the vinyl clean.  This is the first car to be wrapped in this custom color created for Fellers Wrap Supply Company.  Jessie tells us that 631 Coatings specializes in window tinting, vinyl wraps, clear bra paint protection and Armor Fusion treatments all of which have been done on her Infiniti.  Check out this video to see the wrap in progress:
Since completing the wrap, the Infiniti has drawn some great attention including this amazing photoshoot by Tolga Cetin Photography who can also be found on Instagram @tolga_cetin_photography.  I was curious to know if this wrap actually glows in the dark, but I'm told this photoshoot was done under a blacklight to really make the color pop!  TCP tells us that Jessie is also a member of the Driving Pretty crew(@drivingpretty).  The car has also just returned from the 2014 SEMA show, where it was displayed with Arlon's booth!
Jessie's future plans for her baby include possibly adding a cold air intake and then probably changing the color again after next summers show season but she is keeping her color ideas a secret... at least for now!
MODEL: Faith Marone
Don't let the fact that Faith is modeling someone else's car fool you, she is a car enthusiast herself!  This 19 year old, Long Island girl drives a modified 2007 Scion TC Release Series 3.0.  Faith tells us that her TC is #1091 out of 2500 made.  She has lowered it on BC Racing coilovers with STR Racing Wheels.  She added a Greddy RS Exhaust, Kenstyle Front and Rear Lips, a custom interior with Alcantara Seats that have Magenta accents and a custom Royal Magenta grip steering wheel that has an NRG hub and quick release. From our interview with Faith, it sounds like she is pretty obsessed with her ride... so if you guys want any chance with her you better love her Scion!
SR: What was your first car?
Faith: My first and only car is my 2007 Scion TC Release Series 3.0(See the full Scion Photo Gallery Here)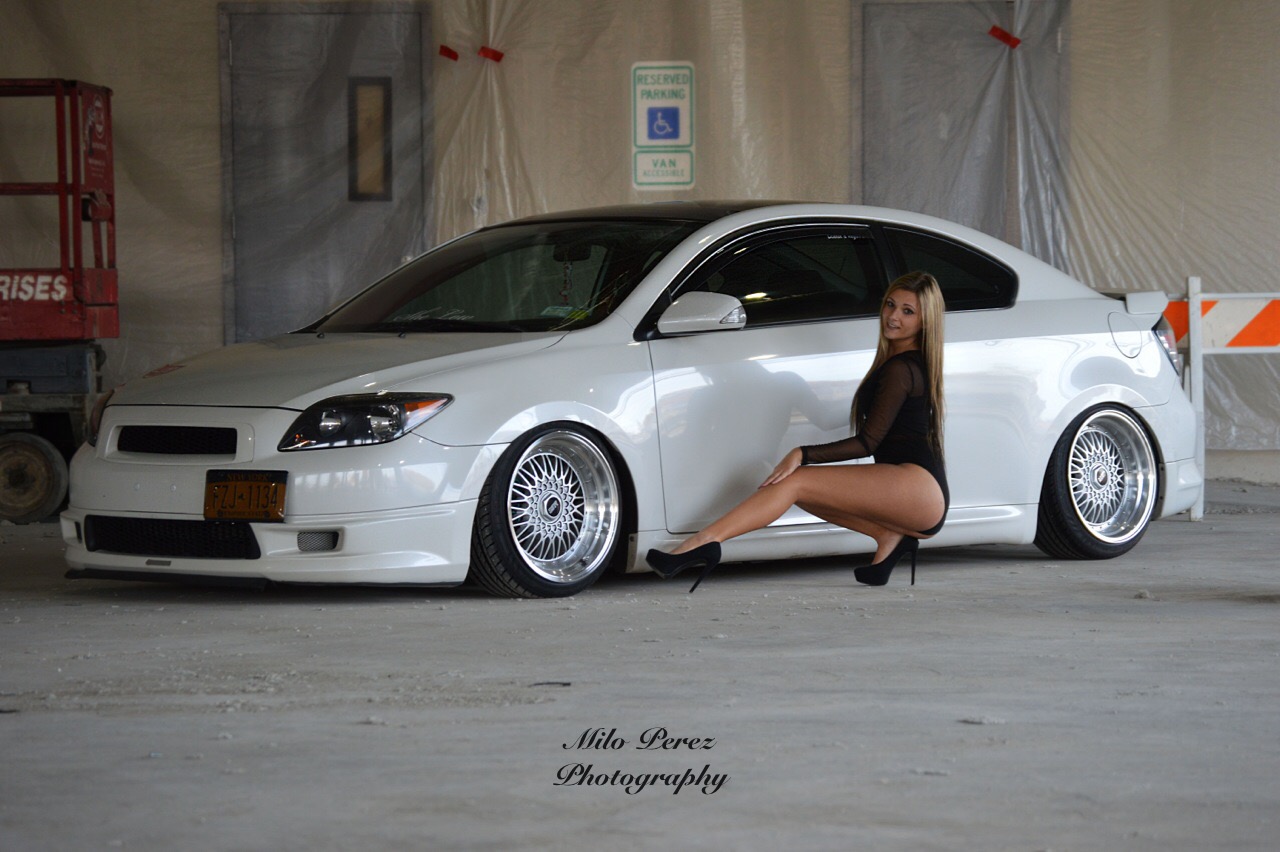 SR: What is your dream car?
Faith: I really don't have a dream car.  I love what I have now even though it may not be high end but it's my pride and joy.
SR: How did you get involved in the car scene?
Faith: I've always been around cars since I was a little girl.  My dad loves to collect old Mopars and muscle cars.  I can say he is the one who got me into cars and I knew one day I wanted my own car and to make it mine.  Once I got my license, I bought my Scion and did exactly that and love it ever since!  I've been able to meet a lot of new people because of my car.
SR: What is your favorite automotive event of the year?
Faith: I haven't been to many events but CleanCulture was my favorite event I have been to so far.
SR: What modeling experience do you have?
Faith: I am an aspiring model just starting out but ready to learn and go on to bigger things.
SR: What is your best asset?
Faith: My best asset would be my personality and as some people would say, my booty!
SR: What is your biggest pet peeve?
Faith: Some people will only notice you or your car if you spend a lot of money on it, if your car looks nice and you like it then money shouldn't matter.
Be sure to follow Faith Marone on Instagram: @FaiithMarone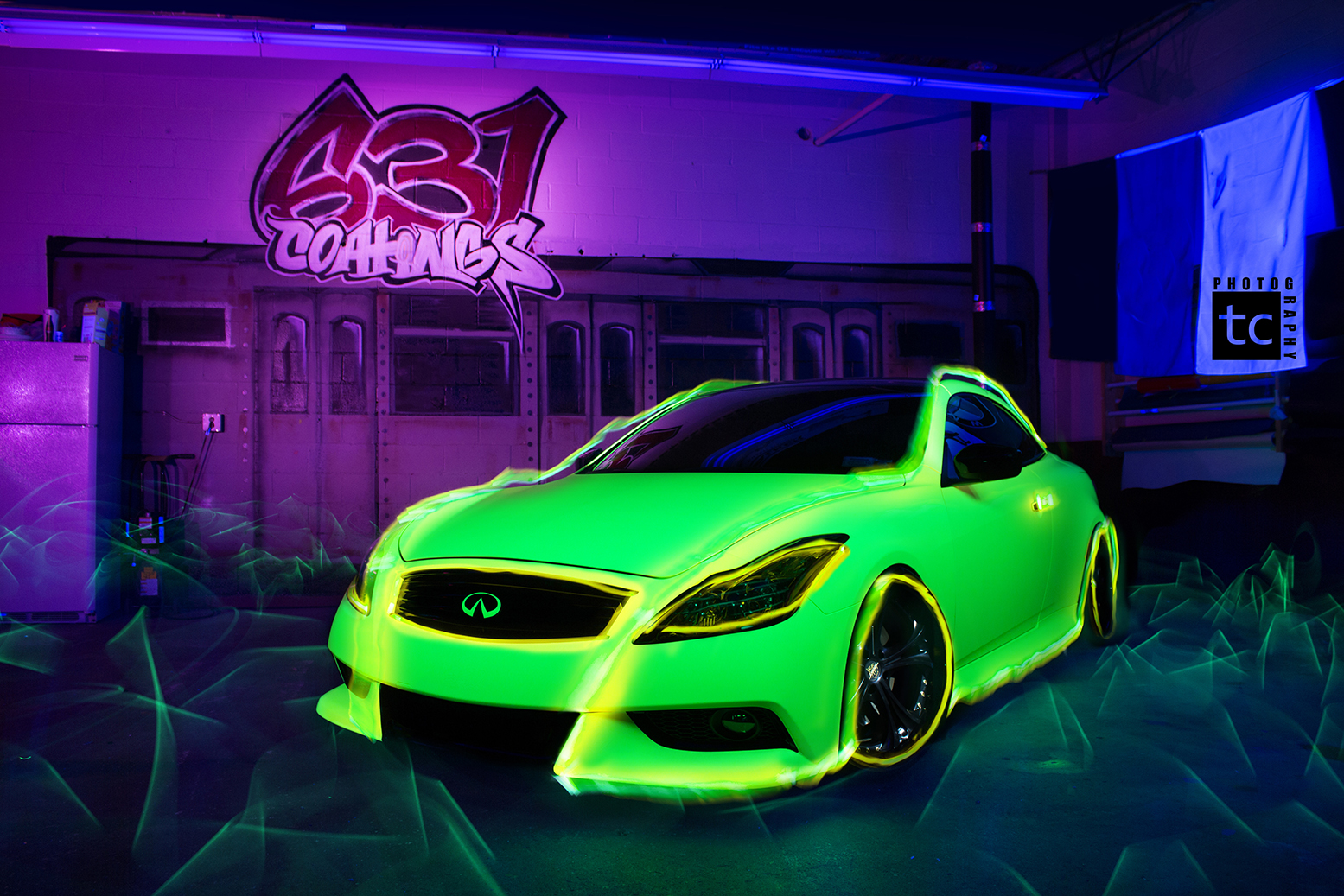 View the full gallery of photos by Tolga Cetin Photography Here
View Additional photos of the Infiniti G37s Here
Check out Megan Lyda's feature with her color shifting Mustang by clicking the photo: