Alexis Virella Joins the ShockerRacing Girls
Written by James Saturday, 03 October 2020 11:33
We first met Alexis Virella back in 2018 at the Speed Inc. Open House. Thankfully, our photographer, Nick Manchen, helped us locate some local models to promote ShockerRacing during the event and Lex was one of the beautiful ladies.  Following the event, Ms. Virella also worked with us at the Parking Garage Party and we have discussed multiple photoshoots but never made it happen.  Up to this point, we never made Alexis an "Official" ShockerRacing Girl, but thanks again to Nick we finally made it happen! We had actually planned to shoot with Alexis last winter for a snow shoot, but we never got enough snow! Lex had expressed interest in wanting to shoot with our Neon Jeep Gladiator Rubicon and who are we to deny her!?!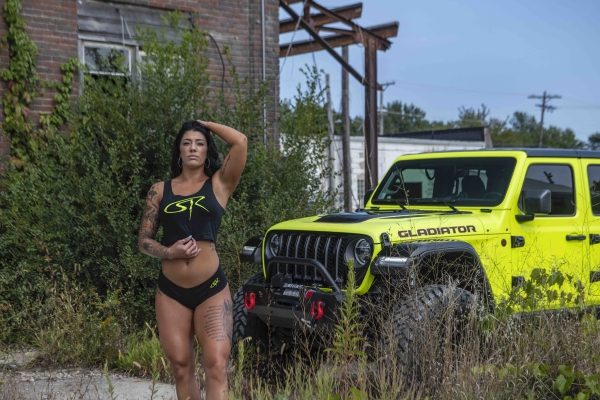 Alexis is a bartender right here in our hometown of Chicago. The five-foot-eight inch brunette currently drives a white 2016 S550 Mustang GT Premium with a proper manual transmission. "I already have a Borla Exhaust on it, and I would love to have it wrapped in a white holographic pearl vinyl," Alexis explained. She tells us her very first car was a Ford Focus, so clearly she has stepped up her game to be rocking her Coyote V8 Mustang.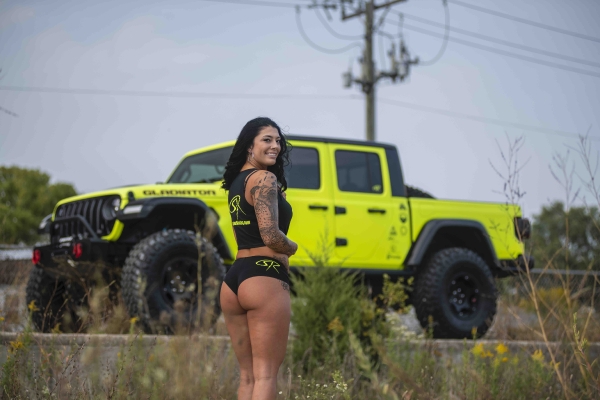 The neon yellow wrapped Gladiator belongs to ShockerRacing and is know as the NeonGladiatorJT on IG. Our YouTube channel switched directions two years ago when we first bought our 2018 Jeep Wrangler and began Vlogging and doing install videos with it.  Shortly after, Jeep announced the 2020 Jeep Gladiator JT pickup truck and we knew we had to have one. We ordered a nicely loaded Rubicon model in black with the intentions of wrapping it and doing a wild build on it. As soon as we got our hand on it, we reached out to our friend James to help us begin the wrap process. We spend one night with our friends Corey and Will to completely strip the brand new Jeep down to prep it for the wrap process. Then we spent about three full days working with our friends James, Jon, and Mike to complete the wrap.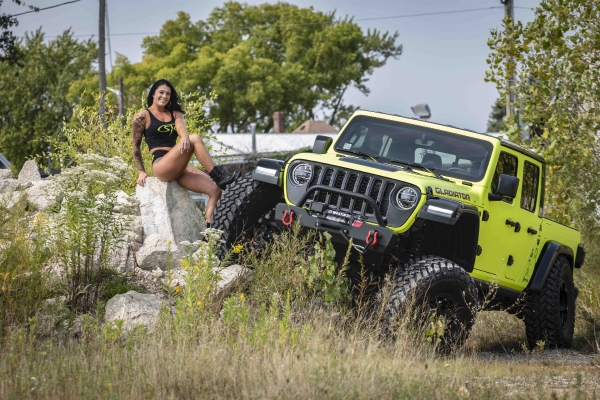 Following the wrap, we added a 4.5" lift kit from Evo Manufacturing.  We chose their Enforcer Overland Stage 3 plus lift kit with King Dual Reservoir shocks. The lift was enough to give us clearance for a set of 40" Nitto Trail Grappler Tires on a set of 17" Teraflex Nomad Wheels and this setup gave us the perfect stance.  The full setup not only rides and drives amazing on the road, but performs amazing offroad whether we are on the Silver Lake Sand Dunes or climbing rock at The Badlands OffRoad Park. Follow our YouTube Channel to see all of the build videos - YouTube.com/ShockerRacing - Here is the rest of our build list:
For this shoot, we met Alexis and our photographer Nick Manchen out at a private property in Dekalb, Illinois. The property offered us a secluded area to work with an abandoned house, a large rock pile to flex the Jeep on, and run down warehouse buildings to use as a backdrop. We custom made Lex a crop top and our boyshorts with Neon Yellow print that matched the Gladiator perfectly. The location also gave Nick and Lex a perfect setting to use some smoke bombs to get some amazing shots of Lex inside the decrepit house.
Keep reading for the rest of our interview with Alexis: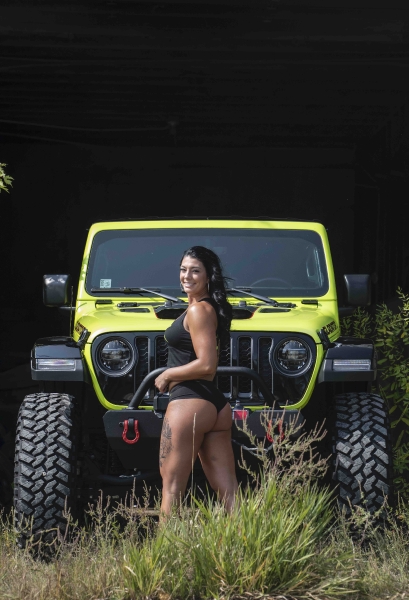 SR: What is your dream car?
Alexis: I would love an Audi R8!
SR: If you could take your dream Audi R8 and travel anywhere in the world, where would you go?
Alexis: Australia 100%
SR: How did you get involved in the car scene?
Alexis: When I was 17, I started hanging out with friends that raced.  So being around it all the time grew my interest in cars.
SR: What is your favorite Automotive Event of the year?
Alexis: Definitely SEMA!
SR: Do you have any previous modeling experience?
Alexis: I have modeled for events like SEMA, Formula Drift, and Dub Chicago as well as for ShockerRacing at Speed Inc and the Parking Garage Party. I have also done a few trade shows.
SR: Who is your favorite ShockerRacing Girl?
Alexis: Sarah, @Sen.cityy, she is really pretty and takes great pictures!
SR: What would an Ex say is your best asset?
Alexis: Probably the way I present myself.
SR: What nicknames do you have?
Alexis: Just Lex.
SR: What is your favorite food?
Alexis: Fat juicy burgers.
SR: What is your favorite pizza topping?
Alexis: Garbage Pizza! Pepperoni and Peppers/Onions.
SR: What is your biggest pet peeve?
Alexis: Disrespectful people.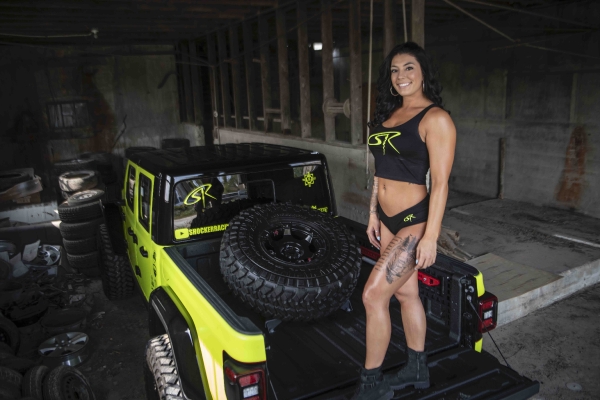 SR: Do you have any tattoos? Tell us about them.
Alexis: Yes! I have a sleeve that is beach/safari themed, my leg is a bible verse with a woman in mountains and a waterfall, my hip is a few flowers and a dove for my grandparents, and my ribs is a quote about traveling and a silhouette of the Sydney Opera House because I studied abroad in Australia.
SR: Give us some fun facts about you that people don't already know.
Alexis: I have competed in body building shows, and plan to compete in more soon. Also, I am Puerto Rican and Cuban, everyone always guesses wrong.
SR: Leave us with your favorite quote.
Alexis: My favorite "quote" would actually be Bible Verse. "I can do all things through Christ who strengthens me." from Phillippians 4:13.  This verse helps me get through the rough times.
Make sure to follow Alexis and Nick on social media as we have a couple more fun themed photoshoots in the works!
Follow ShockerRacing on our Social Media: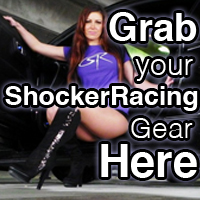 Instagram: @ShockerRacing
Twitter: @ShockerRacing1
Facebook: Facebook.com/ShockerRacing
YouTube: YouTube.com/ShockerRacing
Snapchat: @ShockerRacing