Ashlee Katastrophy
Written by Bex Russ Tuesday, 10 November 2020 10:27
Let's all welcome our newest ShockerRacing model, Ashlee Katastrophy, to the fam. The 27-year-old car model from Laredo, TX is joining the team with her first shoot for SR. We've had an incredibly hectic season with new models from Florida to California, and Atlanta to Texas, filling our DMs with requests to be a part of the SR Squad. Ashlee is a breath of fresh air with some amazing shots to share with our supportive fans.
Hit the link to see the full photo shoot:
Ashlee grew up a military brat and has had the opportunity to travel all over the country with her family. Eventually settling in Texas, she fell in love with the beautiful state and started a family of her own. Ms. Katastrophy is a fulltime mom and part time Real Estate student but recently decided to try her hand at automotive modeling. Lucky for us, this led her to ShockerRacing.
Taking advantage of the perfect scenery of Grapevine Texas, Ashlee shot with popular Instagram photographer, Aldo Martinez. They met at Grapevine Mall to shoot with car owners Sam Pintor and Miguel. Grapevine is known for its restored 19th and 20th century buildings. Many of these are on downtown's Main Street, which is lined with restaurants, galleries and shops.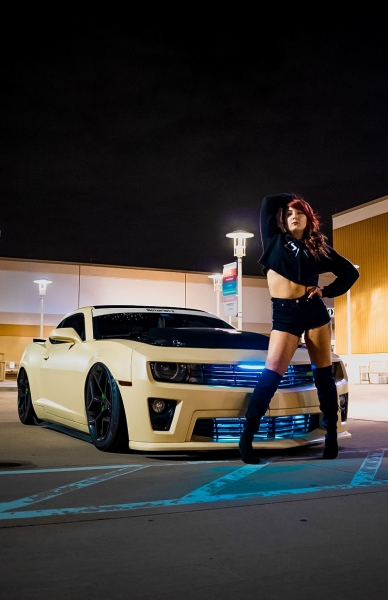 Ashlee shot with Miguel's 2012 Camaro 2SS. Here is his mod list:
Air Lift 3p Suspension
Brembo Brakes
Drilled/Slotted Rotors
Z28 Wheels
ZL1 Front Bumper Conversion
RGB Halo Headlights & Fogs
4" Cowl Hood
Street Aero Side Skirts
American Authority Wickerbill
Hurst Shifter
Volant Cold Air Intake
Longtube Headers
Full Exhaust
MSD Wires
Braum Racing Interior
Starlight Headliner

The second car you will notice is Sam's 1997 Honda Del Sol SI. Check out his mod list:
JDM B20 B swap
AEM fuel rail
Skunk2 Pro series intake Manifold
70mm Skunk2 Throttle Body
Full wire tuck fuse box and battery relocated
Password JDM Carbon Fiber intake
Custom 4-1 header with front bumper exit
Stage 2 XTD clutch with 10 lbs flywheel
Tien street Series Coilovers
Wheels are 15x8 front and 15x9 0offset rota Kensei wheels 4in lip
MPC drop rear LCA
Custom front lip
Mugen Rear Carbon Fiber rear Spoiler
Carbon Fiber Targa Top
Carbon Fiber Fenders on the inside
NRG full carbon Fiber steering wheel
VMS short shifter
Skunk2 weighted shift knob
NRG harness bar with Tanaka harness
Custom Bride door cards
Ashlee told us, "Not only had I driven 9 hours before the shoot, but colored my hair last minute. I wanted my hair to look perfect. However, my hands were stained red! No matter what we tried, we couldn't get it off at the shoot. Even with acetone! On top of that, we were losing light from the building shadow earlier than anticipated for the shoot. So, we were all a mess." We were glad Ashlee still rocked this shoot even with all the mishaps!
Read more of Ashlee's interview below:
SR: What got you interested in ShockerRacing?
Ashlee: I love the overall vibe of Shocker Racing, especially the empowering movement behind it. Not only to automotive enthusiasts but to women as well.
SR: Who is your favorite previous Shocker Racing Girl?
Ashlee: Definitely Angie Moltzan, she inspired me to buy my first outfit from Shocker Racing. She's humble, kind and strives to better herself. As well as, her build 'Snout'. She's truly a great person and a badass friend.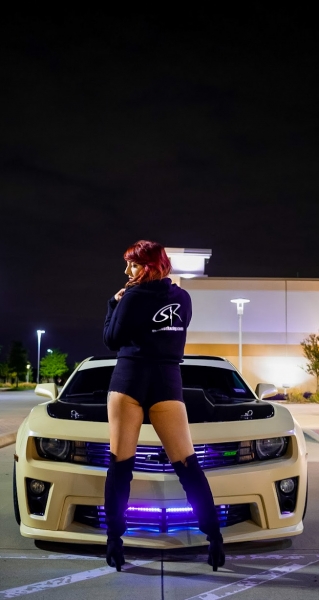 SR: How did you get involved in the car scene?
Ashlee: I grew up helping my dad work on his builds. We also worked for a car show company for a long time. Cars just kind of became second nature. I enjoy every minute I get to spend meeting new enthusiasts and models along the way.
SR: What was your first car?
Ashlee: My first car was a POS Ford Taurus, that I never actually got to drive. So, I consider my first car to be my 2005 VW Bug.
Shocker Racing: What do you drive now?
Ashlee: 2005 Ford F-350 we call her 'Kat the AVERAGE 6.0'!
SR: If Shocker Racing was going to pay for any mod to your truck no matter what the cost, what mod would you choose?
Ashlee: Man, that's a tough one. With how much I've spent keeping her running I'd probably just opt for a new one lol. I mentioned she's a 6.0 right?
SR: What is your dream car?
Ashlee: My current dream car is the new Honda Type-R. Realistically, I'd just like to be back in a car someday. I love my truck, but I'm definitely more of an import car person.
SR: If you could travel and have your dream car anywhere in the world, where would you go?
Ashlee: Probably Italy, Germany, or Greece. All beautiful but Germany does have the Autobahn. Just saying!
SR: What is your favorite automotive event of the year?
Ashlee: Probably Racewars, Spocom, or Wekfest. They're all a ton of fun, family friendly and always have the best vehicles!
SR: What modeling experience do you have?
Ashlee: I do a lot of work with the DFW TX scene but I also work promo for events.
SR: What would an ex say is your best asset?
Ashlee: Probably my ability to sign divorce papers!
SR: What is your biggest pet peeve?
Ashlee: People who put down others. We're all trying to make good what time we have on this earth. Why make it harder than it has to be for someone?
Shocker Racing: What nicknames do you have?
Ashlee: Ash-Kat and my parents call me Bunky.
Shocker Racing: What's your favorite food?
Ashlee: Pizza or waffles!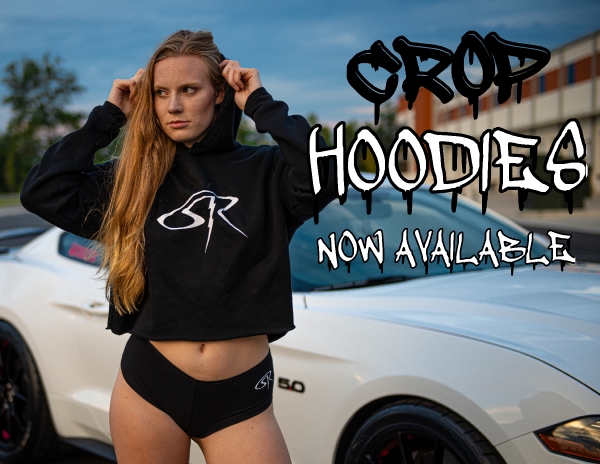 Shocker Racing: What's your favorite Pizza topping?
Ashlee: Jalapeño, bacon, & cream cheese from 'Pizza Shuttle'. Don't knock it till you try it.
Shocker Racing: Do you have any tattoos?
Ashlee: I have 17. Maybe more? Honestly, I've lost count. A few have meaning to them but most are because it's what I wanted and makes me happy to see. Tattoos are therapeutic for sure.
SR: What are two fun facts about you that people don't already know?
Ashlee: I totaled my dad's 1997 30th Anniversary Camaro RS show car before I had a license! I'm also a rock hound in my spare time.
SR: What's your favorite quote?
Ashlee: "Every saint has a past and every sinner has a future.
We hope you enjoyed getting to know Ashlee as much as we did. Be sure to follow her social media to see where or when her next event is or photoshoot. If you are interested in becoming a Shocker Racing model, email: This e-mail address is being protected from spambots. You need JavaScript enabled to view it for more information.
Follow the Crew:
Model IG: @ashleekatastrophy
Photographer IG: @airyomedia
Camaro Owner IG: @migighost Miguel
Del Sol Owner IG: @nvus_sol87
Follow ShockerRacing on our Social Media: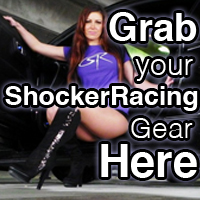 Instagram: @ShockerRacing
Twitter: @ShockerRacing1
Facebook: Facebook.com/ShockerRacing
YouTube: YouTube.com/ShockerRacing
Snapchat: @ShockerRacing
DON'T MISS - CHELSIE HUFFMEISTER - CLICK BELOW: