Hailey Nicole - Shoot 3
Written by Bex Russ Tuesday, 29 September 2020 17:50
ShockerRacing Calendar Model, Hailey Nicole is back again with another epic shoot for ShockerRacing fans. This time she brought along boyfriend Jackson Sadler and professional photographer Kaleb Thompson. Sporting the ever-popular SR Girl combo of uniform attire, the Grey "You Can't Park With Us" Crop Tank Top and Black Booty Shorts with black knee-high boots! For those of you really familiar with our famous boyshorts, you may notice something unique to Hailey's shorts... Comment on Instagram if you can spot the difference! Keep reading to learn more about Hailey's shoot.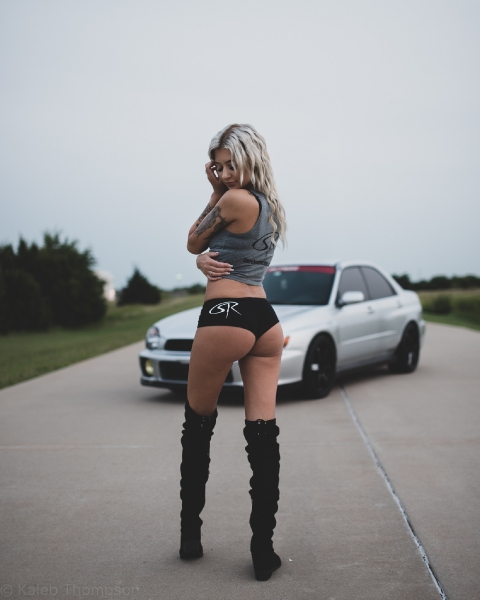 According to Hailey, the team picked out the locations for the amazing shoot. The first location was just outside of Oklahoma City. Kaleb saw potential with a straight road away from traffic. The road almost mimicked an abandoned drag strip. Perfect for a car shoot. The second spot was a parking lot. Hailey mentioned the team was in awe of the lighting there. This lighting made for some beautiful shots! Hailey told us, "I liked the first location a lot. It was secluded, I felt more comfortable that way, and just having a road to yourself to work with is nice. I liked the lighting in the second location and it was very open and freeing." We totally agree!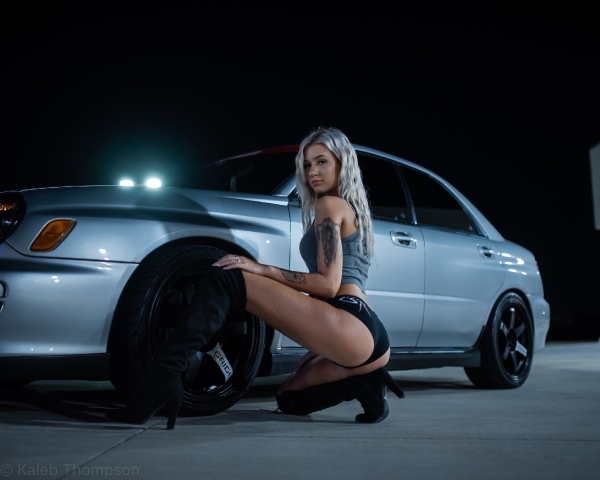 Hailey worked with a few rides for this shoot. First, her boyfriend's 2003 BugEye Subaru Wrx. Hailey tells us, "He's had the car since he was 17! His plans for the car and building it include an IAG Closed Deck Trojan Motor 2.0L Heads - Chamber matched to a 2.5L, Ported and Polished w/ GSC BeeHive Springs and Retainers GSC S2 272 Cams FP Black Turbo NA Long Runner Intake Manifold Complete STI drivetrain swap. Unfortunately, he blew the motor last year while racing an Evo. His current engine was just rebuilt by himself. I think it's running healthy!" We are glad Hailey could shoot with it!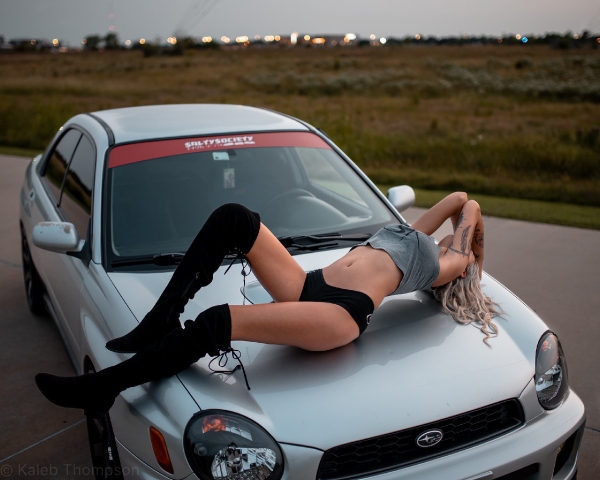 The second ride was her boyfriend's 2020 Indian Scout Bobber Twenty. Hailey mentioned she had been wanting to shoot with a bike for a while. However, she wasn't sure how to pose with one! Hailey did some research with past models from SR who modeled with bikes like Bex, Sen Cityy, and Lana. She got an idea of safe, practical and sexy poses to give us a great shoot.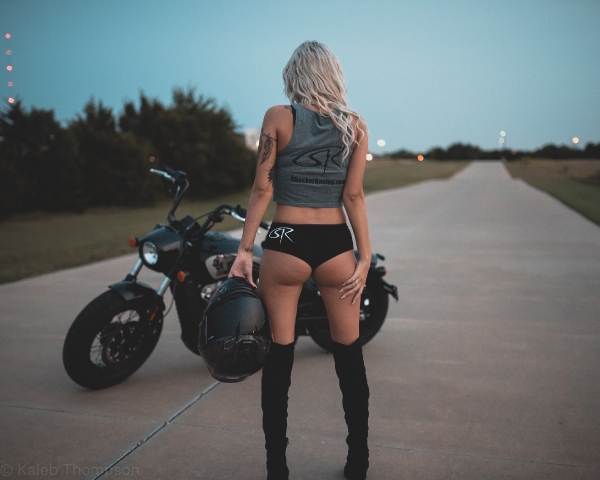 Hailey tells us she plans on getting a BugEye Subaru soon! "I love Jackson's car, it's so fun to drive and I love the fact it's awd! Jackson is also a Subaru Tech so he can teach me stuff about it along the way! I drove the Subaru and Jackson rode the bike to the shoot!" We love when our SR girls can share their passion for modeling and cars with their significant others. It solidifies a passionate relationship. Hailey also told us what her favorite part of the Subie is, "Definitely the exhaust. While driving the manual car you can hear the turbo and it just sounds good. Also, I love the rounded headlights!"
Hailey told us she enjoyed working with photographer Kaleb. We wouldn't be surprised if they link up again for another shoot. Possibly with Hailey's favorite backdrop of red and gold leaves with a winding road. Until then catch Hailey at Cars and coffee in the Oklahoma City area with her boyfriend.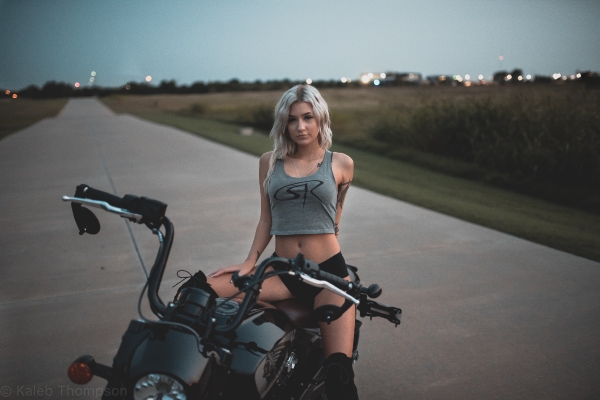 If you are interested in becoming a SR model. Please email This e-mail address is being protected from spambots. You need JavaScript enabled to view it for more information.
Check out Hailey's previous photo shoots here:
Follow the Crew:
Model: Hailey Nicole - IG @hailey_g35
Photographer: Kaleb Thompson - IG @kalebthompsonphotography
Car Owner: Jackson Sadler - IG @jacksonsadler_
Hailey's Full Photo Gallery Here
Hailey's Full Photo Gallery Here
Hailey's Full Photo Gallery Here
Hailey's Full Photo Gallery Here
Hailey's Full Photo Gallery Here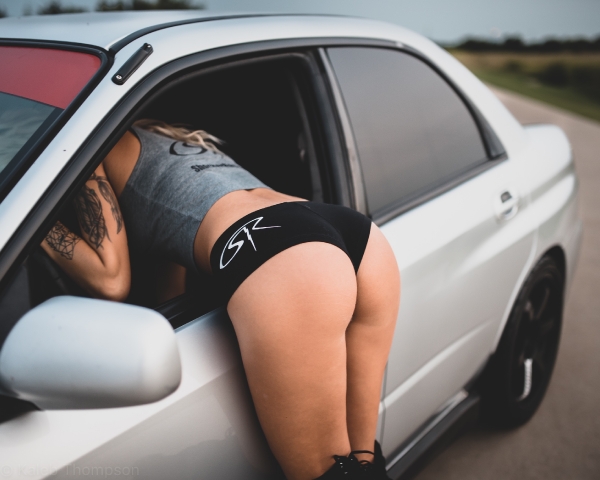 Hailey's Full Photo Gallery Here
Hailey's Full Photo Gallery Here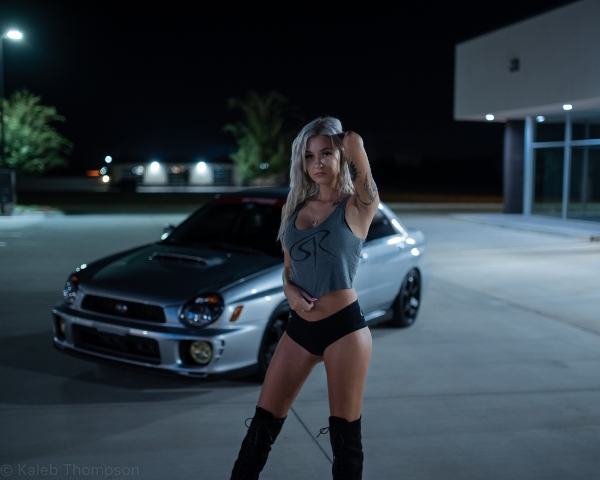 DON'T MISS - PAYTON CONLON'S LATEST SHOOT - CLICK BELOW: