Bekah - Shoot 4
Written by James Saturday, 23 January 2021 10:02
Bekah is no stranger to ShockerRacing. For those of you not paying attention, this is her fourth SR Girls photoshoot in less than a year! She also just informed us that she has more on their way. On top of staying busy trying to perfect her craft, Bekah was also voted in to the 2021 ShockerRacing Girls calendar as Miss September (Order Here). If you aren't already, make sure you are following her on IG @rae.rosea so you don't miss what she has in store for 2021!
This time around, Bekah paired up with Artic Auto Media and his beautiful white S550 Mustang. This is an absolutely stunning build on the 5.0 that features a Vortech Supercharger and Corsa Exhaust. It's clearly bagged, as you can see it is sitting on the ground for this photoshoot and is rolling on a set of Velgen Wheels. "I really love the headlights and custom foglights, they really catch my attention," Bekah tells us, "The Mustang is just so clean overall, hands down one of my favorite Stangs." She went on to explain, "I reached out to the owner because I really wanted to shoot with his car more than any Mustang before."
The weather was perfect for this shoot at a warehouse in Buford, Georgia. "The spot was pretty private, so there weren't a lot of people hanging around watching," Bekah explained. It was perfect conditions for her to wear our famous bootyshorts and her "You Can't Park With Us" Crop Tank Top. She also told us that this one one of the photographers first times shooting with a model, "It was fun because I sort of got to instruct him on the angles and stuff."
Don't miss Bekah's previous features here:
SOCIAL MEDIA:
Follow ShockerRacing on our Social Media: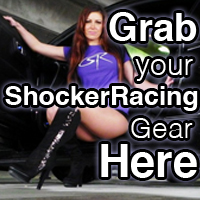 Instagram: @ShockerRacing
Twitter: @ShockerRacing1
Facebook: Facebook.com/ShockerRacing
YouTube: YouTube.com/ShockerRacing
Snapchat: @ShockerRacing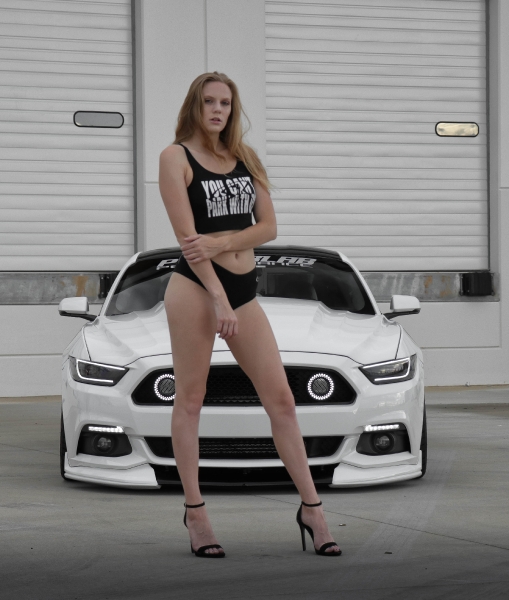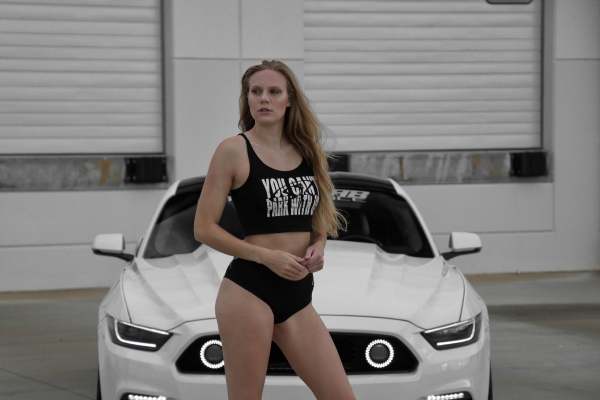 DON'T MISS - KAYLA LIPKER JOINS THE SHOCKERRACING GIRLS: