Hailey Nicole - Shoot 4
Written by James Anderson Friday, 18 June 2021 10:40
One of the reasons ShockerRacing Staff love to promote SR Models shoots is because of the stunning locations. Backdrops vary from scenic winding roads to random parking lots. SR Staff personally love old abandoned buildings. Simply for the random history lesson, as well as, the killer spectacle behind the main focus. Although the background is not meant to be the main attraction, of course, there is no shame in showing off models stunning surroundings. The case is no different for this next shoot with our girl Hailey and her fourth shoot!
Hailey's last shoot also landed her in the 2021 ShockerRacing Girls calendar as Miss November. If you would like to grab one of these calendars you can pick one up for just $10.95 shipped: 2021 ShockerRacing Girls Calendar.
Keep reading to learn more about her recent shoot for SR.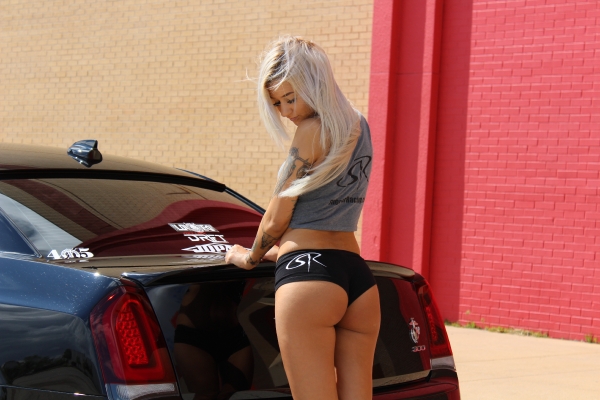 Hailey met up with popular Instagram Photographer Allston Miller. It was Allston's idea to take advantage of the location. Hailey told us, "Allston likes the look of abandoned buildings. I think they make for a good backdrop as well." The two worked together at an old abandoned mall. Like most shoots for SR, outdoor locations provide endless options for alternate shots and backgrounds, increasing both visual interest and versatility for our website and socials. Hailey rocked these shots for this shoot. "The weather was beautiful. It was kinda windy but it did wonders for my hair," Hailey exclaimed.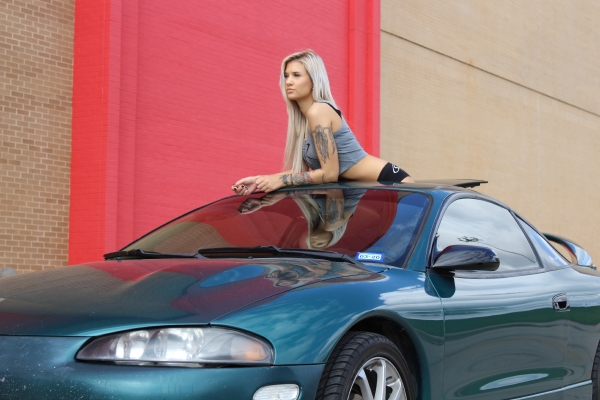 Hailey gave us some great information on the cars she shot with. "The main car I shot with was Allstons Chrysler 300. The beauty is bagged, has lambo doors and a pretty nice sub setup in the trunk! The other car I shot with was my 1999 Mitsubishi GST Eclipse. The Eclipse hasn't changed since I bought it, but I've wanted to take photos with my car for a long time. I finally felt like I had the confidence to show it off for a shoot. After I did this shoot, my baby has been getting an upgrade. Starting with the fuel system, DW 400 fuel pump, 1800cc injectors, and a bigger regulator. I'm going to go to E85. I've also purchased some new mods I'm DYING to put on. Currently in my garage are some BC racing coilovers, EBC drilled/slotted rotors and significantly better brake pads. This shoot is 100% the before shots for when I share the epic after shots," Hailey bragged!
Hailey rocked our Grey Tank Top and Classic Booty Shorts. If you haven't grabbed yourself anything from our merch store, NOW is the time to do it! We are in full clean out mode and getting rid of a ton of merchandise. Get your hands on anything you can! Our merch has gained the attention of many eyes, including Hailey's photographer for this shoot. Besides Hailey's great modeling skills, Allston was incredibly interested in shooting for ShockerRacing. "Allston has been wanting to work with me and SR for a little over a year now. Because of my hectic work schedule and my hobbies it's been difficult to set a shoot date. I also wanted to have my own car involved. I'm so glad we were able to make this happen. Allston is great to work with. He communicated well and helped me navigate throughout the shoot," Hailey boasted.
True car enthusiasts know that your ride is never truly complete. However, Hailey has full intentions to shoot with her car in some of the complete stages. She dreams of a fall backdrop or even a snowy scenery. We look forward to that upcoming shoot! Be sure to follow Hailey's social accounts to know when and where she will be attending events or a new shoot. If you are interested in joining the Shocker Racing Team. Please, email This e-mail address is being protected from spambots. You need JavaScript enabled to view it for more information.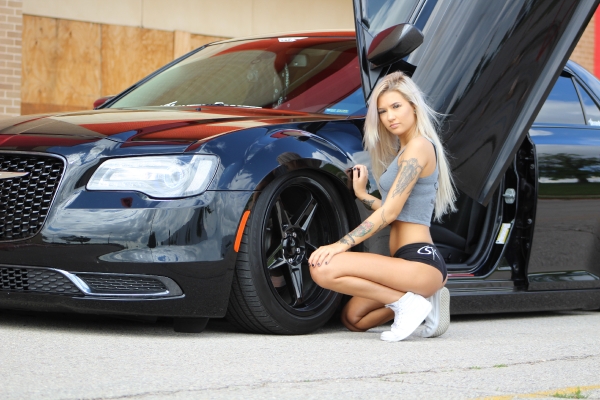 Don't miss Hailey's previous features if you haven't seen them already:
Follow the Crew!
Model/Car Owner: Hailey Nicole IG/TikTok - @jdm__hailey
Photographer/Car Owner: Allston Miller IG - @300_corps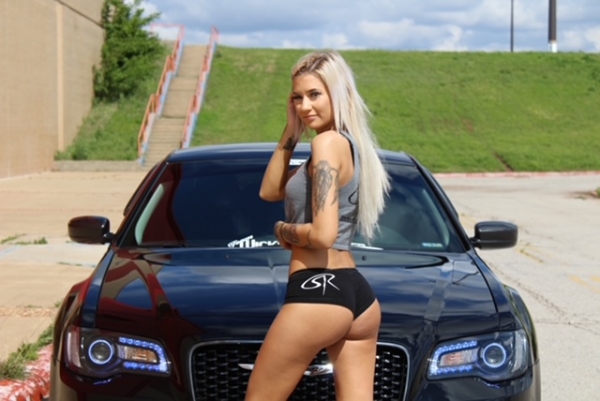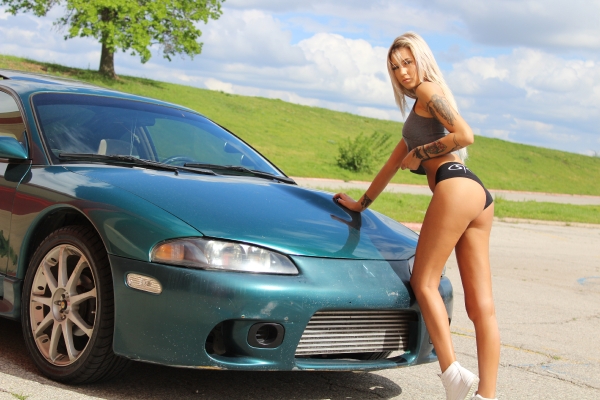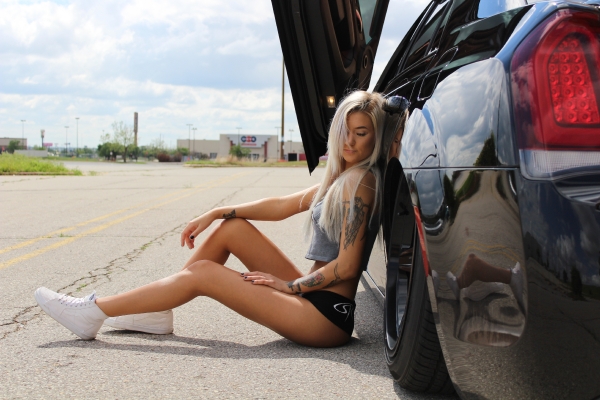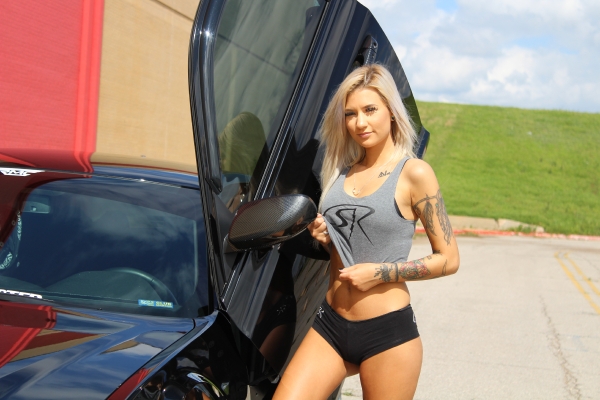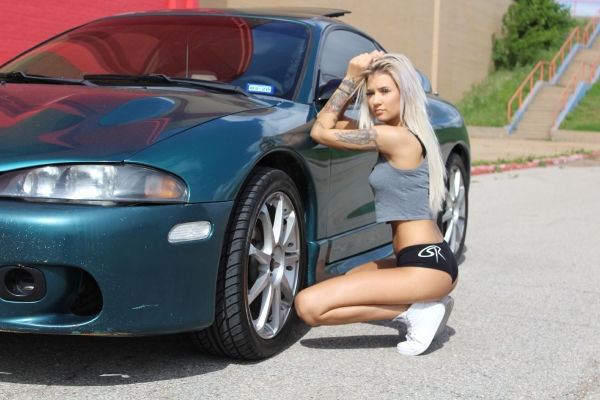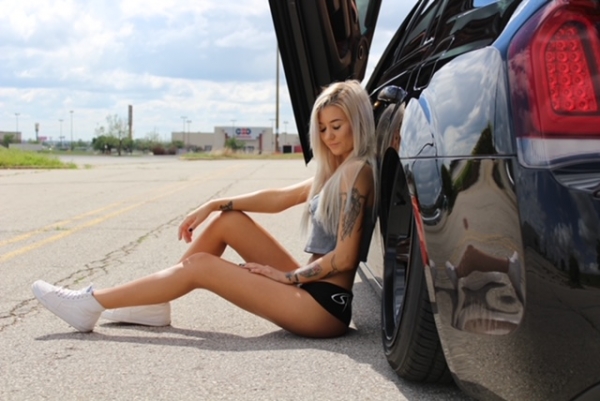 DON'T MISS - BEKAH'S FIFTH FEATURE: