Written by James
Tuesday, 26 September 2017 20:23
The 2018 ShockerRacingGirls Calendar contest is full under way!  This years calendar voting includes over 40 ShockerRacingGirls that have been featured in the past year since the previous calendar voting began.  While we would love to feature every one of these amazing women that we have had the pleasure of working with this year, unfortunately there are only 12 months to fill in the calendar.
As always, the majority of the calendar spots will be decided based on "Like's" on the photos in the album on the Facebook.com/ShockerRacing Page.  Hit the link to find out how to vote for your favorites:
Written by Bex Russ
Tuesday, 26 September 2017 20:00
Shocker Racing is happy to announce our new model Leydis, otherwise known as Mazda Doll. The well known model got started about 6 years ago, and has been published in magazines and online sites such as TheSpeedGirls.com, IIDMRACINGMAGAZINE, and PasmagGirls. Mazda tells us she has wanted to be a model since she was young. "It's something that's in my blood and in my heart. I got my first modeling opportunity 6 years ago and been modeling ever since." We are excited to bring her on our team!
Written by Bex Russ
Tuesday, 26 September 2017 18:27
Let's welcome our newest Shocker Racing Model, Patricia Echeverria, to the family! Born and raised in Rockville, MD Patricia met up with well-known Baltimore Car Photographer, Chuck Mahla. Patricia was interested in becoming a Shocker Racing Model and reached out to Chuck to collaborate. "I wanted to be a part of a group of girls that enjoy representing a brand, as well as, have a love for cars." We are glad Patricia is so enthusiastic about being apart of the team.
Written by James
Monday, 25 September 2017 15:09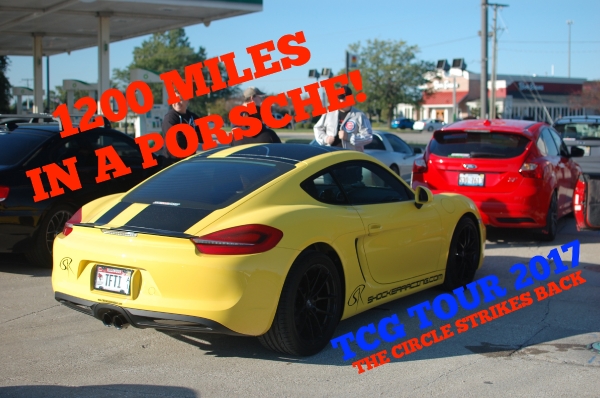 Early in September 2017, I joined my friends at The Chicago Garage for their third annual TCG Tour.  This years tour took us counter clockwise around Lake Michigan starting in Chicago.  We spent 4 days taking all of the scenic backroads including Michigan's Tunnel of Trees, and put about 1200 miles on the Cayman! Our nightly stops were in Benton Harbor, then Traverse City, and finally Escanaba Michigan.  We had about 15 cars along for the ride and 18 people joined in on the fun! Hit the link to see my footage and check out my first VLOG:
Read more: 1200 Mile Road Trip In the Cayman with TCGTour 2017
Written by Bex Russ
Monday, 25 September 2017 07:27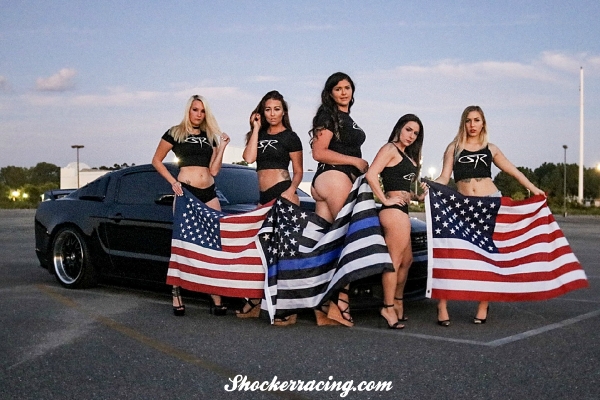 As most of our fans know, Mustang Week is one of the year's most anticipated events for Mustang owners.  Located in Myrtle Beach, South Carolina the event has become popular among Mustang owners, fans, and car enthusiasts in general. Even with the date changes for this years event, it was as popular as ever!  We wondered how moving to the end of the summer versus the middle would affect the event, but once again Mustang Week proved to be the highlight of many Mustang owners year, as well as some of Shocker Racing's favorite models!
Written by James
Thursday, 14 September 2017 20:49
27 year old, Ruth Harris goes by the Instagram handle @DangerProneDorothy619...  Just weeks ago Ruth was racing her 2007 GSXR 1000 drag bike at a quarter mile drag strip.  "I went through the 1/4 mile and hit a bump right past the finish lights.  The main frame broke on both sides right above the front of the engine.  The bike went into a violent death wobble, I had no brakes, I fought against the handle bars and couldn't get the front end to stop snapping back and forth.  I couldn't get the bike to slow down and was headed straight for a concrete barrier wall...."
Read more: Ruth Harris Aka DangerProneDorothy619 Lives Up To Her Name
Written by Bex Russ
Tuesday, 12 September 2017 15:24
Shocker Racing is happy to announce our newest model is Alex Stone from Jupiter, FL. This dedicated mother gave us some great content to share to our fans. Alex met photographers Mike Miranda and Kyle Taber in New Jersey at a local car meet. The team shot with a unique Audi R8 that really caught our eye. You will instantly notice that Kenny's R8 has a wild Blue and Black color scheme that doesn't just stop at the body but also carries over on to the custom Rennen Forged wheels that are wrapped in Toyo Proxes. Besides this shoot with the R8, Alex has already dropped a couple more photoshoot on us and she is clearly dedicated to Shocker Racing and we appreciate that about her. We will add the new shoots to this feature soon, so be sure to keep checking back!
Written by Bex Russ
Tuesday, 05 September 2017 09:31
Since I have started writing features for Shocker Racing, I've pretty much stuck to the third person side of the story. Sometimes speaking for all of Shocker Racing when introducing new models. Even for my own events and shoots, I was sure to take the outside perspective and speak humbly to fans. Well this feature I have to brag from a personal perspective about our newest model, Ray Ann Kilgore. I met Ray at a Richmond Speed Trend Society meet. Her personality was absolutely energetic and vibrant. I was so excited to work with another model who cared about her career and this industry. She clearly wasn't into it for the 'followers'. After the show, I immediately messaged the President of Shocker Racing, James, about Ray Ann and how she needs to join our team. Not too long after that Ray and I began planning her shoot for her introduction in to Shocker Racing. I am so excited to announce to SR Fans our newest Model…. Ray Ann Kilgore.
Written by James
Thursday, 31 August 2017 20:07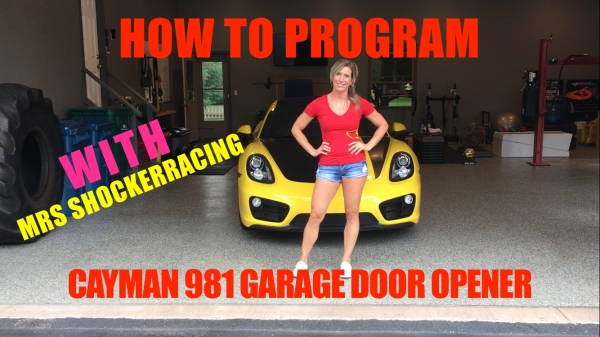 Programming your garage door opener to your 981 Porsche Cayman or Boxster can be tricky and in some cases there are additional steps that need to be taken.  In our latest How To video, Mrs ShockerRacing shows the complete process of how to reset and then program a Liftmaster 8500 Garage Door Opener to the Homelink System in our 2016 Porsche Cayman.  You may have seen our previous video that only showed the first steps to programming on the basic garage door openers but this video shows the additional step using the "Learn" feature on our new garage door opener.
Click the link to see the video:
Read more: Porsche Cayman Homelink Garage Door Opener Programming Part 2
Written by Bex Russ
Tuesday, 29 August 2017 16:37
This past weekend you may have seen Official Shocker Racing model, Bex Russ, live on our Instagram with Trakit Motorsports in New Jersey at the OPTIMA Search for the Ultimate Street Car competition. Bex had the opportunity to join the team as their 'umbrella girl' (and second cameraman) during the events. So Bex got the inside scoop on the two day competition first hand. Keep reading to learn about the series. As well as the amazing brand Trakit Motorsports Promotions.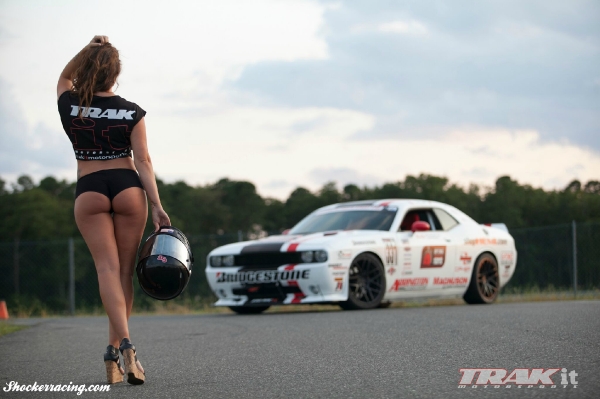 Written by Bex Russ
Monday, 28 August 2017 19:42
Shocker Racing is starting a new feature series for fans to enjoy - 'Monday Minis'. These features will share some quick sessions Official Shocker Racing Models shared with us. We have recently begun encouraging our models to promote the brand in order to maintain their "Official" status. These mini series are perfect to start the week off right! Our first mini series is with Official ShockerRacingGirl, Samantha Potter and her 2014 Shelby GT500. She worked with photographer Kyle Demato as well as his 2014 GT 5.0 Mustang.
Page 13 of 27