Written by Bex Russ
Saturday, 18 November 2017 09:55
Lets all welcome our newest Shocker Racing Model - Erica Vanessa. This gorgeous babe is from good old Tulsa, Oklahoma. She currently works as a part-time clerk for QuikTrip and part time makeup artist to pay her way through college where she is majoring in Business. Erica drives a pearl white 2017 Toyota 86 (aka Scion FR-S) that is completely stock and showed it off for this shoot. She plans to boost it up in the near future. When we asked Erica what mod she would choose if Shocker Racing was footing the bill, she responded, "I would put an aftermarket supercharger on my 86 and tune the bitch up." We love Erica's sense of humor. Keep reading to get to know her more…
Written by Bex Russ
Thursday, 09 November 2017 12:02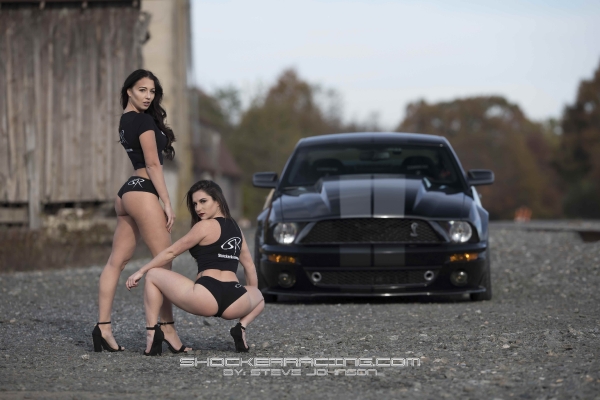 Shocker Racing has had the opportunity to work with some amazing women in the past year who have grown to become some of our fans  favorite car models. This year we wanted to show our gratitude to two of our most loyal spokesmodels. Both of these ladies have received amazing feedback on every feature and post shared about them. Both have gone above and beyond the expected as a model for ShockerRacing. These ladies have helped shaped the new expectations of ShockerRacing models for the future. We are very excited to announce official ShockerRacing models Bianca Owens and Bex Russ are our '2018 Shocker Racing Girls Calendar' cover models.
Written by James
Monday, 06 November 2017 19:01
Mickey is a small town girl who grew up Northern Illinois.  In 2001, she joined the Army and left to see the world.  She spent the majority her time in the Army living in Fort Hood in Killeen,Texas before settling down in San Antonio, Texas.  "I moved to San Antonio to try something new, and to be able to see the Spurs play live more often," Mickey tells ShockerRacing.  Besides being a country girl, Mickey is clearly a huge Ford fan.  When she turned 16, her first car was a full sized 1980 Ford Bronco which happened to be the family vehicle.  Now she owns a 2013 Ford Mustang Boss 302, a 2017 Ford F-150, and she has a project 1966 Ford Mustang Coupe!
Written by James
Friday, 03 November 2017 10:42
One of our most respected photographers in the business recently threw down with an epic collaboration shoot. Photographer, Dennis Scales found an amazing location to shoot with some amazing models. Skylar Baggett and McKenzie Moore returned to ShockerRacing and brought along newbies Jade Green, and Christin Jay. The 17,000 sq/ft Mansion in Lago Vista, TX was picked because it offered a huge driveway with an amazing backdrop. Keep reading to learn more about these amazing cars involved and check out the images from this shoot.
Written by James
Monday, 30 October 2017 20:08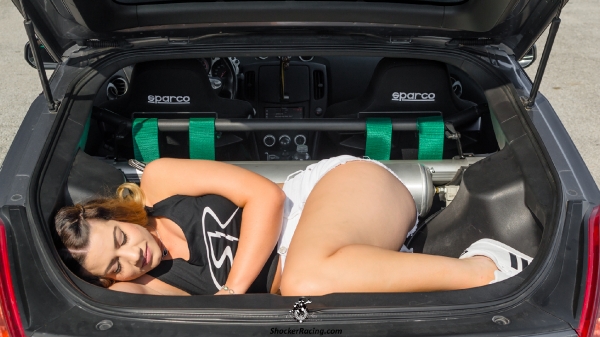 Ok, Emily Johnson didn't really take a nap during this photoshoot but she does look awfully comfortable in the trunk of Erick Sanchez' Nissan 370z!  "I nap all the time... I'm a sleepy girl," Emily tells ShockerRacing.  Besides sleeping, Emily loves every aspect of the automotive scene.  She is a true car girl that owns a Hyundai Genesis Coupe 3.8 Track Edition which she has customized to her tastes to make her import stand out in a crowd.  Ms. Johnson spends her days working as a Physician Liaison but enjoys attending events like Hot Import Nights, Slammedenuff, and Stance Nation in her free time.
Written by James
Sunday, 29 October 2017 19:54
Josslin is a 27 year old brunette from Delaware.  For Josslin's first ShockeRacing photoshoot she teamed up with her boyfriend and photographer, Justin Tuppeny.  Josslin and Justin both brought their own cars to the shoot which was located behind the warehouse for Mishimoto Automotive in Delaware.  Josslin drives a 2013 Mitsubishi Lancer Ralliart that features a Borla Exhaust system and a Mishimoto Intercooler with a piping kit and Justin's ride is a two seat convertible 2007 Mazda Miata MX5.
Written by Donald Xavier
Sunday, 29 October 2017 16:29
We traveled to Spocom in Dallas, Texas on October 14th and what an event it was! When you entered the Dallas Market Center, your senses were immediately assaulted, and that's a good thing. The smell of automotive cleaning products and perfume filled your nose. The sounds of the DJ drowning out conversations of car enthusiasts and the shutters of cameras. The immediate sight of beautiful models and well-built show cars made for a truly an amazing experience! Hit the link to see all of our coverage of Spocom Texas 2017:
Written by James
Saturday, 14 October 2017 08:37
20 year old, Destiny Wright was born and raised in the small town of Somerset, Kentucky.  Ms. Wright tells ShockerRacing that there really isn't much of a car scene where she grew up.  She always liked being around cars but the town she is from doesn't understand or notice the car scene.  "I could not tell you when I became more interested in modifying cars than ballet class, but one day I just decided that I wanted to spend my money on modifications to my Jetta!" exclaimed Destiny.
Written by James
Friday, 13 October 2017 19:06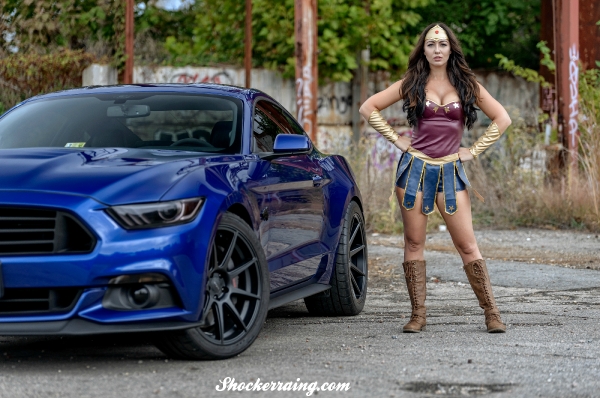 It's that time of year again! The Shocker Racing Halloween Contest is back, and what better way to announce the contest than
on Friday the 13th
? We run a #ShockerRacingHalloween contest every year on Instagram for our favorite Car Girls to show off their costumes with some sick rides. As per usual the contest is available to any ladies that want to join in on the spooktacular fun! So get your costumes and your cars ready, our favorite entries on IG will win a Shocker Racing shirt!  Hit the link for the full contest details...
Written by James
Thursday, 12 October 2017 08:58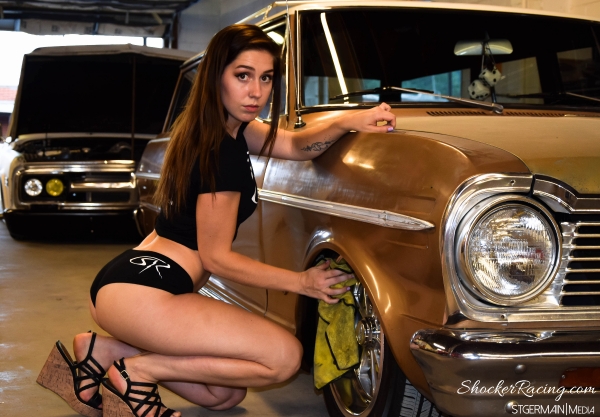 Lynn Lowe is relatively new to the automotive modeling scene.  In fact, she just started modeling with cars a few months ago.  She is not, however, new to the automotive scene. "Since I was a kid, I was always around people fixing up their cars and it made me really take an interest in the car scene," Lynn explained to ShockerRacing, "I love how people put their time and money into something and make it their own."  The 23 year old brunette now enjoys spending time at events like Prohibition which takes place in her hometown of Wilkesboro, NC in November.  "I love the loud classic cars, they are my favorite!" exclaimed Lynn.
Written by Donald Xavier
Monday, 09 October 2017 17:01
September 2017 marked the first time that Tuner Evolution made their way to Chicago and they did not disappoint.  Tuner Evo puts on Automotive Lifestyle Events throughout the country that bring together all aspects of the Import Scene.  The events feature over 40 judging classes, bikini contests, dance competitions, RC drift demo's and even BMX demo's!  Along with all of these features, they bring out some of our favorite car models like Brooke Curtis, Bear Dellinger, and Faith Marone as Official Tuner Evo Girls.
Page 12 of 27