Written by James
Thursday, 24 August 2017 13:45
In anticipation of the fast approaching Mustang Week 2017, JD Joyride TV and crew met back up with fan favorite Bianca Owens for another video shoot.  Apparently, Bianca was not too happy with JD after a misunderstanding at American Muscle Mustang show a few weeks back... Hit the link to watch the video and see if they made up:
Read more: JD Joyride TV and Bianca Owens are back with another VLOG Video Shoot
Written by James
Monday, 21 August 2017 09:59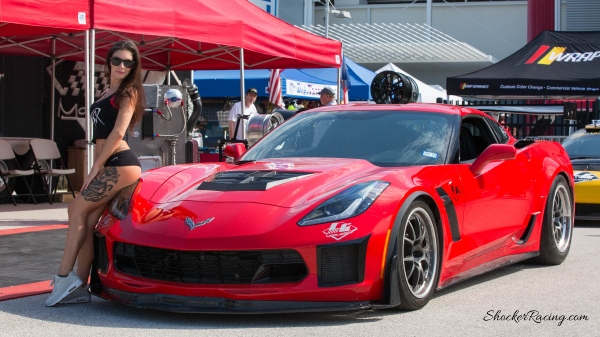 Corvette Invasion is an annual meeting of some of the coolest Corvettes in the country that all started out with two Texas Corvette Clubs arranging a get together!  A few years back Steve Pond and Shawn Jones started out by planning a dinner that would bring the Austin club together with the Houston based club.  From there, this event has exploded into a huge Corvette get together that brings Vettes and vendors from all over the country.  Sadly, I missed this event by just a day! I was in San Antonio with the National Corvette Restorers Society(NCRS) National Convention and actually passed through Austin with 3 Corvettes in tow on my way home to Chicago! Lucky for us, Dennis Scales(@Still2BigPhotos) contacted ShockerRacing with good news that he would be attending with the beautiful McKenzie Moore repping some ShockerRacingGirls apparel!
Written by Tyler Sorget
Friday, 18 August 2017 09:29
Tyler Sorget from Tyler Sorget Photography is back with his third shoot for ShockerRacing and this time he's got new models, new rides, and a whole new attitude! Over the winter months Tyler, Nicole (ShockerRacing's Miss April 2017), and James discussed the comments posted on the photos that Tyler has shared of Nicole and other models on top of his 1969 Mach 1 Mustang. The conversation sparked an idea for a brand new ShockerRacing design...and so the #GETOFFTHECAR design was born!
Read more: Get Off The Car! New Girls, New Rides, New Attitude
Written by Bex Russ
Wednesday, 16 August 2017 15:07
Saturday August 9th, Shocker Racing Model Bex Russ joined Bill Caron of Team Shelby at American Muscle's 9th annual Mustang show in Mohnton, PA at the Maple Grove Raceway. American Muscle Mustang Show is the largest event for a cause in the country. The show takes the shared passions for Mustangs and charities and transforms into a huge one day event. AM2017 was full of thousands of Mustangs, drag racing, burnouts, plenty of activities, all while raising money for charitable organizations. AM2017 raised more than $150,000 for Make-A-Wish®.
Read more: American Muscle 2017 with Bex Russ & Bianca Owens
Written by Bex Russ
Tuesday, 15 August 2017 09:31
Shocker Racing is all about the team work and community in the car industry. We work hard to promote each other and support our fellow car enthusiasts and models. Lately, we have been promoting this camaraderie on our social media, and it is very important to us that the ShockerRacingGirls grow and help each other grow together. Our newest model, Courtney Lynn, from Central NY as well as Official SR Model, Lam, have shown in this feature how fun it is to team up and work together to make magic. But first lets get to know our new model Courtney.
Written by Bex Russ
Thursday, 10 August 2017 20:47
Bex Russ is constantly stepping up the game, showing us she really can do it all. This past month Bex met up with Photographer Gregg May of aMAYzing Photography to shoot with a 1968 Shelby Mustang. The owner, Tiffany Dockery, brought her car to Richmond, VA to meet Bex and Gregg for the shoot. They shot in various locations around Richmond to get these aMAYzing images. Bex told us that she and Gregg have been discussing their collaboration since they met at the Grand Nationals event back in June. Gregg contacted the president of Team Shelby South Atlantic Virginia State Chapter, Wild Bill, to get connected with Tiffany and her beauty! Bex sported a nifty 50's hair style and her famous jean shorts. "I had such a blast working with everyone. Looking forward to working with Gregg and Team Shelby again." Bex exclaimed.
Written by James
Wednesday, 09 August 2017 09:19
19 year old, Jamie Upton is new to the automotive scene.  In fact, this was her first time she has done a photoshoot with a vehicle even though she has a lot of previous modeling experience.  Jamie is definitely not camera shy, she has modeled for clothing stores, as well as magazines.  "I have been modeling for about 2 and a half years! It feels longer though, I've done a lot in the past two and a half years." Jamie tells us.  This shoot was set up by our friend and photographer, Dennis Scales.  Jamie was lucky enough to have the opportunity to shoot with this gorgeous 2012 Shelby GT500 for her first automotive shoot.
Written by James
Tuesday, 01 August 2017 10:14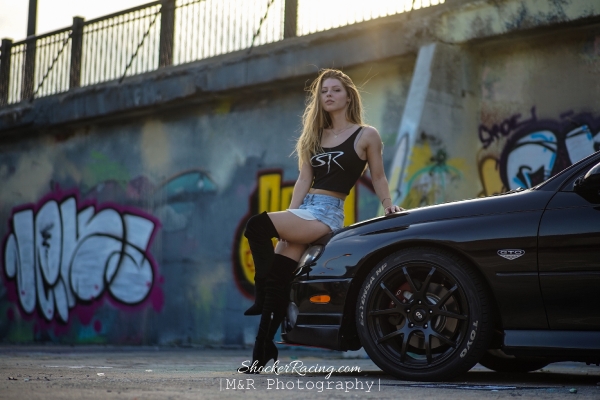 Last we saw Marris Gulledge she had just stepped out from behind the cameras to try her hand at modeling(see Other Side of the Lens With Marris Gulledge).  Clearly she saw the light... in the past 4 months Marris has been all over the place! We have seen her model with GTR's, Lambo's, Mustangs, Camaro's... you name it!  We have seen her rep some other great automotive brands, and she has even done some fashion modeling.  Besides continuing her photography along side M&R Photography, and taking her modeling to the next level Marris has been busy working on her own Mustang project which she will be unveiling at the upcoming Mustang Week in Myrtle Beach!
Written by James
Friday, 28 July 2017 10:04
Sarah Senecal is no stranger to our Shocker Racing family, you may remember her first shoot; Sarah Senecal - Disturbing The Peace. As a huge supporter, she is often representing Shocker Racing with our popular gear at events. She is also featured on our social media pages. Sarah had an awesome opportunity to shoot with a C7 Corvette Z06, which comically landed in her lap the afternoon of her second shoot with photographer James Stevens of James Steven Photography (www.jamesstevensphotography.com)...
Hit the link to hear the story!
Written by Bex Russ
Wednesday, 26 July 2017 08:37
From Nashville, TN, twenty six year old Mila Banner joins the Shocker Racing family with a killer shoot for our Shocker Racing fans. Mila met photographer Chris Auditore, of Chris Auditore Photography, in Tullahoma, TN.  The shoot location had a lakeside view for their collaboration. The two shot with a Porsche Boxster, many people don't know that we also run an Instagram page called @PorscheChicks! The Boxster is owned by Larry Abel and Mila shot in some of our favorite Shocker Racing gear for this feature. Chris and this gorgeous blonde nailed this shoot!
Written by James
Tuesday, 18 July 2017 20:09
A couple months back, our friend JD from JD Joyride TV contacted us about an idea he had for a video shoot.  He had the perfect model, Bianca Owens, to shoot with his 900hp 2008 Shelby GT500...  All they needed was a pair of our famous ShockerRacing Bootyshorts and a ShockerRacing Crop top.  Of course we rushed a set out to them and they locked in a shoot date.  JD invited portrait and lifestyle photographer, Steve Johnson, along to grab some amazing shots and also his friend Les aka @D4rk_hrs with his bagged 2016 Mustang GT.
Read more: Bianca Owens - ShockerRacingGirls & JD Joyride TV Video Shoot
Page 15 of 28